CONGENITAL MEATAL ATRESIA
Meatal Atresia
Mirza Khizer Hameed

CMH Sialkot

Irfan Saeed

Combined Military Hospital Rawalpindi

Danyal Rashid

Combined Military Hospital Rawalpindi
Keywords:
Congenital ear canal atresia, canalplasty, trans-mastoid
Abstract
This interventional study was carried out in ENT Department of Combined Military Hospital Rawalpindi, a tertiary care hospital, from January 1993 to December 2000, to determine the sex incidence, laterality and type of congenital meatal atresia, and possible etiological factors; and secondly to determine the results of surgery in terms of hearing gain and incidence of complications while comparing trans-mastoid approach with the anterior approach. 42 patients of both sexes with congenital meatal atresia, up to the age of 25 years were selected by non-probability sampling. A detailed history and a detailed physical examination showed consanguinity as the biggest possible etiological factor (40.4%), male to female ratio of 2.5:1, unilateral to bilateral ratio of 1.6:1, type II atresia in 50%, type I atresia in 35.7% and type III atresia in 14.2%. X-ray mastoids and CT scan showed favourable anatomy in 36 patients who were selected for surgery. Canalplasty with tympanoplasty was carried out in them, via trans-mastoid approach in ten and direct anterior approach in 26 patients. Pre and post-operative Audiological Brainstem Response and Pure Tone Audiometry (over 4 years of age) showed successful surgery in 19 (52.7%) patients having post-operative hearing thresholds of up to 25-30 dB. Success rate was 61.3% with the anterior approach as compared to 30% with the trans-mastoid approach. Post-operative complications as re-stenosis (16.6%), otorrhoea (11.1%) and facial paralysis (2.7%) occurred in 11 (30.55%) patients. Complication rate was 50% with trans-mastoid approach and 27% with anterior approach. Consanguinity must be studied in greater detail as an important possible etiological factor.
Downloads
Download data is not yet available.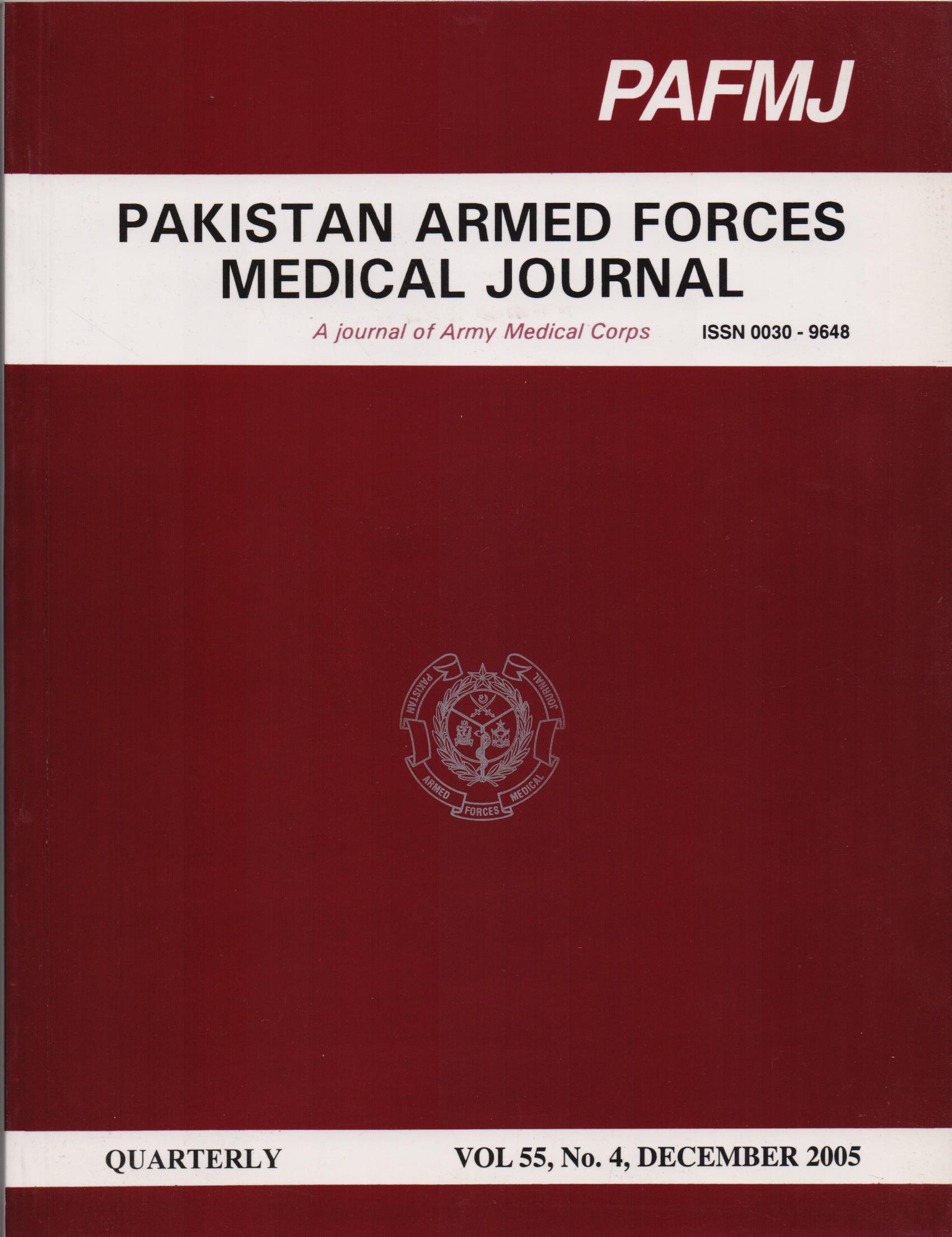 How to Cite
Hameed, M., Saeed, I., & Rashid, D. (2005). CONGENITAL MEATAL ATRESIA. Pakistan Armed Forces Medical Journal, 55(4), 276-282. Retrieved from https://pafmj.org/index.php/PAFMJ/article/view/1212
Section
Original Articles