FISTULOTOMY VS FISTULECTOMY IN THE TREATMENT OF SIMPLE LOW ANAL FISTULA OF MALE PATIENTS
Fistulotomy Vs Fistulectomy
Irfan Ali Sheikh

Combined Military Hospital Rawalpindi

Irfan Shukr

Combined Military Hospital Rawalpindi

Muhammad Shoaib Hanif

Combined Military Hospital Malir Karachi Pakistan

Muhammad Misbah Rashid

Combined Military Hospital Rawalpindi

Noman Karim

Combined Military Hospital Malir Karachi Pakistan

Saad Ateeq

Combined Military Hospital Rawalpindi
Keywords:
Fistula, Fistulectomy, Fistulotomy, Recurrence
Abstract
Objective: To compare the efficacy of fistulotomy versus fistulectomy in the treatment of low lying anal fistula in male patients.
Study Design: Randomized clinical trial.
Place and Duration of Study: Surgery Department, CMH Multan and CMH Malir, from Aug 2008 to Oct 2013.
Patients and Methods: Study was done on 262 patients. Patients with anal fistula were divided by simple random allocation into groups A (fistulotomy) and B (fistulectomy). The patients with simple low anal fistula without any comorbids were included in the study and the patients with recurrent fistula, high fistula or those having any comorbid were excluded from the study. Data was analysed using SPSS 17. Descriptive statistics applied for both quantitative and qualitative variables. Mean and standard deviation for quantitative and frequencies and percentages for qualitative data.
Results: Total 262 patients were selected having low lying anal fistula and operated as group A – fistulotomy and group B – fistulectomy, each group constituted of 131 patients each. The operating time was found to be shorter for group A (14.29+3.24 minutes) and group B (25.92 +3.60 minutes). The group A patients were discharged earlier (3.73 + 0.65 days) than group B (4.88 + 0.35 days). In group A incidence of postoperative bleeding (0.8%), infection (2.2%) and recurrence was (10.7%). While in group B bleeding (3.1%), infection (3.8%) and recurrence was (15.3%). Severity of postoperative pain (as assessed by Numeric Rating Scale) was higher in group B as compared to group A. The healing time was shorter in group A (4.04 + 0.33 weeks) as compared to group B (4.57 + 0.497 weeks) and the patients of group A returned to normal activity earlier (10.9 + 2.05 weeks) than group B patients (15.54 + 0.51 weeks).
Conclusion: In male patients suffering from simple low lying anal fistulas, fistulotomy has a definitive superiority over fistulectomy and is recommended to be adopted as primary surgical modality for the treatment.
Downloads
Download data is not yet available.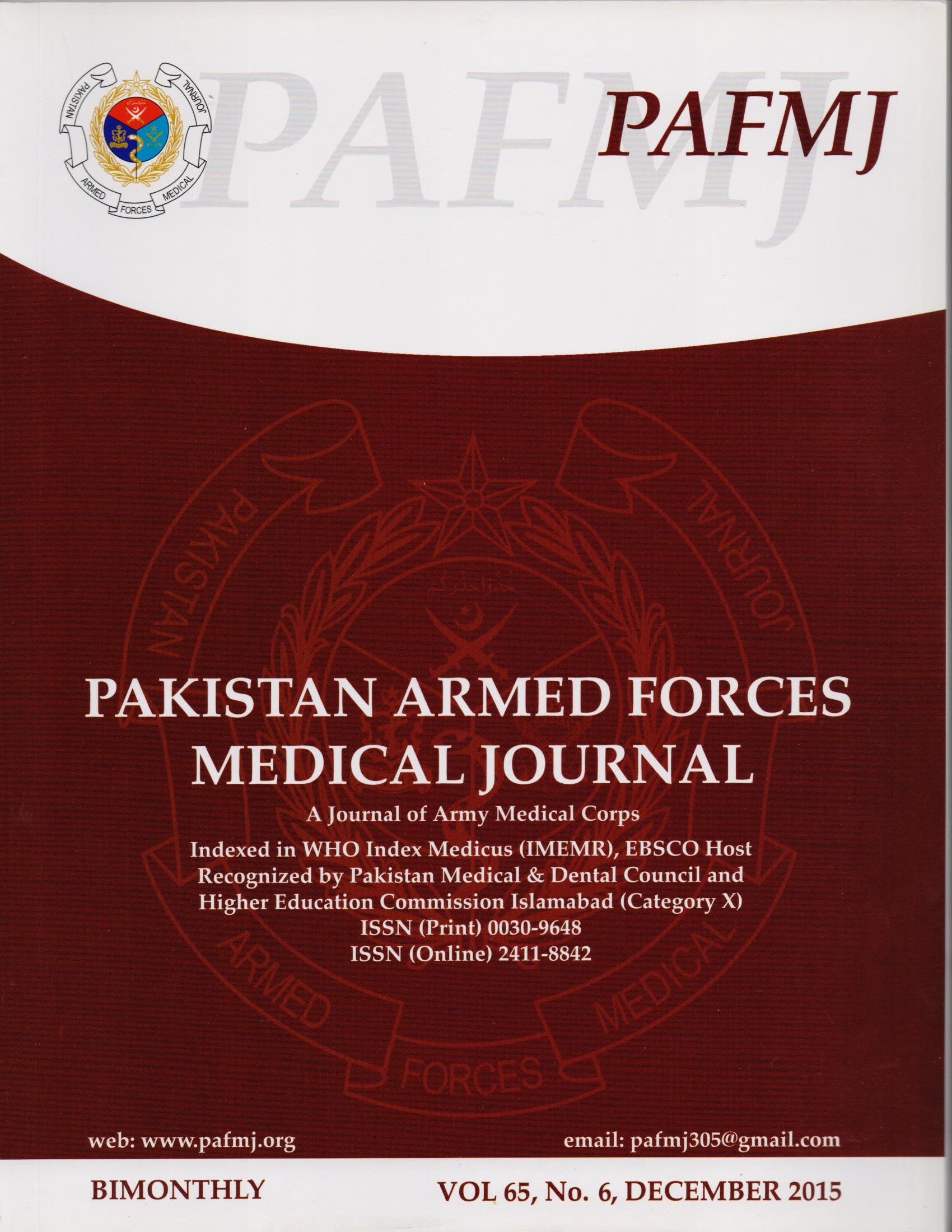 How to Cite
Sheikh, I., Shukr, I., Hanif, M., Rashid, M., Karim, N., & Ateeq, S. (2015). FISTULOTOMY VS FISTULECTOMY IN THE TREATMENT OF SIMPLE LOW ANAL FISTULA OF MALE PATIENTS. Pakistan Armed Forces Medical Journal, 65(6), 798-802. Retrieved from https://pafmj.org/index.php/PAFMJ/article/view/1173
Section
Original Articles