USE OF ABDOMINAL BINDER AS ANTI-SHOCK GARMENT; AN ADJUNCT TO UTERINE TAMPONADE IN UTERINE ATONY
Keywords:
Abdominal binder, Non-pneumatic anti shock garment, Uterine atony, Post partum haemorrage
Abstract
Objective: Aim of the study was to control life threatening post partum haemorrhage (PPH) in women till blood and blood products were made available or the women transferred to a better equipped centre.
Study Design: A prospective interventional consecutive case series.
Place and Duration of Study: It was conducted in three hospitals; Heavy Industries Taxila (HIT) hospital Apr 2005 to Sep 2010, Pakistan Ordinance Factories (POF) hospital Wah cantt Oct 2011 to Dec 2014 and Combined Military Hospital (CMH) Tarbela Dec 2014 to Dec 2015.
Material and Methods: Abdominal binder was used in 22 consecutive women, having moderate to severe primary PPH due to uterine atony, where despite uterotonics (i.v oxytocin, rectal misoprostol) and bimanual compression, uterine tamponade was performed but complete control of haemorrhage was not achieved. Protocols for the treatment of obstetric haemorrhage and hypotensive shock were observed, including administration of intravenous crystalloid fluids and blood transfusion. If required, surgery was performed in the form of uterine arteries ligation or B-Lynch sutures. Obstetric hysterectomy was performed to save the woman's life if conservative procedures failed.
Results: Bleeding and hypotension were controlled successfully in 19 (86.4%) of these women. In 03 (14.6%) women, bleeding persisted and so hysterectomy had to be resorted to. There was no maternal mortality. At 06 weeks postnatal follow up, none of the patients were found to suffer from long term debility; physical or psychological.
Conclusion: Abdominal binder was found to be very effective in controlling bleeding and hypotensive crisis due to significant PPH due to uterine atony, as an adjunct to uterine tamponade
Downloads
Download data is not yet available.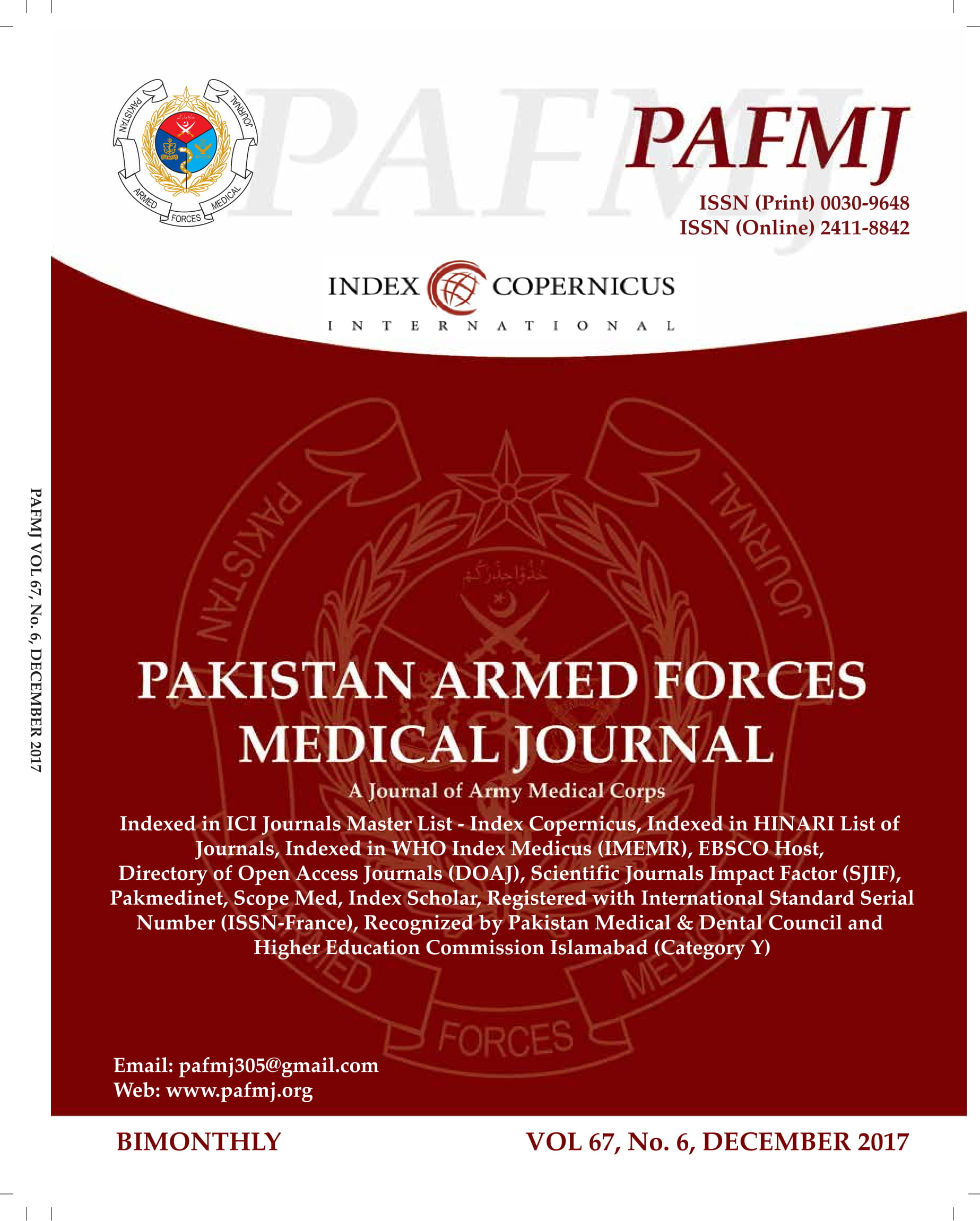 Downloads
How to Cite
Kallue, U. R., Chughtai, F., Choudry, A., & Shamim, Z. (2017). USE OF ABDOMINAL BINDER AS ANTI-SHOCK GARMENT; AN ADJUNCT TO UTERINE TAMPONADE IN UTERINE ATONY. Pakistan Armed Forces Medical Journal, 67(6), 919–25. Retrieved from https://pafmj.org/index.php/PAFMJ/article/view/1087
Section
Original Articles