Conventional Ultrasonography: A Remarkable Tool in Early Detection of Benign Ovarian Lesions in Comparison to Gold Standard MRI
Naila Jabeen

Dow Institute of Radiology, Karachi Pakistan

Ayesha Walid

Dow Institute of Radiology, Karachi Pakistan

Binish Rasheed

Dow Institute of Radiology, Karachi Pakistan

Nasreen Naz

Dow Institute of Radiology, Karachi Pakistan

Anila Rahim

Dow Institute of Radiology, Karachi Pakistan

Rabeeya Qutub uddin Siddiqui

Jinnah Sindh Medical University, Karachi Pakistan
Keywords:
Diagnostic accuracy, Benign, Ovarian mass, Ultrasonography, MRI
Abstract
Objective: This study aimed to assess the efficiency of ultrasonography in the accurate diagnosis of benign ovarian lesions as compared to the gold standard Magnetic Resonance Imaging (MRI).
Study Design: Prospective analytical cross-sectional study.
Place and Duration of Study: Dow Institute of Radiology, Dow University of health sciences (DUHS), OJHA Campus, Karachi, Pakistan, from Jun 2018 to Nov 2019
Methodology: The consecutive sampling technique was used to recruit the patients. The frequency and percentage, and mean and standard deviation were calculated for qualitative and quantitative variables, respectively. The p-value <0.05 considered as
significant.
Results: Majority of the patients were aged ≥20 years (49.06%) and were obese (13.21%). Majority of the participants (88.68%) were married where 69.81% had normal menstrual status and 11.32% had menopause. On cross-tabulation, tumor status (Benign) was found to have a very high significant association with age and BMI at p-value <0.001 and menstrual status at pvalue 0.000. Benign lesions were most prevalent (60.47%) among 20-29 years old and the PPV is 92.86%; Diagnostic accuracy for this age group is 95.35%. PPV, NPV, sensitivity, specificity, and diagnostic accuracy were 100 % for Underweight, premenopause patients with 16 to 30 days symptoms. Benign tumor was more prevalent among patients with normal BMI (93.48%), post-menopause (63.64%), symptoms' duration of 1 to 3years (66.67%), single (37.06%) and cystic mass (49.52%).
Conclusion: Ultrasonography showed excellent diagnostic accuracy in the detection of benign ovarian tumors.
Downloads
Download data is not yet available.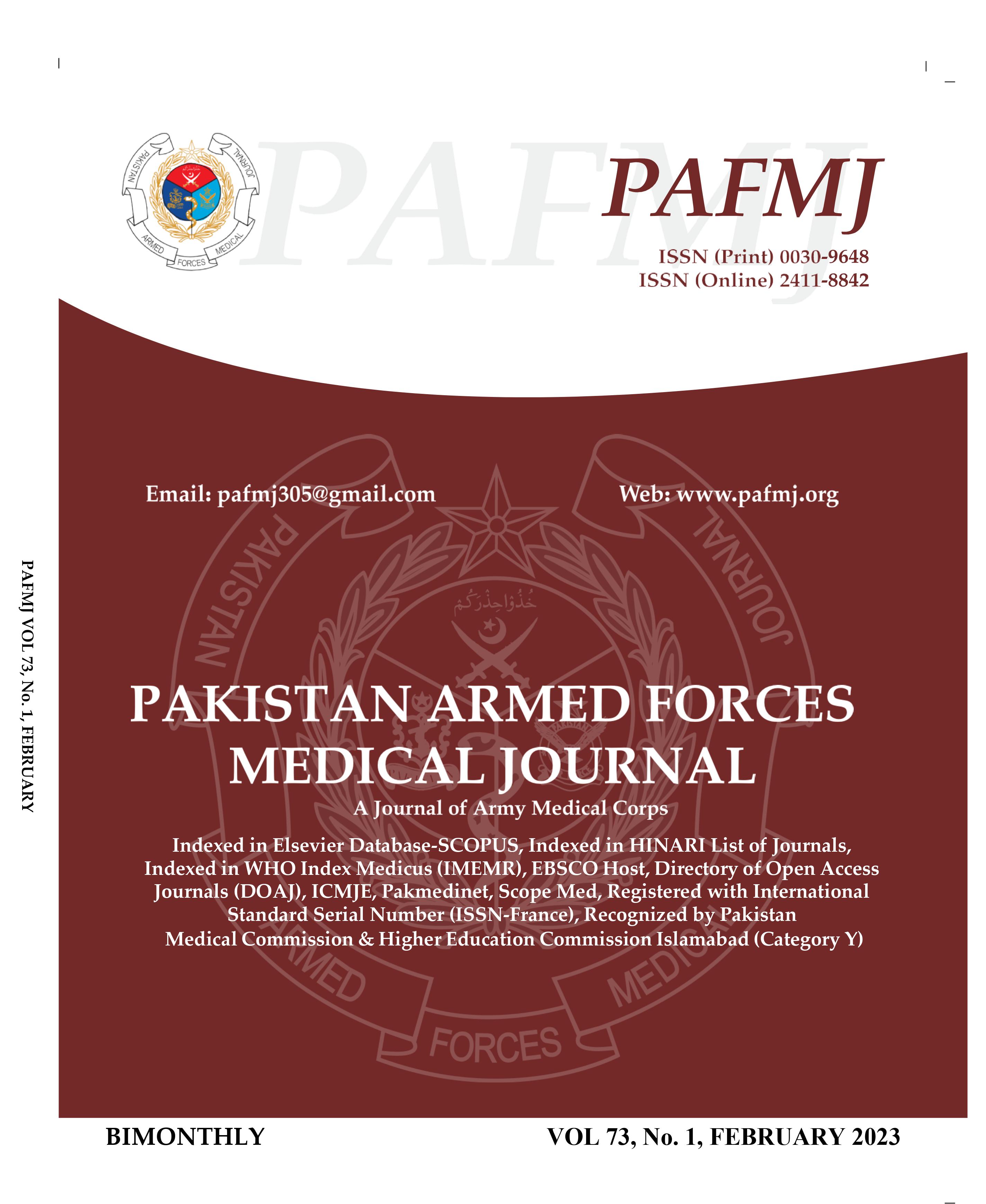 How to Cite
Jabeen, N., Walid, A., Rasheed, B., Naz, N., Rahim, A., & Siddiqui, R. Q. uddin. (2023). Conventional Ultrasonography: A Remarkable Tool in Early Detection of Benign Ovarian Lesions in Comparison to Gold Standard MRI. Pakistan Armed Forces Medical Journal, 73(2), 569-74. https://doi.org/10.51253/pafmj.v73i2.10303
Section
Original Articles