FREQUENCY OF ANEMIA IN PREGNANCY AND ITS ASSOCIATION WITH SOCIODEMOGRAPHIC FACTORS IN WOMEN VISITING A TERTIARY CARE HOSPITAL IN RAWALPINDI
Anemia in Pregnancy
Keywords:
Abortions, Anemia, Parity, Pregnancy, Socio-demographic factors
Abstract
Objective: The objective was to find out the frequency of anemia during pregnancy and its association with the different socio-economic factors.
Study Design: A descriptive cross-sectional study.
Place and Duration of Study: District headquarter hospital Rawalpindi, from September–November 2015.
Material and Methods: The pre-diagnosed 196 pregnant anemic women were included in the study. Grand multipara pregnant women, anemia due to bleeding disorders and havingchronic illnesses were excluded from the study. The pretested questionnaire along with Pakistan Social Living Standards Measurements (PSLM) prepared poverty score card was used. The study variables age, maternal education, abortions, parity and poverty were studied. The data collected were analyzed through SPSS 20.0 and Chi-square test was used to find out association between demographic variables and severity of anemia at a significance level ofp< 0.05.
Results: The frequency of anemia in the sample (n=196) observed as mild, moderate and severe was 34.2% (67), 64.3% (126) and 1.5% (3) respectively. The mean (SD) hemoglobin recorded was 8.9 ± 0.9g/dl (range=6.2- 10.9g/dl). The mean (SD) age in the sample was 23.7± 4.2 years (range=17-40 years) while 92% (182) of the subjects were below poverty line. Majority of the pregnant anemic women were illiterate constituting 56.6% (111) of the total sample.
Conclusion: There was a strong association between poverty, illiteracy, previous history of abortions, age and severity of anemia. Education, poverty, illiteracy, access to fortified sources, iron supplementation, deworming, and access to clean drinking water and sanitation, insecticides infections, inadequate nutrient intake all factors must be improved for success of anemia prevention strategies in developing countries like Pakistan.
Downloads
Download data is not yet available.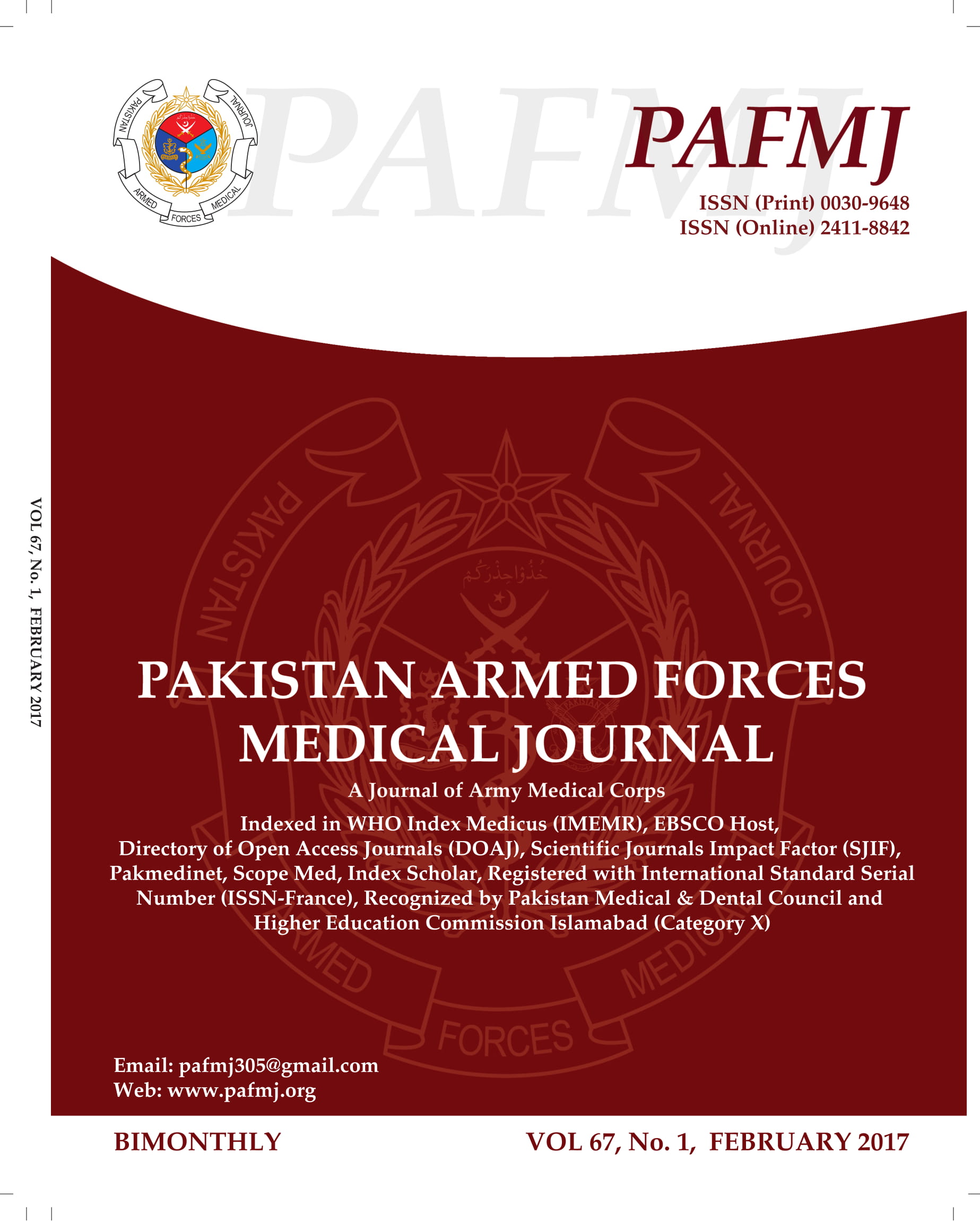 Downloads
How to Cite
Khalid, S., Hafeez, A., & Mashhadi, S. F. (2018). FREQUENCY OF ANEMIA IN PREGNANCY AND ITS ASSOCIATION WITH SOCIODEMOGRAPHIC FACTORS IN WOMEN VISITING A TERTIARY CARE HOSPITAL IN RAWALPINDI: Anemia in Pregnancy. Pakistan Armed Forces Medical Journal, 67(1), 19–24. Retrieved from https://pafmj.org/index.php/PAFMJ/article/view/103
Section
Original Articles