Demonic Possession or too much Time to Think; How do People Behave Towards Mentally Ill? An Analytical Cross-Sectional Study in Tertiary Care Hospitals
Keywords:
Authoritarianism, Cross-sectional studies, Mental disorders, Mental health, Mentally ill persons, Questionnaires (MeSH), Surveys
Abstract
Objective: To assess the basis of community's acceptance and opposition towards mentally ill patients.
Study Design: Analytical cross-sectional study.
Place and Duration of Study: OPDs of Pak Emirates Military Hospital and Combined Military Hospital, Rawalpindi Pakistan,from May to Sep 2022.
Methodology: This research was done among the general public visiting the outpatient departments of Pak Emirates Military Hospital and Combined Military Hospital, Rawalpindi Pakistan. Information was gathered by surveys from 200 people, 20 years of age and older, who were able to read and understand the offered questions based on a modified 27-item CAMI scale excluding subjects who were unwilling. The four categories of authoritarianism, benevolence, social restrictiveness and community's mental health ideology were used to group the data. IBM SPSS Statistics Version 26 was utilized for data analysis. For descriptive statistics the mean of each of the four domains and for inferential statistics Independent t-test and One-way ANOVA tests were used.
Results: Among 120 males and 80 females with mean age of 33±8.89 the mean scores for domains of "authoritarianism,""benevolence," "social restrictiveness," and "community's mental health ideology" were 2.8±0.66; 3.2±1; 2.7±0.97 and 3±0.96 respectively. Males exhibited more encouraging attitudes than females. A significant association was found in individuals with higher secondary and below for the domain of benevolence with mean of 3.3; p-value 0.048.
Conclusion: Participants of the study considered mentally ill individuals a threat to the community that needs forcible methods to manage. However, they showed supportive and inclusive attitude on sympathetic and religious principles. Males and those with higher education were more supportive.
Downloads
Download data is not yet available.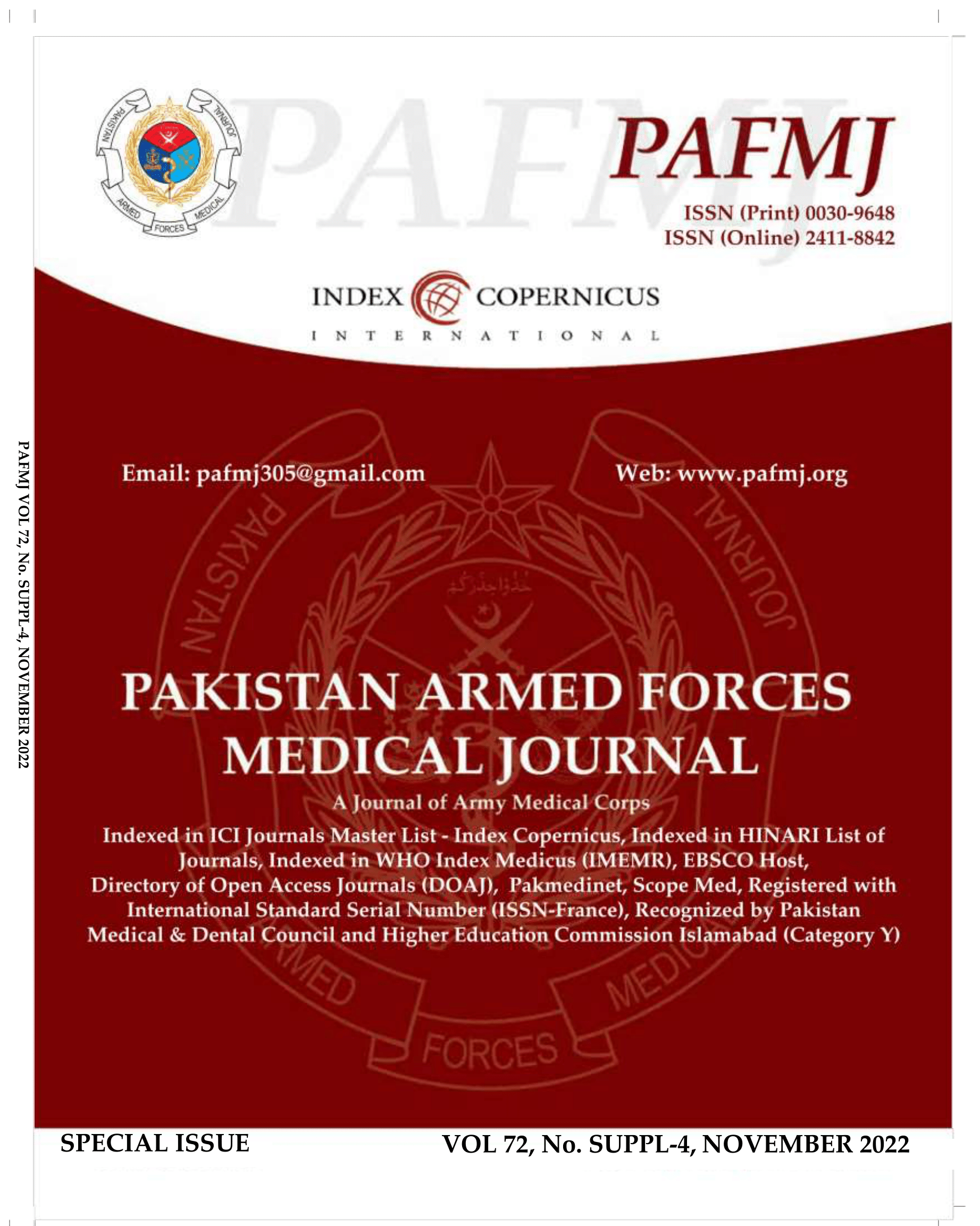 Downloads
How to Cite
Misbah, S., Mashhadi, S. F., Iqbal, U., Minhas, L., Tahir, Z.- e-H., Amjad, U., … Qasim, N. (2022). Demonic Possession or too much Time to Think; How do People Behave Towards Mentally Ill? An Analytical Cross-Sectional Study in Tertiary Care Hospitals. Pakistan Armed Forces Medical Journal, 72(SUPPL-4), S725–29. https://doi.org/10.51253/pafmj.v72iSUPPL-4.9646
Section
Original Articles