ASSESSMENT OF DETERMINANTS OF PRACTICES REGARDING USE OF PERSONAL PROTECTIVE EQUIPMENT (PPE) AMONG MEDICAL STUDENTS
Keywords:
determinants, practices, personal protective equipment's
Abstract
Objective: To assess the knowledge, attitudes regarding hygienic and personal protective practices and to evaluate the factors associated with the knowledge regarding use of PPE among medical college students.
Study Design: A descriptive cross-sectional study.
Place and Duration of Study: Foundation University, Islamabad Pakistan, from Mar to May 2021.
Methodology: Using non-probability consecutive sampling, a self-administered questionnaire will be given to students. Questions will be asked about their knowledge of the types of PPE and its correct use and analyzed in SPSS-20.
Results: Out of 289 respondents, one hundred and sixty-eight (58%) belongs to 1st - 3rd year of MBBS and one hundred and twenty-one (42%) were in 4th and final year. Majority (68%) were females and ninety-two (32%) males. Two hundred and forty-three (84%) of them agreed that main goal of infection control is to prevent infection among patients and health care workers. Two hundred and twenty-eight (79%) of them had knowledge regarding correct duration of hand washing and ninety-eight (34%) agreed that use of gloves replaced the need of hand washing. More than half (78%) had knowledge that hand washing is indicated after removal of gloves. Majority (92%) knows that PPE provides barrier against infection. About half (53%) and (48%) had correct knowledge regarding donning and doffing of PPE respectively. Regarding attitudes, half of the respondent (50%) strongly agrees towrds correct use of PPE and hand hygiene.
Conclusion: The levels of self-reported PPE information and Infection prevention and control training are sub-optimal in medical students of FFH which significantly correlates to COVID-19 and other infectious diseases-related anxiety.
Downloads
Download data is not yet available.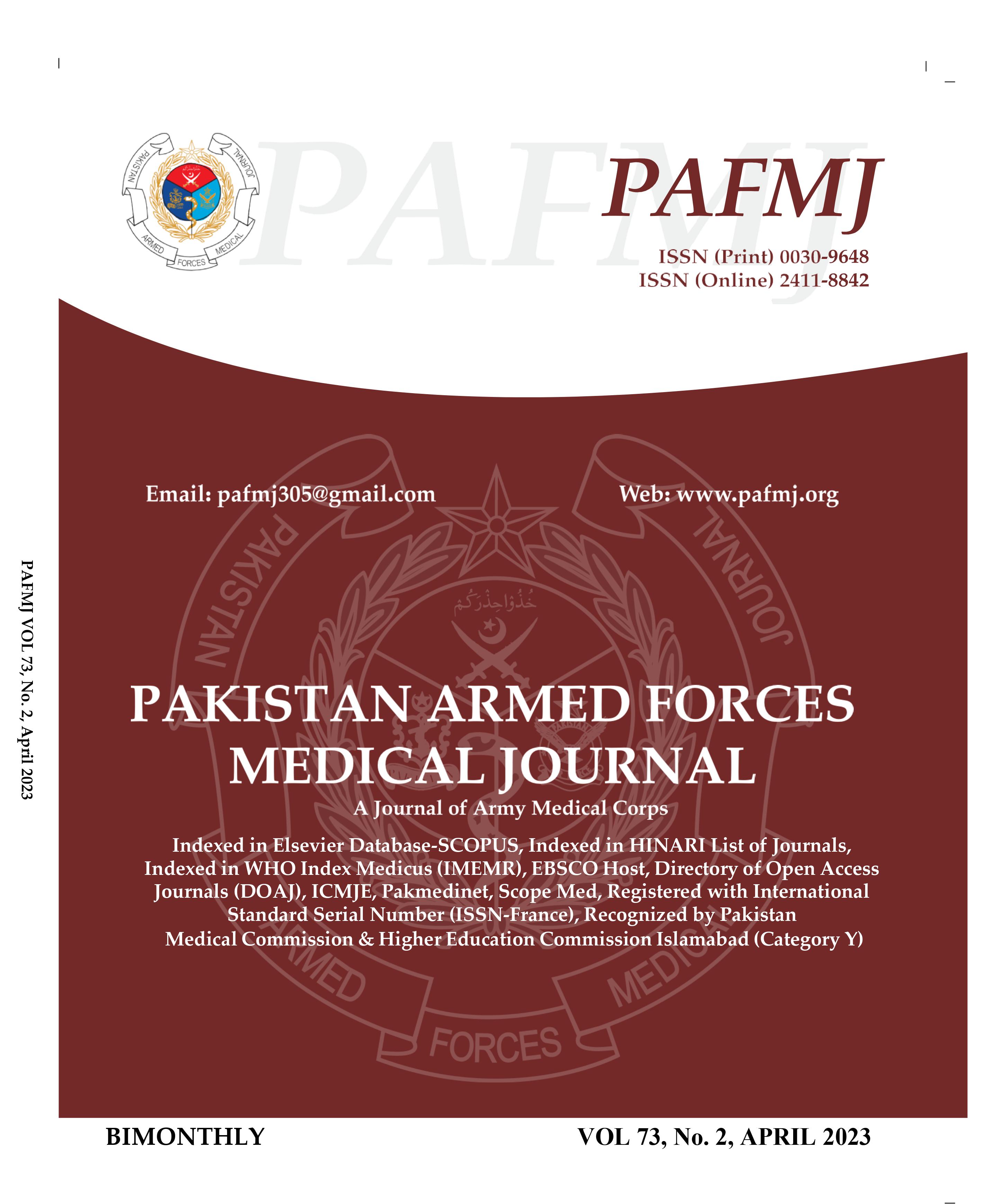 Downloads
How to Cite
Asif, R., Azam, N., Mughal, F. A. R., Riaz, M., Zulfiqar, S., & Khan, A. H. (2022). ASSESSMENT OF DETERMINANTS OF PRACTICES REGARDING USE OF PERSONAL PROTECTIVE EQUIPMENT (PPE) AMONG MEDICAL STUDENTS. Pakistan Armed Forces Medical Journal, 72(SUPPL-1), S2–6. Retrieved from https://pafmj.org/index.php/PAFMJ/article/view/8233
Section
Original Articles