Examination Stress During COVID-19 and Its Coping Interventions Used by Medical Students of Pakistan
Sana Sadaf

Hamdard College of Medical and Health Sciences, Karachi Pakistan

Sania Ishtiqa

Sir Syed College of Medical Sciences, Karachi Pakistan

Musarrat Jahan

Zia Ud Din University, Karachi Pakistan

Fareeha Farooq

Sir Syed College of Medical Sciences, Karachi Pakistan

Saher Mushtaque

Sir Syed College of Medical Sciences, Karachi Pakistan

Dr Sukhia

Sir Syed College of Medical Sciences, Karachi Pakistan
Keywords:
COVID-19, Exam, Education, MBBS, Medical, Mental health, Stress
Abstract
Objective: To determine the examination stress and anxiety score during COVID-19 pandemic and to identify coping mechanisms adapted by medical students.
Study Design: Cross-sectional study.
Place and Duration of Study: Sir Syed College of Medical Sciences for Girls, Karachi, from Apr-May 2021.
Methodology: A total of 250 students were recruited in the study and validated questionnaire was used for data collection. Test anxiety scores were calculated from a previous study scale by Nist and Diehl (1990). Data was analyzed by using SPSS-23.
Results: The mean age of students was 20.1 ± 0.6 years. 74 (29.6%) students felt stress sometimes, 40 (16.0%) students felt always and 30 (12.0%) students never felt stressed before examination. Students who reported improved performance during the examination due to stress were 121 (48.4%). 76 (30.4%) students reported decrease in performance and 53 (21.2%) reported that their stress did not affect their performance. Students were inquired regarding the methods to cope the stress. 78 (31.2%) students reported that they took study break, 66 (26.4%) students spent time with family and friends, 49 (19.6%) found solace in sleep, 30 (12.0%) students listened to music, 13 (5.2%) used beverages (tea, coffee), 11 (4.4%) used numerous combinations
of methods, and only 3 (1.2%) students exercised. It was found that 158 (77%) students experienced healthy anxiety, 68 (27.2%) unhealthy anxiety, and 22 (8.8%) students were anxiety-free.
Conclusion: Examination stress among medical students has increased during COVID-19 and various coping methods are used by the students to prevent anxiety. College.....
Downloads
Download data is not yet available.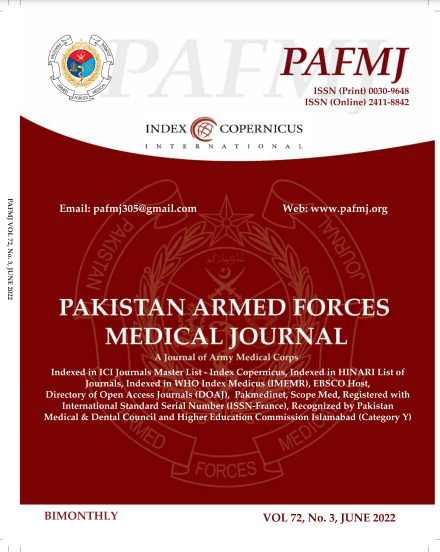 How to Cite
Sadaf, S., Ishtiqa, S., Jahan, M., Farooq, F., Mushtaque, S., & Sukhia, D. (2022). Examination Stress During COVID-19 and Its Coping Interventions Used by Medical Students of Pakistan. PAFMJ, 72(3), 1069-73. https://doi.org/10.51253/pafmj.v72i3.7035
Section
Original Articles