EXPERIENCE OF DISASTER MANAGEMENT DURING FLOOD 2011
Disaster Management
Bushra Afzal Kayani

Combined Military Hospital Bahawalpur Pakistan

Naila Tahir

Combined Military Hospital Abbotabad Pakistan

Khawar Afzal

Combined Military Hospital Abbotabad Pakistan
Keywords:
Disaster management, Field medical hospital, Flood, Obstetrics and gynecology
Abstract
Objective: To analyze different types of obstetrical and gynecological disaster problems during the devastating flood in South Pakistan in 2011.
Study Design: Descriptive study.
Place and Duration of Study: Field medical hospital set up by Pakistan Army Medical Corps with the help of Chinese government in Kaloi camp near Badin, Sindh from Sep to Nov 2011.
Material and Methods: All nine hundred and fifty-one patients reporting to gynecology outpatient were included in the study. Sample size was calculated with the help of WHO sample size calculator by convenience nonprobability sampling technique. Pregnant patients who needed hospital admission were referred to nearest civil hospital and excluded from this study. Similarly patients who had medical problems along with pregnancy e.g. gastroenteritis, skin problems etc were also excluded. All other patients reporting to gynecology outpatient department of field medical hospital were included in this study. Detailed history, thorough physical examination, ultrasound evaluation and available relevant laboratory investigations were carried out in all cases. Treatment was thus advised accordingly on the basis of diagnosis. Data were recorded on a specially designed Performa and then entered in computer. Results were presented in tabular form in numbers and percentages with the help of SPSS version 10. Mean ± SD was also calculated in cases of quantitative variables.
Results: In three months duration 951 patients were attended in the gynecology outpatient department. Out of them 782 (82.22%) patients were pregnant. One hundred and sixty nine (17.77%) patients had different gynecological problems. There were nine emergencies in this period. Four were in advanced labor so delivered in camp's laborroom. Three cases of incomplete miscarriage and two cases of missed miscarriage were also
managed promptly.
Downloads
Download data is not yet available.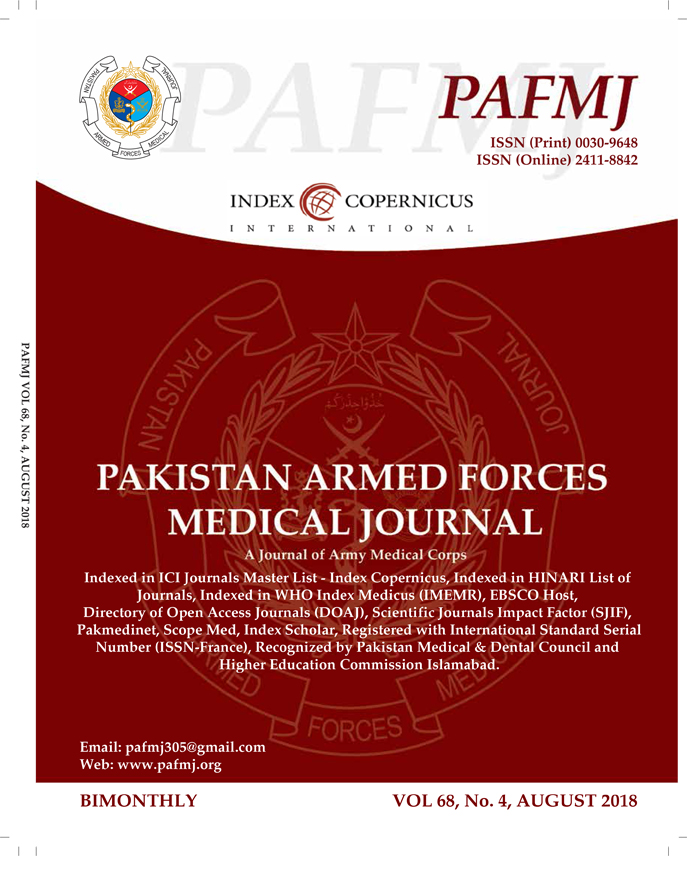 How to Cite
Kayani, B., Tahir, N., & Afzal, K. (2018). EXPERIENCE OF DISASTER MANAGEMENT DURING FLOOD 2011. Pakistan Armed Forces Medical Journal, 68(4), 1013-17. Retrieved from https://pafmj.org/index.php/PAFMJ/article/view/70
Section
Original Articles