Immunohisto Chemical Expression of IDH1, ATRX and P53 in Low Grade Diffuse Gliomas at Armed Forces Institute of Pathology, Rawalpindi
Ayesha Arif

Armed Forces Institute of Pathology/National University of Medical Science (NUMS) Rawalpindi Pakistan

Farhan Akhtar

Army Medical College/National University of Medical Science (NUMS) Rawalpindi Pakistan

Ahmed Ahson

Armed Forces Institute of Pathology/National University of Medical Science (NUMS) Rawalpindi Pakistan

Hafeez Uddin

Armed Forces Institute of Pathology/National University of Medical Science (NUMS) Rawalpindi Pakistan

Rabia Ahmed

Pakistan Naval Ship Shifa Hospital, Karachi Pakistan

Aminah Ahmed

Rehman Medical College, Peshawar Pakistan
Keywords:
Diffuse glioma, IDH1, Low grade, p53, ATRX
Abstract
Objective: To determine the immune histochemical expression of IDH1, ATRX and p53 in low-grade diffuse gliomas.
Study Design: Cross-sectional study.
Place and Duration of Study: Department of Histopathology, Armed Forces Institute of Pathology, Rawalpindi Pakistan, from Jan to Jun 2020.
Methodology: Forty-two cases of low-grade diffuse glioma were included in the study. The cases were stratified into diffuse astrocytoma and oligodendroglioma based on results of immunohistochemistry expression for IDH1, ATRX and p53.
Results: The frontal lobe was the most commonly affected site 14 (33.3%). Based on the results of immunohistochemistry expression, 26 cases (61.9%) were diagnosed as an oligodendroglioma, while 16 cases (38.1%) were diagnosed as diffuse astrocytoma. All cases were assigned who grade II out of IV. In oligodendrogliomas, all cases (100%) were IDH1 mutants with the retained expression of ATRX and wild type expression of p53. Among the 16 cases of diffuse astrocytoma, IDH1 was mutant in 12 cases (75%), ATRX expression was lost in all cases, and p53 was mutant in 6 cases (37.5%).
Conclusion: The study showed that low-grade diffuse gliomas could be stratified and sub-classified in accordance with the World Health Organization (WHO) classification of CNS tumours (2016) successfully by application of immunohistochemistry for IDH1, ATRX and p53.
Downloads
Download data is not yet available.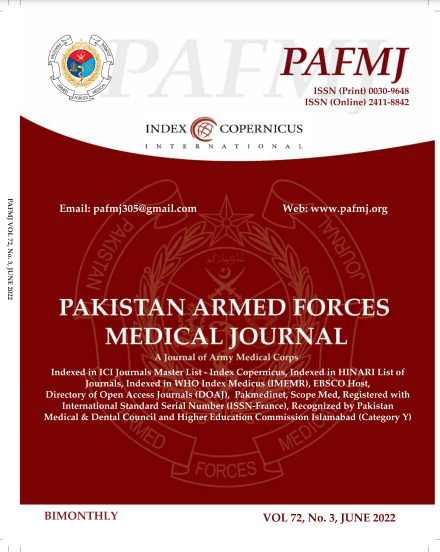 How to Cite
Arif, A., Akhtar, F., Ahson, A., Uddin, H., Ahmed, R., & Ahmed, A. (2022). Immunohisto Chemical Expression of IDH1, ATRX and P53 in Low Grade Diffuse Gliomas at Armed Forces Institute of Pathology, Rawalpindi. Pakistan Armed Forces Medical Journal, 72(3), 754-57. https://doi.org/10.51253/pafmj.v72i3.6851
Section
Original Articles