CENTRAL MACULAR THICKNESS AFTER CATARACT SURGERY IN NON-DIABETICS AND DIABETICS WITHOUT RETINOPATHY
Marrium Shafi

Wah Medical College, NUMS

Muhammad Akmal Khan

Wah Medical College, NUMS

Yaseen Lodhi

Wah Medical College, NUMS

Asma Aftab

Wah Medical College, NUMS

Muhammad Haroon Sarfraz

POF Hospital Wah Cantt
Keywords:
Central macular thickness, Diabetes mellitus, Phacoemulsification
Abstract
Objective:
To determine the mean change in central macular thickness after cataract surgery and to compare the mean change in central macular thickness after cataract surgery in non-diabetics and diabetics without diabetic retinopathy
Study design:
Case control
Study settings and duration:
A case control study was carried out at Ophthalmology department, POF hospital, Wah Cantt. Study duration was 6 months (April 2019-September 2019)
Material and methods:
A sample size of 60 patients was calculated by using Open Epi Software. We used non probability consecutive sampling. Patients were divided into two groups; Cases (Diabetic) and controls (non-Diabetic). All patients underwent phacoemulsification and observed after 4 weeks for macular thickness measurement using optical coherence tomography before and after surgery. Data analysis was done with SPSS version 20. Post stratification t test was applied. P value ≤0.05 was considered significant.
Results:
Total 60 patients were included. Mean age of patients was 65.31 ±7. 63SD.There were 35 (58.3%) males and 25 (41.7%) female patients in the study. We found a significant increase in central macular thickness in cases and controls [(223.100±15.86SD vs 227.2667±17.9SD, p=0.000) and (221.200±12.16SD vs 226.289±16.7861SD, p =0.001)] before and after phacoemulsification in cases and controls respectively. However, no significant difference was found between the groups (p=0.486).
Conclusion:
Central macular thickness was increased after uncomplicated phacoemulsification in both diabetics and non-diabetics without retinopathy for up to a follow-up period of 4 weeks but the thickness did not differ between the two groups.
Downloads
Download data is not yet available.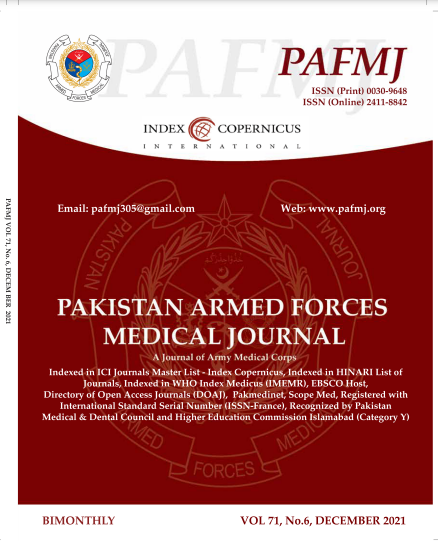 How to Cite
Shafi, M., Khan, M., Lodhi, Y., Aftab, A., & Sarfraz, M. (2021). CENTRAL MACULAR THICKNESS AFTER CATARACT SURGERY IN NON-DIABETICS AND DIABETICS WITHOUT RETINOPATHY. PAFMJ, 71(6), 1993-96. https://doi.org/10.51253/pafmj.v6i6.6840
Section
Original Articles