IN SILICO CHARACTERIZATION OF HUMAN INTERFERON ALPHA/BETA RECEPTOR 2 (ISOFORM A, B AND C) PROTEIN
Ambreen Javed

HITEC-Institute of Medical Sciences, Taxila/National University of Medical Sciences (NUMS) Pakistan

Gulshan Ara Trali

Swat Medical College, Saidu Sharif, Swat Pakistan

Hassan Burair Abbas

HITEC-Institute of Medical Sciences, Taxila/National University of Medical Sciences (NUMS) Pakistan

Alia Sadiq

HITEC-Institute of Medical Sciences, Taxila/National University of Medical Sciences (NUMS) Pakistan
Keywords:
IFNAR-2 protein, In silico analysis, Subcellular compartmentalization, Three-dimensional structure, Transmembrane helix
Abstract
Objective: To predict the tertiary structure of human interferon alpha/beta receptor 2 protein.
Study Design: Structure prediction by using bio informatics tools.
Place and Duration of Study: Department of Biochemistry, Swat Medical College (STMC), Saidu Shareef, Swat, Pakistan, from Aug 2019 to Dec 2019.
Methodology: All protein sequences of human interferon alpha/beta receptor 2 (isoforma, b and c) (IFNAR-2) were retrieved through the BLAST search (The Basic Local Alignment Search Tool) from available databases 'NCBI' (National Centre for Biotechnology Information) and 'Uni Prot KB' (The Universal Protein Resource). Sequence alignment was conducted by using Clustal Omega, to get the consensus sequence for IFNAR-2 protein. Consensus protein sequence of human IFNAR-2 was used for the prediction of the three-dimensional structure by employing Swiss-Model Server. Moreover, subcellular localization analysis was also performed by using CELLO2GO program.
Results: Structural model of human IFNAR-2 protein was predicted and evaluated by Ramachandran dimension. Cellular localization of tertiary topological domains of the predicted models were revealed probability of localization of IFNAR-2 protein (isoform a, b & c) is highest in the plasma membrane due to the presence of the transmembrane alpha helical regions.
Conclusion: This study predicted the tertiary structural dimensions of human IFNAR-2 protein, including the specific topological domains that contribute towards the subcellular compartmentalization and functional characteristics.
Downloads
Download data is not yet available.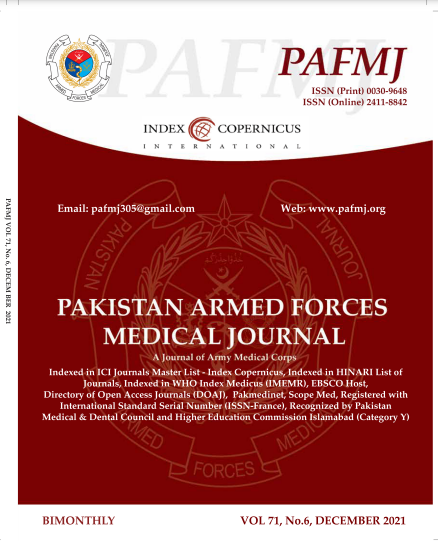 How to Cite
Javed, A., Trali, G., Abbas, H., & Sadiq, A. (2021). IN SILICO CHARACTERIZATION OF HUMAN INTERFERON ALPHA/BETA RECEPTOR 2 (ISOFORM A, B AND C) PROTEIN. PAFMJ, 71(6), 2091-94. https://doi.org/10.51253/pafmj.v71i6.6571
Section
Original Articles