THE SURVIVAL RATE OF CHICK EMBRYO INFLUENCED BY NICOTINE AND ANTIOXIDANT GREEN TEA (CAMELLIA SINENSIS)
Keywords:
Camellia sinensis, Chick embryo, Green tea, Incubation, Nicotine
Abstract
Objectives: To study the effects of Nicotine on the survival rate of chick embryo and to evaluate the preventive role by the antioxidant green tea camellia sinensis.
Study Design: Laboratory-based experimental study.
Place and Duration of Study: Army Medical College, Rawalpindi, from Nov 2011 to Nov 2012.
Methodology: A total of 75 Fayoumi fresh fertilized eggs were kept at Poultry Research Institute, Rawalpindi. Experimental solutions were injected to the eggs of four groups at forty-eight hours of incubation and the effect on the growth was recorded and compared with the control group. The control and experimental groups were observed to assess the effects of Nicotine and the role of antioxidant green tea Camellia sinensis on the survival rate and growth of chick embryo's femur.
Results: The control group (group-1) showed 100% survival rate of embryos. The experimental group-2 showed survival rate of 100% embryos and the group-3 and group-4 showed survival rate 50% and 70% of embryos, respectively.
Conclusion: It was concluded that green tea decreases the oxidative stress caused by the Nicotine.
Downloads
Download data is not yet available.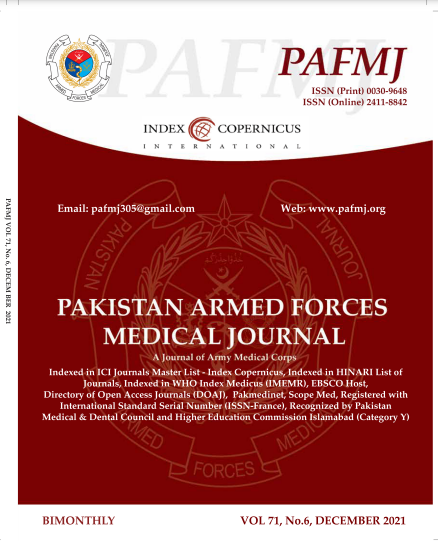 Downloads
How to Cite
Shan, M., Muazam, S., Shan, H., Atta, F., Iftikhar, Z., & Khalil, A. (2021). THE SURVIVAL RATE OF CHICK EMBRYO INFLUENCED BY NICOTINE AND ANTIOXIDANT GREEN TEA (CAMELLIA SINENSIS). Pakistan Armed Forces Medical Journal, 71(6), 2029–32. https://doi.org/10.51253/pafmj.v6i6.6462
Section
Original Articles