ADHESIVE CAPSULITIS; MANAGEMENT BY PHYSIOTHERAPY VERSUS INTRA-ARTICULAR CORTICOSTEROID INJECTION
Adhesive Capsulitis Management
Muhammad Umair Hashmi

Bahawal Victoria Hospital, Bahawalpur Pakistan

Babar Bakht Chughtai

Bahawal Victoria Hospital, Bahawalpur Pakistan

Muhammad Nadeem Ahsan

Bahawal Victoria Hospital, Bahawalpur Pakistan
Keywords:
Adhesive capsulitis, Frozen shoulder, Intra-articular injection, Visual analogue pain scale, Shoulder physiotherapy
Abstract
Objective: To determine outcomes of intra-articular corticosteroids injection versus physiotherapy for the treatment of adhesive capsulitis using mean pain score on the visual analogue scale.
Study Design: Comparative prospective study.
Place and Duration of Study: Orthopedic outpatient department, Bahawal Victoria Hospital Bahawalpur from Jan to Jun 2021.
Methodology: A total of 120 cases having adhesive capsulitis (frozen shoulder) were included in the study according to inclusion criteria. Non-probability consecutive sampling technique was used for the selection of cases. Patients were divided into two groups, group-A and group B, each containing 60 cases. Patients in group-A were given intra-articular steroid injection (2ml triamcinolone 40mg ± 2ml of bupivacaine). Patients in group B received ten sessions of physiotherapy by a welltrained physiotherapist under the supervision of an orthopaedic surgeon on alternate days. After six weeks, outcomes were measured in terms of pain score using a visual analogue pain scale.
Results: Significant improvement was seen among patients in group-A with mean pain score from 7.32 ± 0.89 measured initially to 5.44 ± 1.37 measured after six weeks (p<0.001). No significant improvement was found among patients in group B with a mean pain score of 7.58 ± 0.94 measured initially to 7.12 ± 0.88 measured after six weeks (p>0.05).
Conclusion: Significant improvement in pain relief can be achieved using intra-articular steroid injection administered in the shoulder as compared to supervised sessions of physiotherapy among patients with adhesive capsulitis.
Downloads
Download data is not yet available.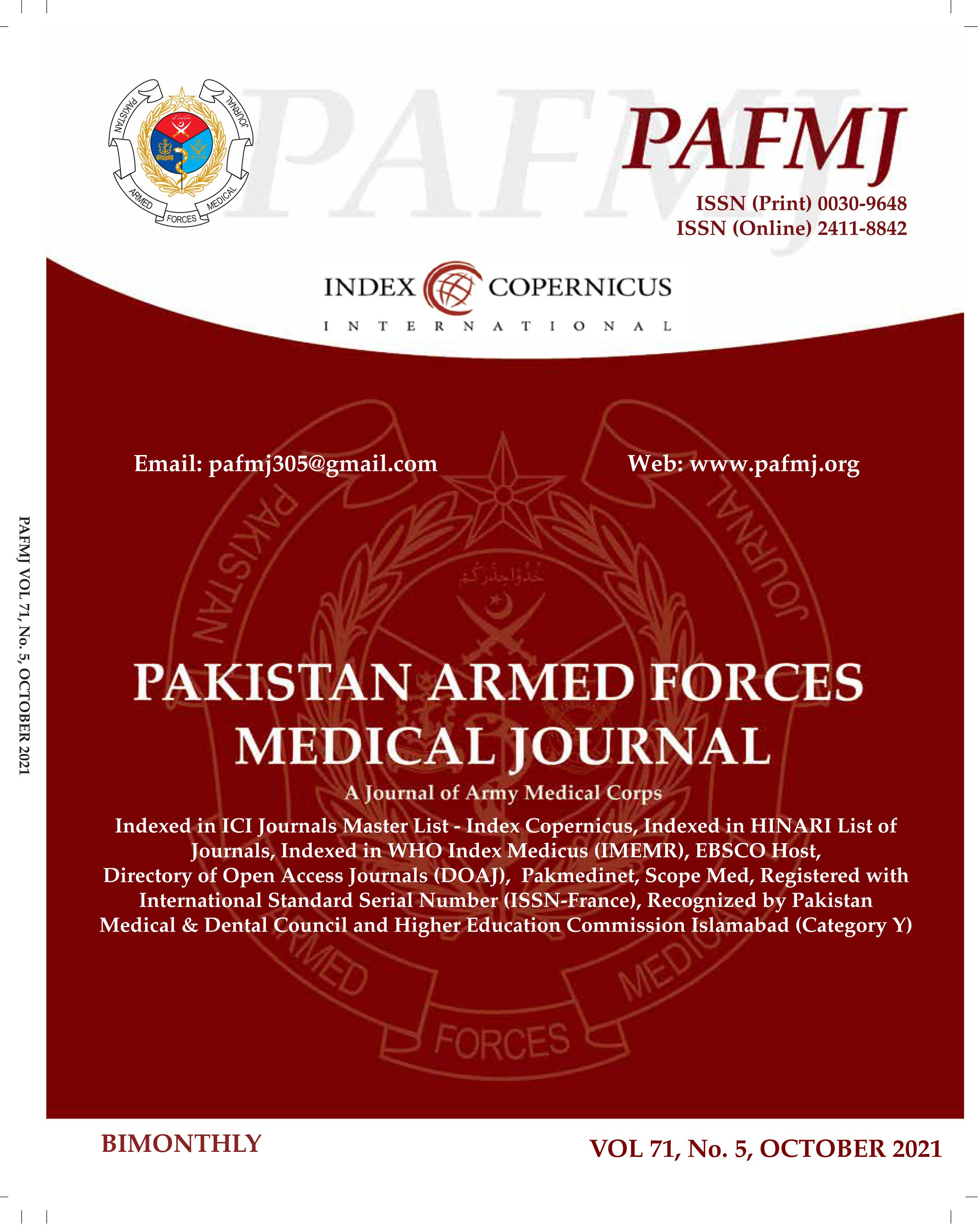 How to Cite
Hashmi, M., Chughtai, B., & Ahsan, M. (2021). ADHESIVE CAPSULITIS; MANAGEMENT BY PHYSIOTHERAPY VERSUS INTRA-ARTICULAR CORTICOSTEROID INJECTION. PAFMJ, 71(5), 1824-27. https://doi.org/10.51253/pafmj.v71i5.5974
Section
Original Articles