SCREENING OF GENETIC MUTATION IN ABCA1 GENE AND RELATIONSHIP OF LOW-DENSITY LIPOPROTEIN AND TRIGLYCERIDES IN PATIENTS WITH TYPE 2 DIABETES WITH AND WITHOUT DYSLIPIDEMIA
Munnaza Sarfraz

Army Medical College/National University of Medical Sciences (NUMS) Rawalpindi Pakistan

Amir Rashid

Army Medical College/National University of Medical Sciences (NUMS) Rawalpindi Pakistan

Midhat Mustafa

Army Medical College/National University of Medical Sciences (NUMS) Rawalpindi Pakistan

Saleem Ahmad Khan

Army Medical College/National University of Medical Sciences (NUMS) Rawalpindi Pakistan

Asifa Majeed

Army Medical College/National University of Medical Sciences (NUMS) Rawalpindi Pakistan
Keywords:
ABCA1 gene, DNA sequencing, Dyslipidemia, Low-density lipoproteins, Triglycerides, Type 2 diabetes mellitus
Abstract
Objective: To find the genetic mutation in exon-9 of the ABCA1 gene and relationship of serum low-density lipoprotein levels and serum triglycerides in patients with type 2 diabetes mellitus with and without dyslipidemia.
Study Design: Cross-sectional comparative.
Place and Duration of Study: Department of Biochemistry and Molecular Biology, Army Medical College Rawalpindi, from Jan to Dec 2017.
Methodology: Ninety subjects were selected and divided into three groups, thirty in each. The division was based on newly diagnosed patients of type 2 diabetes with dyslipidemia, newly diagnosed patients of type 2 diabetes and healthy individuals. Genomic DNA was extracted from the blood samples of all subjects. Exon-9 of the ABCA1 gene was amplified through polymerase chain reaction and sequenced on automated DNA sequencer. The biochemical data was analyzed by SPSS-20 and presented in percentage and mean  SD.
Results: The pattern of sequences of ABCA1 gene was found normal in patients of the group I and II through DNA sequencing. The levels of triglycerides were found elevated and mean value was 2.45 ± 0.57 for patients with diabetic dyslipidemia as compared to diabetic and control groups. The levels of low-density lipoproteins were observed as normal with mean value of 1.50 ± 0.22.
Conclusion: The ABCA1 gene did not carry any genetic mutation in exon-9 in studied subjects. The raised level of triglyceride lipoproteins was a typical sign of dyslipidemia with a normal profile of low-density lipoproteins.
Downloads
Download data is not yet available.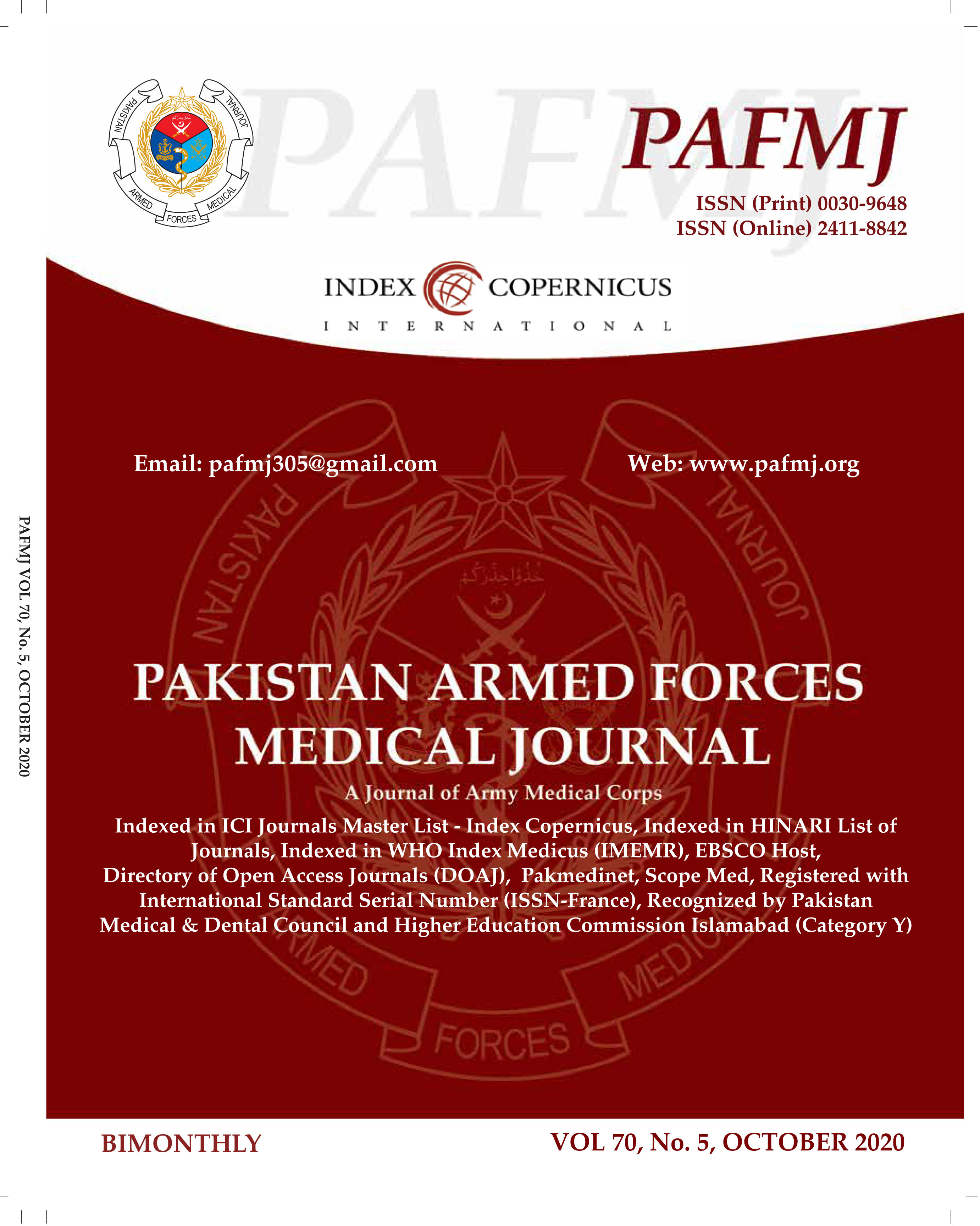 How to Cite
Sarfraz, M., Rashid, A., Mustafa, M., Khan, S., & Majeed, A. (2020). SCREENING OF GENETIC MUTATION IN ABCA1 GENE AND RELATIONSHIP OF LOW-DENSITY LIPOPROTEIN AND TRIGLYCERIDES IN PATIENTS WITH TYPE 2 DIABETES WITH AND WITHOUT DYSLIPIDEMIA. PAFMJ, 70(5), 1271-76. Retrieved from https://pafmj.org/index.php/PAFMJ/article/view/5548
Section
Original Articles