Perinatal Outcome of Intrahepatic Cholestasis of Pregnancy
Hira Shafqat

Pak Emirates Military Hospital/National University of Medical Sciences (NUMS) Rawalpindi Pakistan

Abeera Ch

Pak Emirates Military Hospital/National University of Medical Sciences (NUMS) Rawalpindi Pakistan

Munawar Jannat

Pak Emirates Military Hospital/National University of Medical Sciences (NUMS) Rawalpindi Pakistan

Almas Yasmeen

Pak Emirates Military Hospital/National University of Medical Sciences (NUMS) Rawalpindi Pakistan

Zainab Abbas

Pak Emirates Military Hospital/National University of Medical Sciences (NUMS) Rawalpindi Pakistan

Yusra Almas

Pak Emirates Military Hospital/National University of Medical Sciences (NUMS) Rawalpindi Pakistan
Keywords:
Adverse perinatal outcome, Alanine aminotransferase (ALT), Obstetric cholestasis
Abstract
Objective: To determine the perinatal outcome of intrahepatic cholestasis of pregnancy and its association with obstetric and biochemical parameters.
Study Design: cross-sectional study.
Place and Duration of Study: Pak Emirates Military Hospital, Rawalpindi, from Feb to Aug 2020.
Methodology: Among 3201 obstetric patients, 50 patients of obstetric cholestasis were included in the study. Data was collected on a well-designed proforma. Patients' characteristics such as age, parity, gestational age at diagnosis and delivery, mode of delivery and co-morbidities were taken along with biochemical markers. Two groups were made based on perinatal outcome, and associations with all variables were checked.
Results: Obstetric cholestasis was found to be 1.6%. The mean age of subjects was 27.36. The itching was the most common presenting complaint. (74%) subjects were primigravida. The majority, 29 (58%), were diagnosed between 34-35 weeks. The mean gestational age at delivery was 37.54 ± 1.96 weeks, with 70% caesarean section. Among perinatal outcomes, 24 (48%) had fetal distress, 2 (4%) had intrauterine growth restriction, 20(40%) had meconium-stained liquor, 2 (4%) had intrauterine fetal demise, 7(14%) had low birth weight babies,16.7% had poor APGAR score and 14 needed intensive care admission. The mean alanine aminotransferase (ALT) was higher among those with the adverse perinatal outcome, with a cut-off value of alanine aminotransferase (ALT) of 93.5 by ROC analysis.
Conclusion: Obstetric cholestasis leads to adverse outcomes. Although no definite marker can rule out the risk of intrauterine demise, increased fetomaternal surveillance with active management induction of labour protocols may reduce the incidence of........
Downloads
Download data is not yet available.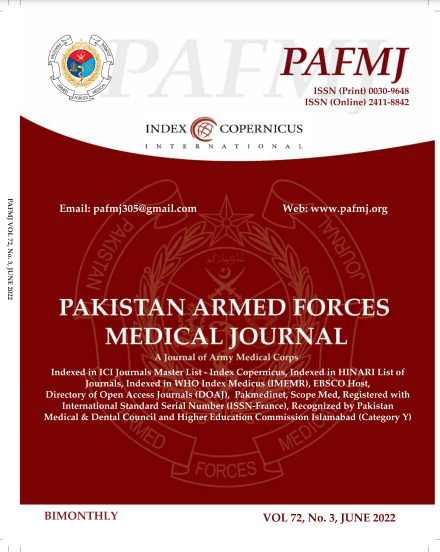 How to Cite
Shafqat, H., Ch, A., Jannat, M., Yasmeen, A., Abbas, Z., & Almas, Y. (2022). Perinatal Outcome of Intrahepatic Cholestasis of Pregnancy. PAFMJ, 72(3), 956-60. https://doi.org/10.51253/pafmj.v72i3.5346
Section
Original Articles