ASSESSMENT OF SLEEP QUALITY IN PATIENTS WITH TYPE 2 DIABETES MELLITUS: A PROSPECTIVE OBSERVATIONAL STUDY FROM A TERTIARY CARE CENTRE
Syeda Ramsha Batool

Jinnah Postgraduate Medical Centre, Karachi Pakistan

Insia Hasan

Jinnah Postgraduate Medical Centre, Karachi Pakistan

Jawed Akbar Dars

Jinnah Postgraduate Medical Centre, Karachi Pakistan

Rabisa Batool

Jinnah Postgraduate Medical Centre, Karachi Pakistan

Syed Masroor Ahmed

Jinnah Postgraduate Medical Centre, Karachi Pakistan

Muhammad Iqbal

Jinnah Postgraduate Medical Centre, Karachi Pakistan
Keywords:
Diabetes mellitus Type 2, Glycemic control, Insomnia, Sleep quality
Abstract
Objective: To evaluate the quality of sleep-in patients diagnosed with Type 2 Diabetes Mellitus (T2DM).
Study Design: Prospective observational study.
Place and Duration of Duration: Psychiatry Department and Medicine Ward of Jinnah Postgraduate Medical Centre, Karachi Pakistan, from Apr to Nov 2018.
Methodology: All patients with Type 2 Diabetes Mellitus were included in the study. All cases under age 30, type I diabetes, gestational diabetes and patients with severe illness were excluded. The data of sociodemographic lifestyle factors was collected through a pre-designed semi-structured questionnaire and sleep quality of patients was assessed using Pittsburg Sleep Quality Index (PSQI). The results of the data were analyzed by using SPSS version 24.
Results: Out of 260 patients with Type 2 Diabetes Mellitus, 197 (76%) were female. The mean age of the sample was 55.7 ± 9.89 years, with only 54 (20.8%) having normal body mass index. More than 50% of sample was poor sleepers and educational status was found to be strongly associated with quality of sleep (p-value <0.05).
Conclusion: The present study indicates that patients with Diabetes Mellitus often experienced sleep irregularities hence poor sleep quality. There is a need to increase the awareness regarding sleep quality among patients and health professionals as well while assessing the patients with Diabetes Mellitus.
Downloads
Download data is not yet available.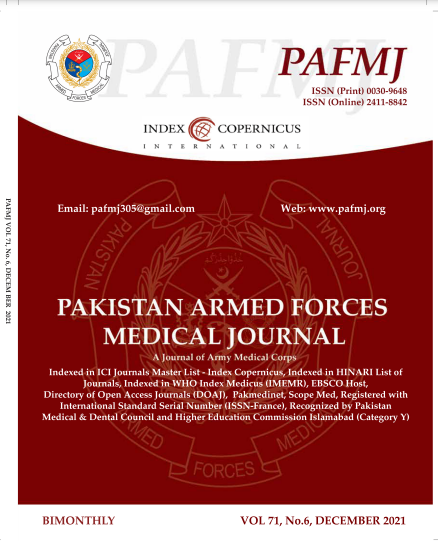 How to Cite
Batool, S., Hasan, I., Dars, J., Batool, R., Ahmed, S., & Iqbal, M. (2021). ASSESSMENT OF SLEEP QUALITY IN PATIENTS WITH TYPE 2 DIABETES MELLITUS: A PROSPECTIVE OBSERVATIONAL STUDY FROM A TERTIARY CARE CENTRE. PAFMJ, 71(6), 1954-57. https://doi.org/10.51253/pafmj.v6i6.4585
Section
Original Articles