AUDIT OF MANAGEMENT OF ADULT CHOLEDOCHAL CYSTS
Ammad Ud Din Nasir

Pak Emirates Military Hospital/National University of Medical Sciences (NUMS) Rawalpindi Pakistan

Muhammad Shoaib Khan

Pak Emirates Military Hospital/National University of Medical Sciences (NUMS) Rawalpindi Pakistan

Anas Bin Saif

FTC Kotli Pakistan

Qasim Butt

Pak Emirates Military Hospital/National University of Medical Sciences (NUMS) Rawalpindi Pakistan

Hanif Abbasi

Pak Emirates Military Hospital/National University of Medical Sciences (NUMS) Rawalpindi Pakistan
Keywords:
Choledochal cyst, Hepatobiliary disease, Obstructive jaundice
Abstract
Objective: To analyze the complexity and diversity of type, surgical management and complications in adult choledochal cysts presenting to a Hepatobiliary unit of a tertiary care hospital.
Study Design: Case series.
Place and Duration of Study: Pak Emirates Military Hospital Rawalpindi, from Jan 2017 to Dec 2019.
Methodology: All the patients diagnosed with choledochal cyst and underwent surgical procedure between Jan 2017 to June 2019 were analyzed. The clinical features, types, operative procedure and outcomes of the patients in terms of post-operative morbidity and mortality were assessed. Calvin Dindo classification was used to assess complications.
Results: A total of 17 patients were studied, out of which, 13 were females (76.5%) and 4 were males (23.5%) with mean age of 37.41 ± 16.96 years. There were 13 type I (76.5%), 2 type IVa (11.8%) and 1 type II (5.9%) choledochal cysts according to Todani's classification. Extrahepatic cyst excision with a Roux-en-Y hepatico-jejunostomy was performed on all 17 patients. There was no mortality in the series. Post-operative complications occurred in 4 (23.5%) patients, 2 were grade II, 1 was grade I and 1 grade III according to Clavin Dindo scale. Long-term follow up revealed recurrent cholangitis in 3 (17.6%) patients which settled on antibiotic regime. The median follow up time was 1.5 years.
Conclusion: The total extra-hepatic excision with Roux-en-Y hepaticojejunostomy is the treatment of choice for adult choledochal cyst. The procedure has low morbidity and very low mortality.
Downloads
Download data is not yet available.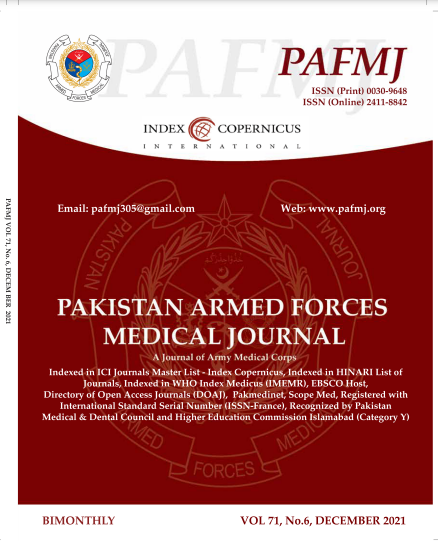 How to Cite
Nasir, A., Khan, M., Saif, A., Butt, Q., & Abbasi, H. (2021). AUDIT OF MANAGEMENT OF ADULT CHOLEDOCHAL CYSTS. PAFMJ, 71(6), 1997-2000. https://doi.org/10.51253/pafmj.v6i6.4476
Section
Original Articles