Efficacy of Sofosbuvir and Daclatasvir in Achieving the End Treatment Response and Sustained Viral Response in Patients infected with Hepatitis C Virus Genotype 3
Keywords:
End treatment response, Hepatitis C, Sustained virologic response, Daclatasvir, Sofosbuvir
Abstract
Objective: To ascertain the efficacy of sofosbuvir combined with daclatasvir against hepatitis C genotype 3 infection.

Study Design: Prospective longitudinal study.

Place and Duration of Study: Ayub Teaching Hospital, Abbottabad, Pakistan, from Nov 2018 to Jan 2020.

Methodology: About 262 patients were treated during the study. Patients with symptoms associated with liver failure, including ascites, uncontrolled bleeding, encephalopathy and other comorbidities, were excluded from the study. Patients with diagnosed hepatitis C genotype 3 infection were given daclatasvir and sofosbuvir combined with follow-up visits at 12 and 24 weeks of treatment. Primary outcome variables were end treatment response, sustained viral response, nonresponders, and relapse rate. In addition, secondary outcomes of patient variables including age, gender, and baseline viral load were observed.

Results: The mean age of patients was 39.8 ± 8.2 years. The twelve-week course of Sofosbuvir and Daclatasvir produced an end treatment response (ETR) of 98.9%, while the sustained virological response was 95.8%. The combination had no adverse effects, and none of the patients reported treatment discontinuation. There were no deaths due to treatment.

Conclusion: The current study indicates that using Sofosbuvir in conjunction with Daclatasvir is an effective drug regime against the Hepatitis C virus, type 3 infection.

Downloads
Download data is not yet available.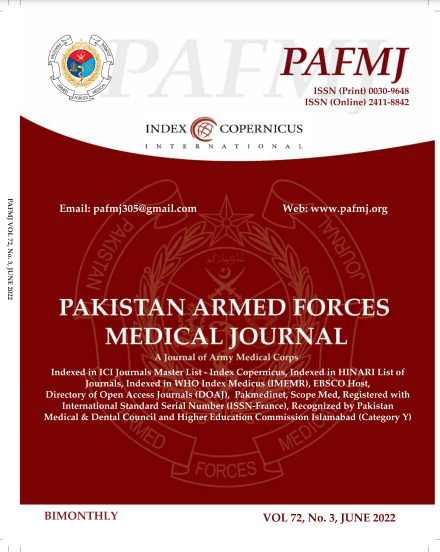 Downloads
How to Cite
Ullah, Z., Khan, S. Z., Lodhi, H., Khan, H., Hidayat, R., & Ahmed, M. (2022). Efficacy of Sofosbuvir and Daclatasvir in Achieving the End Treatment Response and Sustained Viral Response in Patients infected with Hepatitis C Virus Genotype 3. Pakistan Armed Forces Medical Journal, 72(3), 1074–77. https://doi.org/10.51253/pafmj.v72i3.4470
Section
Original Articles