PREVALENCE OF LEFT VENTRICULAR HYPERTROPHY IN NEWLY DIAGNOSED HYPERTENSIVE PATIENTS
Umair Masood

Combined Military Hospital Nowshera Pakistan

Ali Javed

Combined Military Hospital Nowshera Pakistan

Fariha Ashraf

Islamabad Medical and Dental College Islamabad Pakistan

Umar Javed

Combined Military Hospital Sargodha Pakistan

Abdul Wahab Siddique

Combined Military Hospital Lahore/National University of Medical Sciences (NUMS) Pakistan

Qasim Zaheer

Combined Military Hospital Rawalakot Pakistan
Keywords:
Cornell voltage criteria, Echocardiography, Hypertension, Left ventricular hypertrophy, Sokolow-Lyon criteria
Abstract
Objective: To detect frequency of left ventricular hypertrophy in patients with newly diagnosed hypertension.
Study Design: Cross sectional study.
Place and Duration of Study: Out patient and inpatient, Department of Medicine of Combined Military Hospital Nowshera, from Sep 2018 to Sep 2019.
Methodology: One hundred and twenty patients were included in this study and they were classified into stage 1 and 2 hypertension according to American college of cardiology guidelines. Electrocardiography of all patients was done and Sokolow-Lyon and Cornell voltage criteria were used to detect left ventricular hypertrophy (LVH). 2-D echocardiography was also done to confirm the presence or absence of left ventricular hypertrophy.
Results: Amongst 120 patients 71 (59.16%) were males and 49 (40.83%) were females with mean age 47.79 ± 0.79 years. There was no significant gender based relationship. In this study 41 (34.16%) patients had stage 1 hypertension whereas 79 (65.83%) had stage 2 hypertension at time of diagnosis. Sokolow-Lyon criteria showed 21 (17.5%) patients had left ventricular hypertrophy, 17 (14.6%) patients had left ventricular hypertrophy as per Cornell Voltage criteria with an overlap of 9 (7.5%). Echocardiography revealed left ventricular hypertrophy in 28 (23.33%) patients amongst which 24 had Stage 2 hypertension and 4 had Stage 1 hypertension (p<0.05).
Conclusion: Significant number of patients with newly diagnosed hypertension already had left ventricular hypertrophy due to lack of screening and education.
Downloads
Download data is not yet available.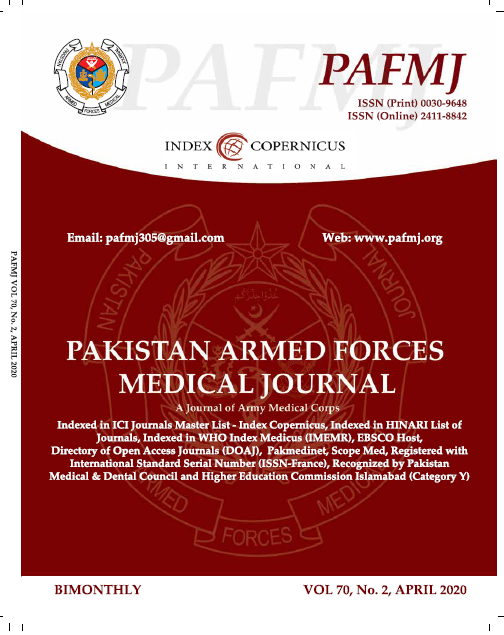 How to Cite
Masood, U., Javed, A., Ashraf, F., Javed, U., Siddique, A., & Zaheer, Q. (2020). PREVALENCE OF LEFT VENTRICULAR HYPERTROPHY IN NEWLY DIAGNOSED HYPERTENSIVE PATIENTS. Pakistan Armed Forces Medical Journal, 70(2), 529-34. Retrieved from https://pafmj.org/index.php/PAFMJ/article/view/4224
Section
Original Articles