HOSPITAL WASTE MANAGEMENT PRACTICES AT PAKISTAN FIELD HOSPITAL LEVEL II IN UNITED NATIONS MISSION IN LIBERIA
Amir Ali

Combined Military Hospital/National University of Medical Sciences (NUMS) Rawalpindi Pakistan

Roomana Anwar

Combined Military Hospital/National University of Medical Sciences (NUMS) Rawalpindi Pakistan

Atia Suhail

Combined Military Hospital/National University of Medical Sciences (NUMS) Rawalpindi Pakistan

Waqar Dahri

Combined Military Hospital/National University of Medical Sciences (NUMS) Rawalpindi Pakistan
Keywords:
Hospital waste, Management, Paramedic, Physicians
Abstract
Objective: To assess the knowledge about hospital waste management amongst doctors, paramedic`s and general duty staff and to know various techniques of hospital waste disposal practiced at PAKMED.
Study Design: Cross sectional descriptive.
Place and Duration of study: Pakistan Field Hospital level II (PAKMED), United Nation Mission, Liberia (UNMIL), from May 2017 to Oct 2017.
Methodology: A total of 69 participants, age ranging between 24 to 50 years of age including 14 doctors, 40 paramedics and 15 general duty staff of different departments were selected. A questionnaire consisting of 20 questions divided in two sections was used.
Results: Out of 69 participants, 62 (89.85%) were males and 7(10.1%) were females. One (7.1%) of the doctors, 5 (12.5%) of paramedics and 8 (53.3%) of general duty (GD) staff was not aware of the different types of hospital waste generated in different departments. Two (14.2%) doctors, 11 (27.5%) paramedics and 8 (53.3%) general duty staff was not aware of the color coding for different types of hospital wastes. About 56 (81.1%) of the participants segregated the waste. Regarding the disposal of sharp wastes like needles, 42 (60.8%) of all participants break the needle and 21 (30.4%) use needle burner to destroy it which is the ideal method.
Conclusion: Knowledge about hospital waste and its management and techniques of its disposal was appropriate among majorities of doctors, paramedics and general duty staff. However there is need for improvement in the knowledge about hospital waste management system.
Downloads
Download data is not yet available.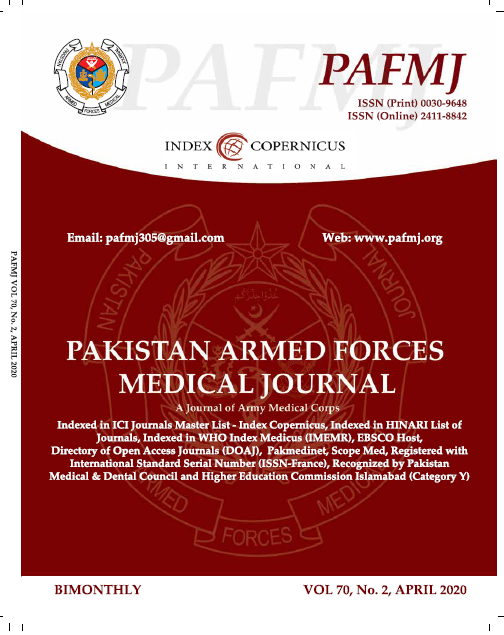 How to Cite
Ali, A., Anwar, R., Suhail, A., & Dahri, W. (2020). HOSPITAL WASTE MANAGEMENT PRACTICES AT PAKISTAN FIELD HOSPITAL LEVEL II IN UNITED NATIONS MISSION IN LIBERIA. Pakistan Armed Forces Medical Journal, 70(2), 379-84. Retrieved from https://pafmj.org/index.php/PAFMJ/article/view/4195
Section
Original Articles