Combined Military Hospital Quetta/National University of Medical Sciences (NUMS) Pakistan
Muhammad Ijaz Khan

Jinnah Postgraduate Medical Center, Karachi Pakistan

Ghulam Haider

Jinnah Postgraduate Medical Center, Karachi Pakistan

Khalil Ahmed

Jinnah Postgraduate Medical Center, Karachi Pakistan

Shiraz Shaikh

Jinnah Postgraduate Medical Center, Karachi Pakistan

Kiran Abbas

Jinnah Postgraduate Medical Center, Karachi Pakistan

Moiz Ahmed

Jinnah Postgraduate Medical Center, Karachi Pakistan

Hamza Sohail

Jinnah Postgraduate Medical Center, Karachi Pakistan
Keywords:
Breast carcinoma, Estrogen receptor, Grade, Her-2/neu, Progesterone receptor
Abstract
Objectives: To evaluate the tumor grades in different receptors (Estrogen, Progesterone and Her-2/neu) categories and age groups among women with Breast Cancer.
Study Design: An observational cross-sectional study.
Place and Duration of Study: Oncology department, Jinnah Postgraduate Medical Center, Karachi, from Jul 2017 to Dec 2018.
Methodology: Total of 450 patients were enrolled in this study using non-probability consecutive sampling technique. The Receptors Status of Estrogen, Progesterone and Her2/neu was resolved into 4 different categories as i) Triple Positive (ER+PR+HER2+), ii) Triple Negative (ER-PR-HER2-), iii) ER+PR+Her2-, iv) ER–PR-Her2+. Age-wise, patients were divided into 3 groups.
Results: The mean age of patients was 46.57 years ± 10.82. No patient was observed with Grade I tumor while 240 with Grade II and 210 with Grade-III. 164/450 patients were observed in the ER+PR+Her2- category. Out of 164, 68.3% were Grade-II and 31.7% were Grade-III (p˂0.001). In Triple-Negative category, 94 patients were observed, 31.90% were Grade-II while 68.10% were Grade-III (p<0.001). The patients, age with tumor Grade also showed statistically significant correlation (p<0.001).
Conclusion: This study sheds light on the tumor characteristics of our local population. Majority of our patients had ER+PR+Her2– phenotype/category dominantly having Grade-II tumors followed by Triple Negative typically showing Grade-III. Many of our patients were young (aged less than 36 years) having largely Grade-III tumors while older patients of age above 51 years dominantly showed Grade-II.
Downloads
Download data is not yet available.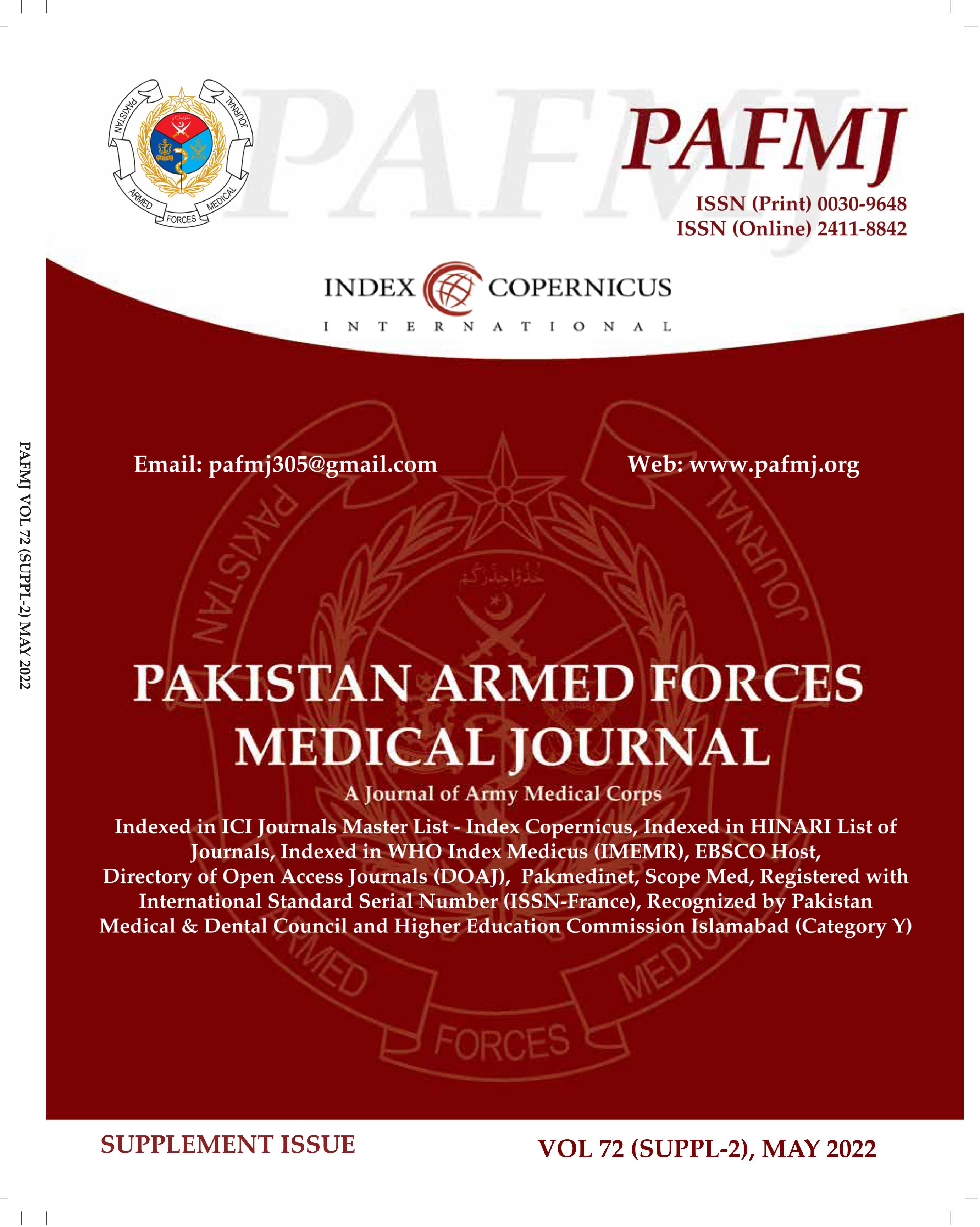 How to Cite
Khan, M., Haider, G., Ahmed, K., Shaikh, S., Abbas, K., Ahmed, M., & Sohail, H. (2022). Combined Military Hospital Quetta/National University of Medical Sciences (NUMS) Pakistan. Pakistan Armed Forces Medical Journal (PAFMJ), 72(SUPPL-2), S208-11. https://doi.org/10.51253/pafmj.v72iSUPPL-2.3996
Section
Original Articles