COMPARISON OF CERVICAL CERCLAGE AND VAGINAL PROGESTERONE IN CERVICAL INSUFFICIENCY: OUR EXPERIENCE AT CMH LAHORE
Saima Qamar

Combined Military Hospital Lahore/National University of Medical Sciences (NUMS) Pakistan

Pakeeza Aslam

Combined Military Hospital Lahore/National University of Medical Sciences (NUMS) Pakistan

Tehreem Rasheed

Mukhtar A Sheikh Memorial Welfare Hospital, Multan Pakistan

Humaira Osman Jaffery

Combined Military Hospital Lahore/National University of Medical Sciences (NUMS) Pakistan

Quratulain Mushtaq

Combined Military Hospital Lahore/National University of Medical Sciences (NUMS) Pakistan

Shazia Tufail

Combined Military Hospital Lahore/National University of Medical Sciences (NUMS) Pakistan
Keywords:
Cervical cerclage, Cervical insufficiency, Efficacy
Abstract
Objective: To compare the efficacy of cervical cerclage with vaginal progesterone in patients with cervical insufficiency.
Study Design: Quasi experimental study.
Place and Duration of Study: Department of Gynecology and Obstetrics, Combined Military Hospital Lahore, from Jan 2018 to Jun 2018.
Methodology: The study involved 188 pregnant women with cervical insufficiency reporting in outpatient Department. After taking informed consent, the outcome variables age, number of mid-trimester pregnancy losses, body mass index and gestational age were recorded on specially designed proforma. Efficacy as if pregnancy was carried to 37 weeks of gestation was recorded. 93 patients were inducted in cerclage arm and 95 patients were treated with vaginal progesterone 400 mg once daily.
Results: The mean age of the patients with cervical cerclage and vaginal progesterone was 31.622 ± 1.90 years and 31.42 ± 1.86 years respectively, while mean gestational age of cervical cerclage group was 21.840 ± 1.46 weeks and vaginal progesterone was 21.46 ± 1.52 weeks. The mean number of mid-trimester pregnancy losses with cervical cerclage was 2.39 ± 0.63 and vaginal progesterone was 2.44 ± 0.84. The mean body mass index of cervical cerclage group was 27.84 ± 1.86 kg/m2 and vaginal progesterone group was 28.01 ± 1.7 kg/m2. Efficacy in cervical cerclage group was seen in 79 (84.9%) patients and in 82 (86.3%) patients in vaginal progesterone group.
Conclusion: Prophylactic cervical cerclage and vaginal progesterone were equally effective in preventing preterm birth in patients with high risk of cervical insufficiency.
Downloads
Download data is not yet available.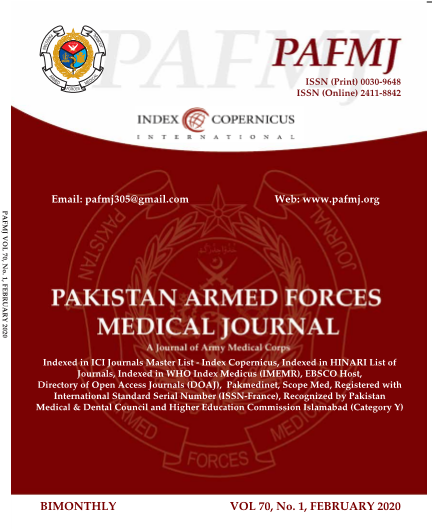 How to Cite
Qamar, S., Aslam, P., Rasheed, T., Jaffery, H., Mushtaq, Q., & Tufail, S. (2020). COMPARISON OF CERVICAL CERCLAGE AND VAGINAL PROGESTERONE IN CERVICAL INSUFFICIENCY: OUR EXPERIENCE AT CMH LAHORE. PAFMJ, 70(1), 185-89. Retrieved from https://pafmj.org/index.php/PAFMJ/article/view/3960
Section
Original Articles