A COMPARATIVE STUDY REGARDING PAIN PERCEPTION AMONG MALES AND FEMALES OF UNIVERSITY STUDENTS IN PUNJAB, SINDH & BALOCHISTAN
Pain Perception among University Students
Saiyida Tasmeera

Foundation University, Islamabad Pakistan

Tanvir Akhtar

Foundation University, Islamabad Pakistan

Shoaib Kiani

Personnel Admiration Directorate, GHQ Rawalpindi Pakistan

Yasir Masood Afaq

MYMA Communication, Islamabad Pakistan

Naveeda .

Quaid-e-Azam University, Islamabad Pakistan
Keywords:
Pain, Gender, Perception, Psychosocial, Religious identity
Abstract
Objective: To compare gender differences on pain perception in Pakistani culture.
Study Design: Cross-sectional study.
Place and Duration of Study: Public and private universities of Rawalpindi, Islamabad, Gujrat, Karachi, and Quetta, from Mar to May 2019.
Methodology: A scale of religious identity was developed (n=300). Additionally, participants (n=240) were assigned to pain condition and no pain condition (control condition). Pain condition made them aware of headaches, while the control condition made them aware of death. Participants in both conditions were informed to jot down their emotions. They were also pro-vided Positive and Negative Affect Schedule (PANAS), a distractor task in the form of a story followed by a religious identity scale to compare the difference in percentages of males and females in pain and no pain perception on religious identity.
Results: The alpha reliability of the religious identity scale was 0.60 depicting a moderately internally consistent scale. Furthermore, the findings of the present study showed significant gender differences on pain perception. Mean values indicated high score for females (226.39 ± 28.43) than males (216.39 ± 31.73) in pain condition and similar was the case of no pain condition for females (130.81 ± 23.27) and males (133.35 ± 20.06). Whereas, males 33 (63.04%) were high on religious identity as compared to females 35 (56.06%) in pain condition whereas females 34 (50.84%) were high in no pain condition on religious identity as compared to males 22 (37.31%).
Conclusion: Findings suggested that significant differences exist between males and females in perceiving pain.
Downloads
Download data is not yet available.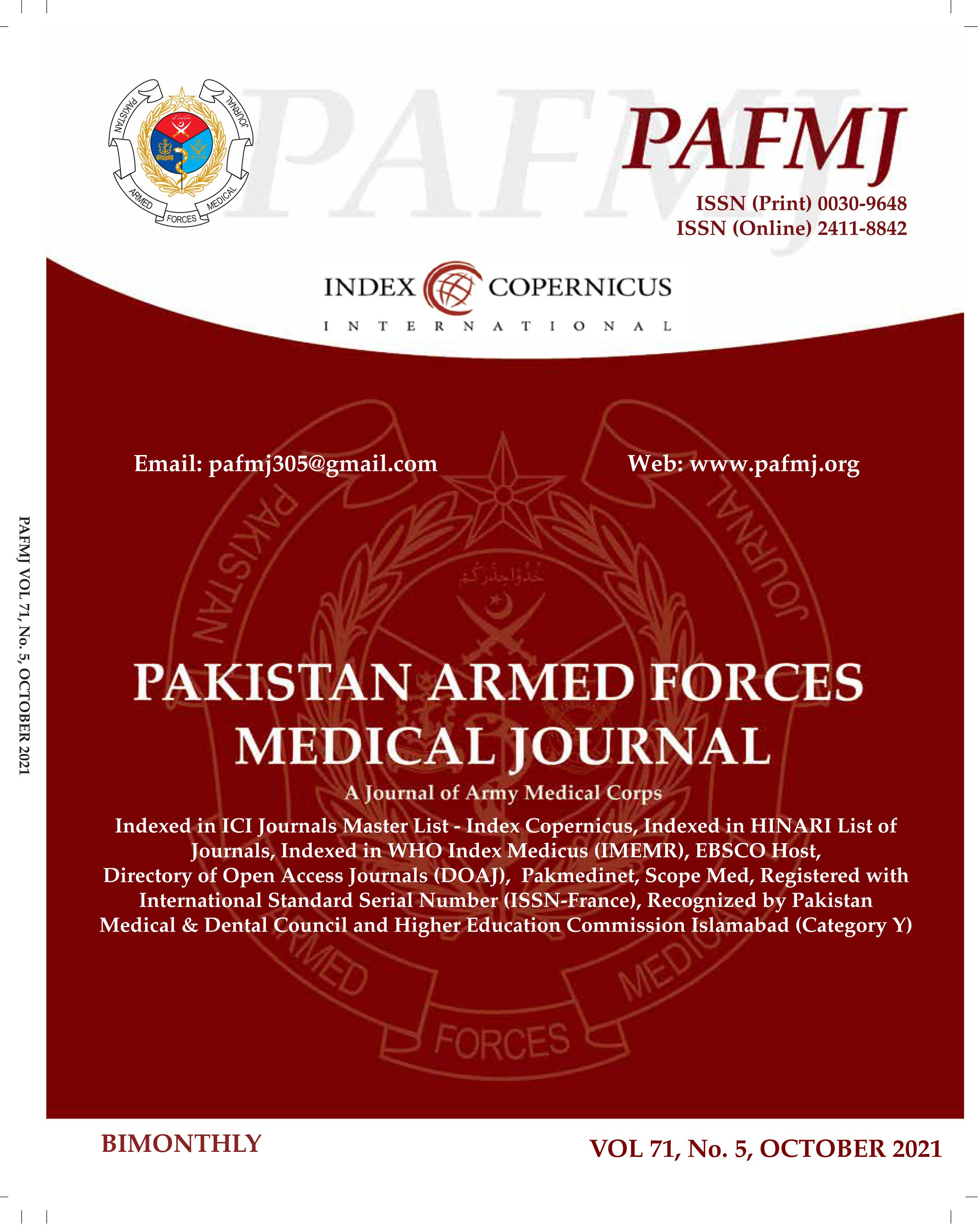 How to Cite
Tasmeera, S., Akhtar, T., Kiani, S., Afaq, Y., & ., N. (2021). A COMPARATIVE STUDY REGARDING PAIN PERCEPTION AMONG MALES AND FEMALES OF UNIVERSITY STUDENTS IN PUNJAB, SINDH & BALOCHISTAN. PAFMJ, 71(5), 1637-41. https://doi.org/10.51253/pafmj.v71i5.3712
Section
Original Articles