DEMOGRAPHIC VARANCE OF PRIMARY ESOPHAGEAL CANCER, BASED ON LOCATION AND HISTOPATHOLOGY IN PUNJAB-PAKISTAN
Muhammad Hafeez

Combined Military Hospital/National University of Medical Sciences (NUMS) Multan Pakistan

Farhan Ahmed Majeed

Combined Military Hospital/National University of Medical Sciences (NUMS) Multan Pakistan

Muhammad Tariq

CMH Multan Institute of Medical Sciences, Multan Pakistan

Tariq Sarfraz Khan

Army Medical College/National University of Medical Sciences (NUMS) Rawalpindi Pakistan

Shahnawaz Ateeque

CMH Multan Institute of Medical Sciences, Multan Pakistan

Abdul Latif Khattak

Quetta Institute of Medical Sciences, Quetta/National University of Medical Sciences (NUMS) Pakistan
Keywords:
Adenocarcinoma, Dysphagia, Esophageal Malignancy, Squamous cell carcinoma
Abstract
Objective: To determine the demographic variance in location and histopathological findings of esophageal carcinoma in Punjab-Pakistan.
Study Design: Observational cross sectional study.
Place and Duration of Study: This study was conducted in Multicentre Tertiary Care Hospitals of Combined Military Hospital/Pak Emirates Military Hospital/Army Medical College Rawalpindi, Combined Military Hospital Kharian and Combined Military Hospital Multan from 2010 to 2017.
Methodology: Patients with dysphagia and histopathology proven malignancy were included in this study. All patients had undergone flexible upper gastrointestinal endoscopy. Patients with lesions other than carcinoma, causing dysphagia and those with inconclusive histopathology were excluded from our study. The morpho-logical site of the carcinoma were divided into upper, middle, lower and at gastro-esophageal junction. Histo pathologically proven carcinoma of esophagus was reviewed for subtype of grading differentiation. Statistical analysis was done using IBM version SPSS 22.
Results: Out of 150 patients, 85 (57%) were males and 65 (43%) were females. Their age ranged between 30 to 85 ± 12.33. Among one hundred and fifty patients 107 (71.33%) had Squamous Cell Carcinoma, 42 (28%), Adeno-carcinoma and metastasis in two cases. Frequency of distribution of esophageal carcinoma in North, East and South Districts of Punjab was 73%, 18% and 9% respectively. Esophageal Carcinoma in upper, middle, lower and Gastroesophageal junction was 22.5%, 35%, 15% and 27.5% respectively. Frequency of well differentiated SCC was 46 (30.6%) and well differentiated AC 31 (20.7%) respectively.
Conclusion: SCC with male preponderance is more common in North of Punjab. Lower 1/3rd and GE junction esophageal tumor are the commonest sites in all North, East and South Punjab. Histopathological differentiation revealed Well Differentiated SCC along with significant rise in Adenocarcinomas compared to previous national studies.
Downloads
Download data is not yet available.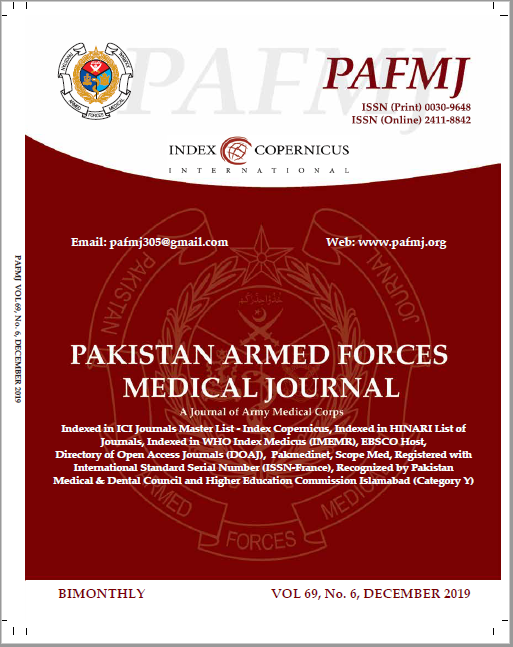 How to Cite
Hafeez, M., Majeed, F., Tariq, M., Khan, T., Ateeque, S., & Khattak, A. (2019). DEMOGRAPHIC VARANCE OF PRIMARY ESOPHAGEAL CANCER, BASED ON LOCATION AND HISTOPATHOLOGY IN PUNJAB-PAKISTAN. Pakistan Armed Forces Medical Journal, 69(6), 1346-50. Retrieved from https://pafmj.org/index.php/PAFMJ/article/view/3663
Section
Original Articles