CHANGES IN LEARNING APPROACHES BETWEEN MEDICAL STUDENTS AND POST-GRADUATES: A MIXED METHOD STUDY
Naila Asad

Services Institute of Medical Sciences, Lahore Pakistan

Abid Ashar

Fatima Memorial Hospital, Lahore Pakistan
Keywords:
ASSIST questionnaire, Learning approach, Medical students, Postgraduate students
Abstract
Objective: To compare the learning approach of final year and postgraduate students and assess the influence of gender and to explore with interviews if a change occurred at postgraduate level.
Study Design: Concurrent mixed method.
Place and Duration of Study: King Edward Medical University, Lahore, from Mar 2018 to Oct 2018.
Methodology: Hundred final year MBBS and 100 postgraduate students were included in the study for quantitative analysis. "ASSIST" Questionnaire was used to identify student's approach to studying as either "deep", "surface", "strategic" and also to find the correlation of gender with preference of study approach. Des-criptive statistics were calculated. Student's t-test was used for statistical comparisons. Qualitative data was collected through in depth semi structured interviews of postgraduate students. Thematic analysis was done to interpret the data and triangulation method was used for validation.
Results: The Mean age in undergraduate students was 23.24 ± 0.95 years (male 52% & female 48%) and 28.5 ± 2.3 years in postgraduate students (male 61% & female 39%). No significant difference was seen in mean scores for deep approach between undergraduate and postgraduate students. No significant difference was seen in the selection of approach among the females and males of both groups. Interviews indicated a change in approach from surface to deep in four postgraduate students.
Conclusion: There was predominance of strategic approach in medical undergraduates and deep approach in postgraduate students. Teaching and assessment methodology, clinical environment and role of supervisor changed the approach from surface to deep in postgraduate students.
Downloads
Download data is not yet available.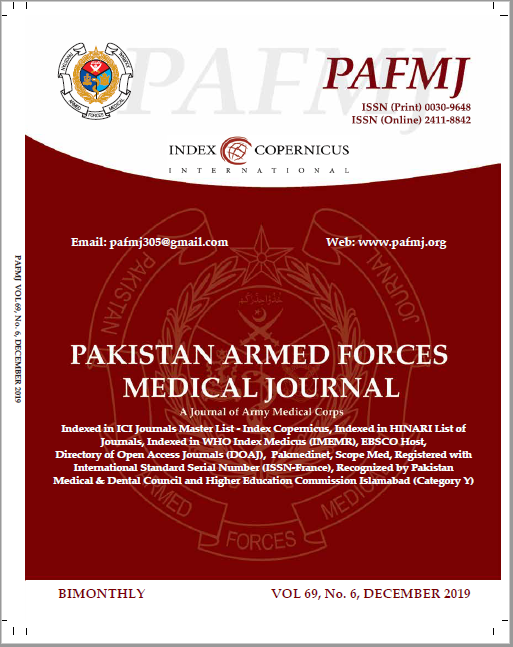 How to Cite
Asad, N., & Ashar, A. (2019). CHANGES IN LEARNING APPROACHES BETWEEN MEDICAL STUDENTS AND POST-GRADUATES: A MIXED METHOD STUDY. Pakistan Armed Forces Medical Journal, 69(6), 1297-1303. Retrieved from https://pafmj.org/index.php/PAFMJ/article/view/3654
Section
Original Articles