EFFECT OF REFRACTIVE ERROR CORRECTION ON VISUAL ACUITY AND FREQUENCY OF VARIOUS OCULAR DISORDERS IN LEGALLY BLIND CHILDREN
Muhammad Saim Khan

Combined Military Hospital Multan/National University of Medical Sciences (NUMS) Pakistan

Tahir Mumtaz

Combined Military Hospital Multan/National University of Medical Sciences (NUMS) Pakistan

Amjad Akram

Combined Military Hospital Kharian/ National University of Medical Sciences (NUMS) Pakistan

Imran Asif

POF Hospital, Wah Cantt, Pakistan

Bilal Murtaza

Combined Military Hospital, Okara Pakistan

Asaad Saleem

Bakhtawar Amin Medical and Dental College, Multan Pakistan
Keywords:
Childhood blindness, Inherited retinal disorders, Low vision, Leber congenital amaurosis
Abstract
Objective: To see the effect of refractive error correction on visual acuity and to observe the various causes of blindness in visually impaired children.
Study Design: Quasi experimental study.
Place and Duration of study: The study was carried out at Combined Military Hospital (CMH)/CMH Institute of Medical Sciences (CIMS) Multan, from Jun 2017 to Jun 2018.
Methodology: The administration authorities of Al-Noor Special education School, Multan were approached regarding establishment of free eye screening camps biannually. Parents of all the students were informed and consent was taken regarding this study. A total of 124 visually impaired children were included in the study. Children were examined by a consultant ophthalmologist and optometrist. Demographic details and related family history was noted. Visual acuity was assessed by Snellen chart and refractive error was assessed after achieving cycloplegia with 0.5% cyclopentolate eye drops. Detailed slit lamp examination of anterior and posterior segments was carried out by consultant ophthalmologist and the main cause of visual impairment was noted.
Results: A total of 124 students were assessed in this study. The age of students varied from 6 to 16 years with a mean of 9.48 ± 2.92 years. Out of total 79 (63.7%) were male while 45 (36.3%) were female students. Visual acuity of all the students was worse than 6/60. Considering the cause of blindness in children, retina was the most commonly affected organ contributing 62.9% of the cases. The leading retinal pathology appeared to be Leber's congenital Amaurosis and pigmentry retinopathies.
Conclusion: Retinal disorders appeared to be the most common cause of childhood blindness in our study, however detailed community based visual screening surveys need to be carried out for more comprehensive results.
Downloads
Download data is not yet available.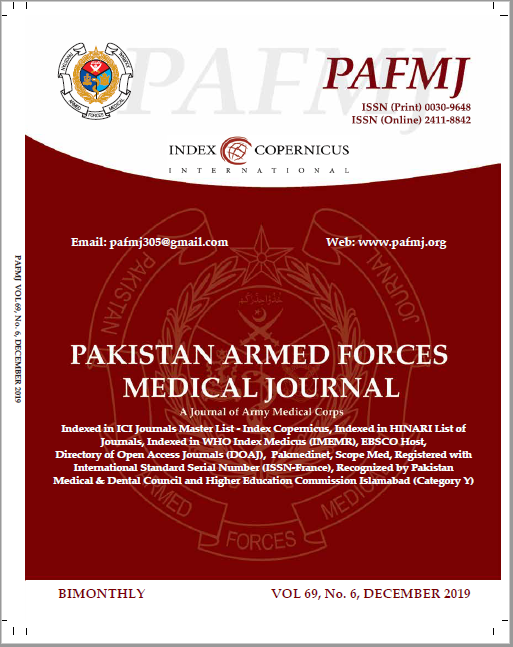 How to Cite
Khan, M., Mumtaz, T., Akram, A., Asif, I., Murtaza, B., & Saleem, A. (2019). EFFECT OF REFRACTIVE ERROR CORRECTION ON VISUAL ACUITY AND FREQUENCY OF VARIOUS OCULAR DISORDERS IN LEGALLY BLIND CHILDREN. PAFMJ, 69(6), 1243-47. Retrieved from https://pafmj.org/index.php/PAFMJ/article/view/3643
Section
Original Articles