Effect of Ketamine on Tourniquet Induced Hypertension
Muhammad Umer Hayat

Combined Military Hospital/National University of Medical Sciences (NUMS) Rawalpindi Pakistan

Mobasher Ahmed Saeed

Combined Military Hospital/National University of Medical Sciences (NUMS) Rawalpindi Pakistan

Ahmed Saeed

Combined Military Hospital/National University of Medical Sciences (NUMS) Rawalpindi Pakistan

Basit Mehmood Khan

Combined Military Hospital/National University of Medical Sciences (NUMS) Rawalpindi Pakistan

Sana Abbas

Combined Military Hospital/National University of Medical Sciences (NUMS) Rawalpindi Pakistan
Keywords:
Ketamine infusion, Tourniquet induced hypertension, General anaesthesia
Abstract
Objective: To compare the frequency of tourniquet induced hypertension in patients undergoing limb surgeries under general anesthesia with intravenous infusion of ketamine and placebo (saline infusion).
Study Design: Comparative prospective study.
Place and Duration of Study: Anaesthesia Department, Combined Military Hospital, Rawalpindi Pakistan, from May to Nov 2018.
Methodology: Total 80 patients undergoing upper and lower limb surgeries with tourniquet application under general anesthesia were randomly assigned into two equivalent groups. Group A (n=40) received intravenous ketamine 0.1 mg/kg bolus followed by infusion at a rate of 2ug/kg/min while Group B (n=40) received intravenous bolus of normal saline followed by its infusion via infusion pump. Systolic blood pressures were recorded by non-invasive method 30 seconds prior to tourniquet inflation and at 60 mins interval after its inflation. Results were characterized using the descriptive statistics. Mean and standard deviation (SD) were used for quantitative variables while frequency and percentages for qualitative variables. The p-value <0.05 was considered as significant.
Results: Tourniquet induced hypertension was found in 2 (5.0%) group A patients and 11 (27.50%) group B patients with statistically significant p-value of <0.05. Visual analogue scale score was slightly higher in the Saline group, but the result was statistically not significant (p=0.32).
Conclusion: Ketamine infusion reduces the occurrence of tourniquet induced hypertension in patients undergoing surgeries with tourniquet application.
Downloads
Download data is not yet available.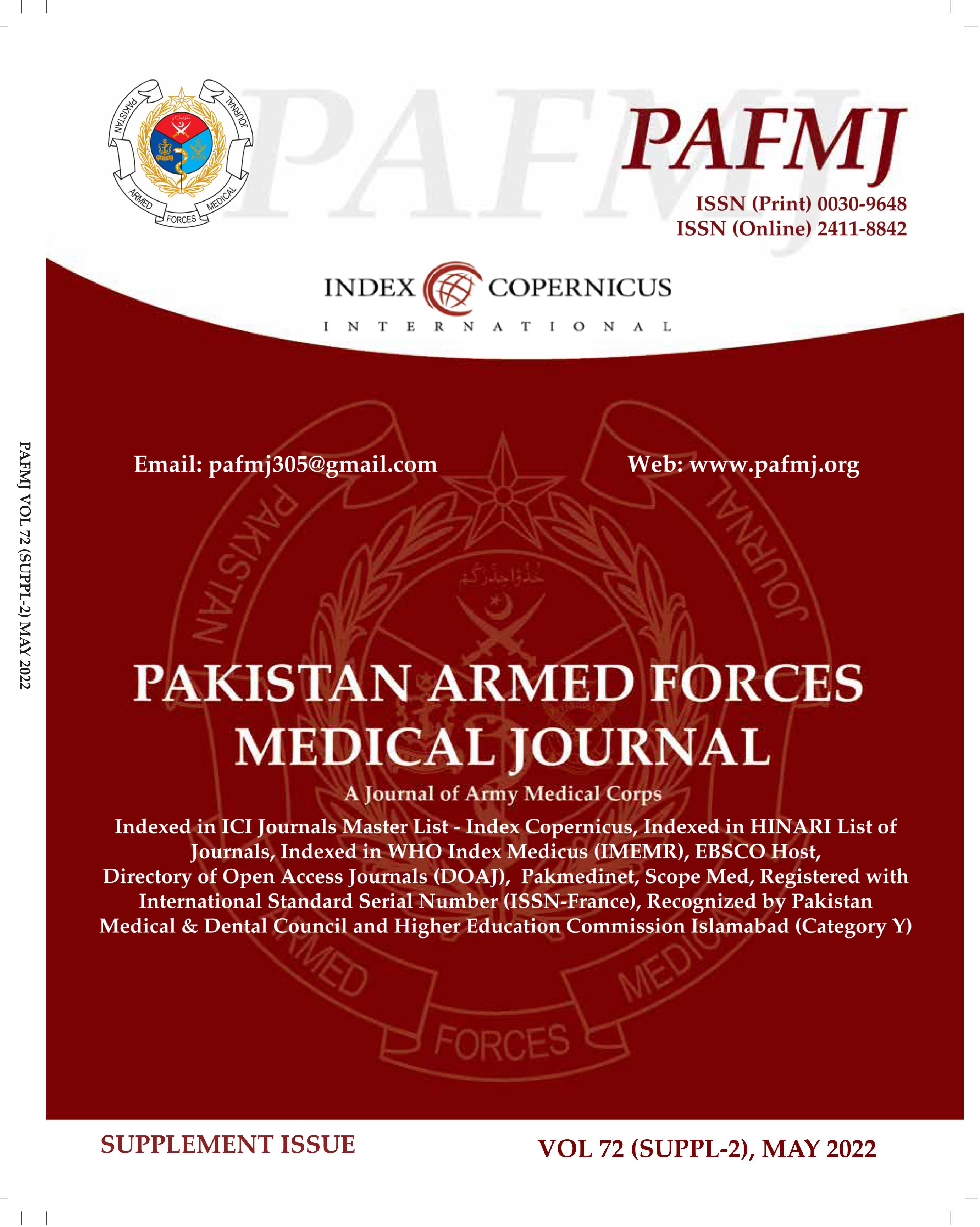 How to Cite
Hayat, M., Saeed, M., Saeed, A., Khan, B., & Abbas, S. (2022). Effect of Ketamine on Tourniquet Induced Hypertension. Pakistan Armed Forces Medical Journal, 72(SUPPL-2), S235-39. https://doi.org/10.51253/pafmj.v72iSUPPL-2.3634
Section
Original Articles