MEGA CISTERNA MAGNA DIAGNOSTIC DILEMMA
Mega Cisterna Magna
Muhammad Yar

King Fahad Armed Forces Hospital, Jeddah, Saudi Arabia

Riaz Ahmed Syed

King Fahad Armed Forces Hospital, Jeddah, Saudi Arabia

Mai Abou Al-Seoud

King Fahad Armed Forces Hospital, Jeddah, Saudi Arabia
Keywords:
Head ultrasound, Mega cisterna magna, MRI brain
Abstract
Objective: To determine the frequency of isolated mega cisterna magna (MCM) in Saudi population, compare the accuracy of fetal ultrasound with postnatal neuro-imaging, report the associated central nervous system (CNS) anomalies on postnatal neuro-imaging.
Study Design: Retrospective study.
Place and Duration of Study: King Fahad Armed Forces Hospital Jeddah Saudi Arabia from Jan 2007 to July 2011.
Material and Methods: This was a retrospective study conducted at King Fahad Arrmed Forces Hospital Jeddah, Saudi Arabia. We included all reported cases of fetal mega cisterna magna from January 2007 till July 2011. Ante-natal and postnatal records and neuro-imaging studies of all the cases were reviewed and documented on the database. Neurological assessment was done by Pediatric Neurology Consultant at an average age of 8 months of life.
Results: MCM was diagnosed in 26 (0.12%) on fetal scans (15 male and 11 females). Post natal scans were available for 20/26 (77%) and 6/26 (23%) cases were missing. Of the 20 post natal scans, 12 (60%) scans were normal and 8 (40%) scans were abnormal. The following abnormalities were detected: 3 (37.5%) cerebellar hypoplasia, 2 (25%) partial dysgenesis of corpus callosum, 2 (25%) cases were confirmed as MCM and 1 (12.5%) arachnoid cyst. Neuro-developmental assessment was reported as normal in 50% of the cases with associated CNS anomalies.
Conclusion: The association of MCM with major CNS anomalies is significant in this study population. Post natal neuro-imaging confirmation is required for all fetuses with mega cisterna magna on fetal sonography.
Downloads
Download data is not yet available.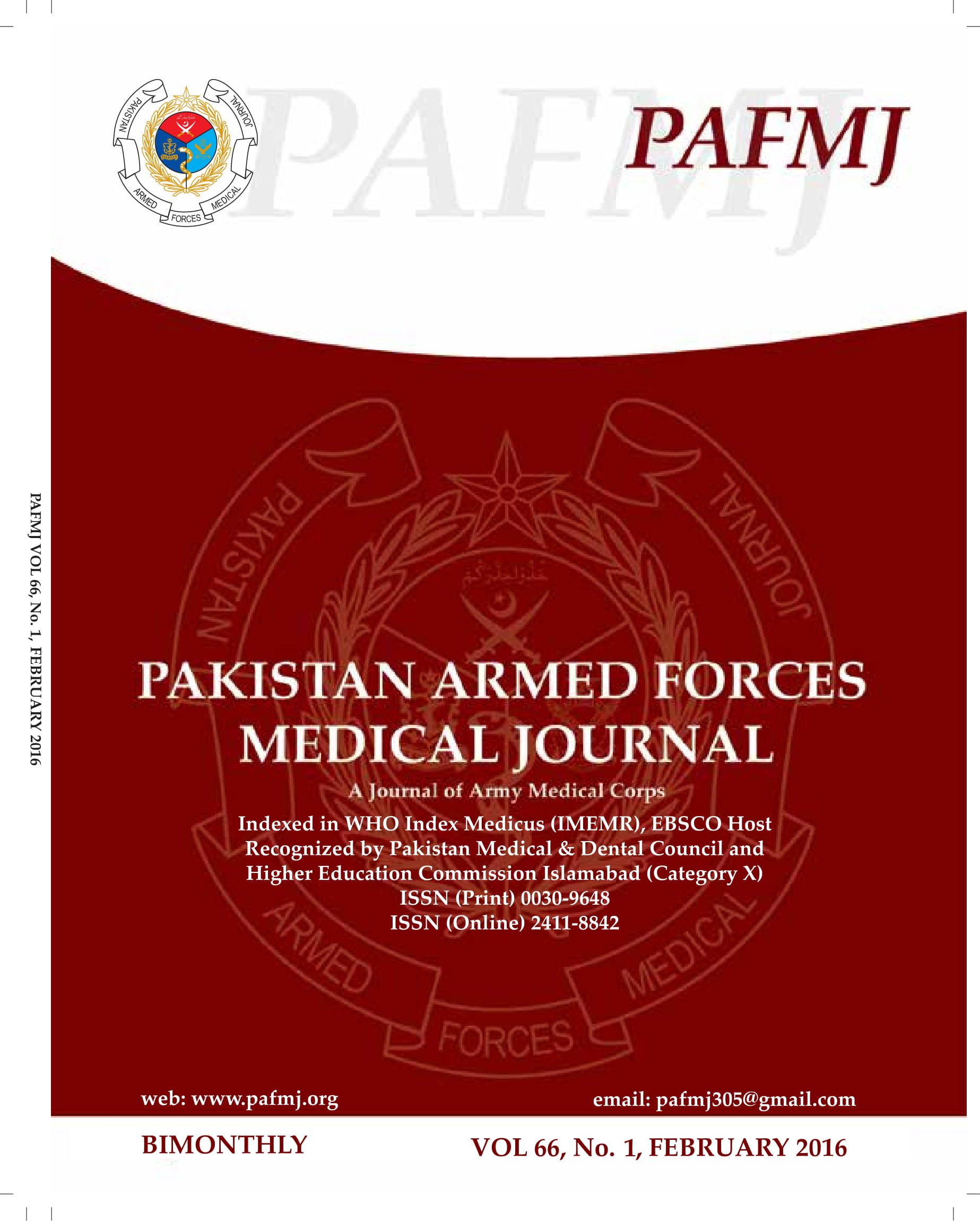 How to Cite
Yar, M., Syed, R., & Al-Seoud, M. (2016). MEGA CISTERNA MAGNA DIAGNOSTIC DILEMMA. Pakistan Armed Forces Medical Journal, 66(1), 109-12. Retrieved from https://pafmj.org/index.php/PAFMJ/article/view/344
Section
Original Articles