THE PREDISPOSING FACTORS FOR MOCROBIAL KERATITIS IN PATIENTS WITH RED EYE REPORTING TO THE MILITARY HOSPITAL RAWALPINDI
khalid Naimat

Combined Military Hospital Chunian Pakistan

Farooq Ahmad

Combined Military Hospital Chunian Pakistan

Mohammad Shahbaz Amin

Combined Military Hospital Chunian Pakistan
Keywords:
Bullous Keratopathy, Mocrobial Keratitis, Predisposing Factors, Red Eye
Abstract
Objective: to find out the predisposing factors for the cases of mocrobial keratitis in patients with red eye reporing to the Military Hospital.
Study Design: Cross-sectional study.
Place and Duration of Study: Ophthalmology deparment, Military Hospital Rawalpindi during 06 months from 1st Jun 2001 to 31st Dec 2001.
Methodology: This was cross-sectional study which included consecutive cases of red eye. Cases referred from other military hospitals and field medical units were also included in the study. Inclusion Criteria was serving officers and their family members including parents, wife and children, retired JCOs/NCOs/Other ranks. Exclusion criteria was all cases of cataract surgery who had transient period of red eye were excluded from the study.
Results: Out of 857 patients who reported with red eye during 06 months 32 cases fulfilled the criteria for microbial keratitis. The frequency of microbial keratitis in our population sample was found to be 3.7%. Out of 32 patients of microbial keratitis predisposing factors were found in most of the cases. These included history of accidental trauma in 14 patients (43.75%), bullous keratopathy in 3 patients (9.37%), corneal exposure in 3 (9.37%), contact lens wear in 2 (6.25%), dry eyes in 2 (6.75%), and corneal graft in one patient (3.13%). Two patients had history of excessive and prolonged use of topical steroids (6.25%).
Conclusion: The frequency of microbial keratitis in our population sample was quite common. Patients coming with ophthalmic problems, i.e., red eye, photophobia, irritation and watering to the general practitioner should be referred as soon as possible to the ophthalmology department.
Downloads
Download data is not yet available.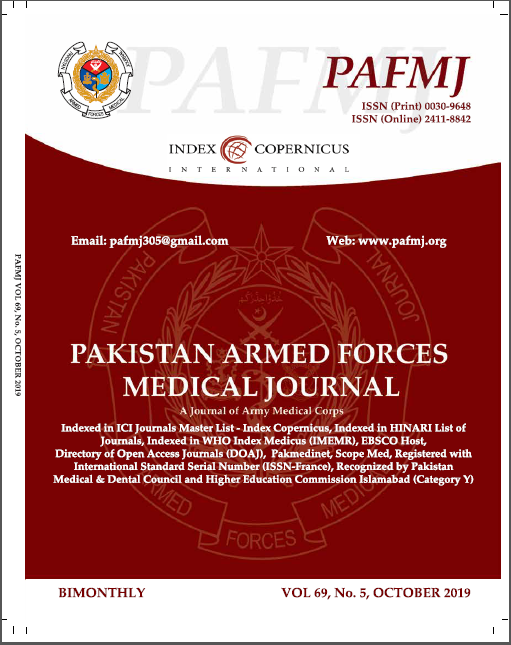 How to Cite
Naimat, khalid, Ahmad, F., & Amin, M. (2019). THE PREDISPOSING FACTORS FOR MOCROBIAL KERATITIS IN PATIENTS WITH RED EYE REPORTING TO THE MILITARY HOSPITAL RAWALPINDI. Pakistan Armed Forces Medical Journal, 69(5), 1134-38. Retrieved from https://pafmj.org/index.php/PAFMJ/article/view/3428
Section
Original Articles