DEXMEDETOMIDINE FOR ACUTE POSTOPERATIVE ANALGESIA IN PATIENTS UNDERGOING LAPAROTOMY
Liaquat Ali

Combined Military Hospital/National University of Medical Sciences (NUMS) Rawalpindi Pakistan

Waqas Alam

Combined Military Hospital/National University of Medical Sciences (NUMS) Rawalpindi Pakistan

Umer Ali

Combined Military Hospital/National University of Medical Sciences (NUMS) Rawalpindi Pakistan
Keywords:
Acute postoperative pain, Dexmedetomidine, Nalbuphine, Postoperative analgesia
Abstract
Objective: To find the effect of dexmedetomidine on acute post-operative analgesia and on postoperative opioid requirement.
Study Design: Quasi experimental study.
Place and Duration of Study: The study was conducted at department of Anaesthesia and Intensive care, CMH Rawalpindi, from Jan 2015 to Oct 2015.
Methodology: In this study 80 patients were divided in two equal groups. Group A was controlled group in which saline infusion was used and Group B was study group in which dexmedetomidine infusion was used. Both groups were anesthetized with similar technique and were given nalbuphine 0.1mg/kg in the beginning. Group B was started dexmedetomidine almost half hour before end of procedure and group A was given normal saline. Infusion of dexmedetomidine continued for 8 hours postoperatively. Rescue nalbuphine of 0.05mg/kg was given in both groups when visual analogue scale score was 3 or more.
Results: Eighty patients including 48 (60%) males and 32 (40%) females were enrolled in study. In group A loading dose of nalbuphine was 7.02 ± 0.76 mg and in group B it was 6.93 ± 1.00 mg. Mean loading dose of dexmedetomidine was 32.98 ± 9.11μg. Mean Dexmedetomidine given in infusion was 105.56 ± 29.16 μg. There was significant decrease in VAS score in group B. In group A total postoperative nalbuphine used was 8.13 ± 2.86 mg and in dexmedetomidine group total nalbuphine used was 5.01 ± 1.93 mg. The p-value was 0.001 which was significant.
Conclusion: Use of dexmedetomidine resulted in reduced acute postoperative pain as shown by better visual analogue scale profile. It also resulted in reduced opioid requirement in postoperative period. We suggest that studies should be done which also include these factors and have large sample size so results can be generalized on population.
Downloads
Download data is not yet available.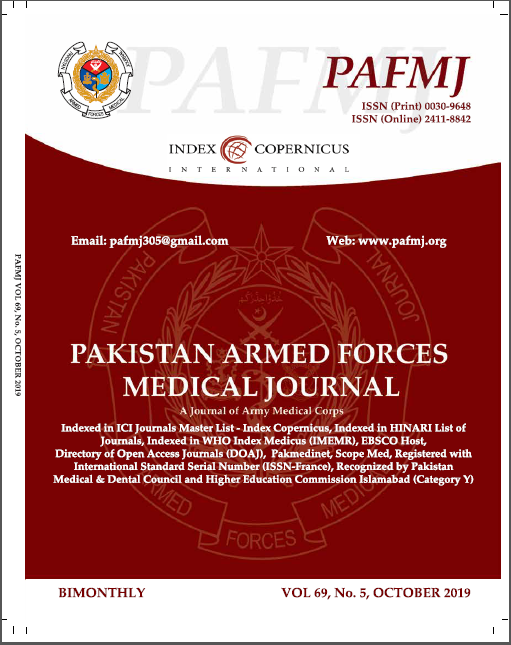 How to Cite
Ali, L., Alam, W., & Ali, U. (2019). DEXMEDETOMIDINE FOR ACUTE POSTOPERATIVE ANALGESIA IN PATIENTS UNDERGOING LAPAROTOMY. Pakistan Armed Forces Medical Journal, 69(5), 934-38. Retrieved from https://pafmj.org/index.php/PAFMJ/article/view/3388
Section
Original Articles