EFFICACY OF ATORVASTATIN IN REDUCING PROTEINURIA IN PATIENTS OF CHRONIC KIDNEY DISEASE
Rizwan Azam

Combined Military Hospital Multan/National University of Medical Sciences (NUMS) Pakistan

Ejaz Ahmed

Combined Military Hospital Multan/National University of Medical Sciences (NUMS) Pakistan

Asad Raza

4 Medical Battalion Sawat Pakistan

Mahwish Rizwan

Pak Emirates Military Hospital/National University of Medical Sciences (NUMS) Rawalpindi Pakistan

Ali Jamal

74 Medical Battalion Sawat Pakistan

Syed Salman Ali

Armed Forces Institute of Pathology/National University of Medical Sciences (NUMS) Rawalpindi Pakistan
Keywords:
Atorvastatin, Chronic kidney disease, Efficacy, Proteinuria
Abstract
Objective: To determine the efficacy of atorvastatin in reducing proteinuria in patients of chronic kidney disease.
Study Design: Quasi experimental study.
Place and Duration of Study: Combined Military Hospital Multan, from Jan 2014 to Jun 2014.
Material and Methods: Seventy patients of both genders with documented chronic kidney disease (GFR <90>15ml/min) for at least 3 months duration were included by non-probability consecutive sampling. Age of the patients and reduction in proteinuria from the baseline after using atorvastatin was noted. The data were analyzed by using SPSS v 19. Descriptive statistics like mean ± SD, percentages and frequencies were calculated for age and efficacy of atorvastatin. The data collected for study was statistically analyzed using chi-square test.
Results: The overall efficacy of atorvastatin was 31.43%. Twenty two out of 70 subjects had significant reduction in proteinuria i.e.>0.25 gm/24 hrs from baseline after statin use. A significant statistical association was not seen in the efficacy of atorvastatin between males and females, p-value being >0.05.
Conclusion: A notable number of patients had improvement in their 24 hours proteinuria after the use of atorvastatin. Therefore atorvastatin use may be beneficial in all patients of chronic kidney disease as it will reduce progression of the disease and prevent rate of decline in renal functioning.
Downloads
Download data is not yet available.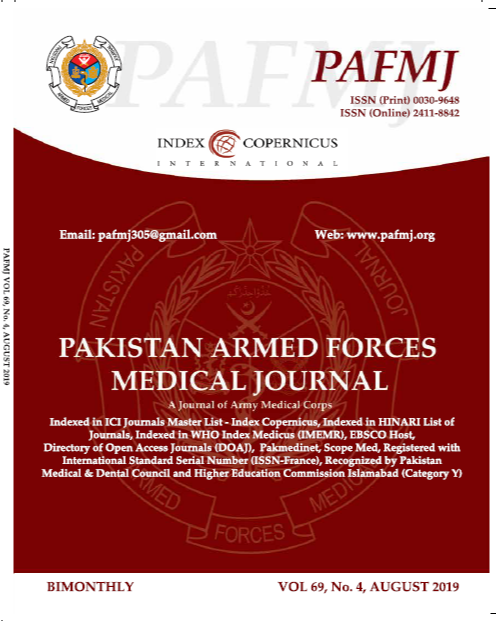 How to Cite
Azam, R., Ahmed, E., Raza, A., Rizwan, M., Jamal, A., & Ali, S. (2019). EFFICACY OF ATORVASTATIN IN REDUCING PROTEINURIA IN PATIENTS OF CHRONIC KIDNEY DISEASE. Pakistan Armed Forces Medical Journal, 69(4), 818-21. Retrieved from https://pafmj.org/index.php/PAFMJ/article/view/3206
Section
Original Articles