COMPARISON OF MODIFIED UNILATERAL ULTRASOUND GUIDED SUBCOSTAL TRANSVERSUS ABDOMINIS PLANE BLOCK WITH CONVENTIONAL PORT-SITE AND INTRAPERITONEAL INFILTRATION OF BUPIVACAINE FOR POSTOPERATIVE PAIN RELIEF IN LAPAROSCOPIC CHOLECYSTECTOMY
Sarfraz Janjua

Pak Emirates Military Hospital/National University of Medical Sciences (NUMS) Rawalpindi Pakistan

Khalid Zaeem Aslam

Pak Emirates Military Hospital/National University of Medical Sciences (NUMS) Rawalpindi Pakistan

Saad Sarfraz

Pak Emirates Military Hospital/National University of Medical Sciences (NUMS) Rawalpindi Pakistan

Awais Qarni

Pak Emirates Military Hospital/National University of Medical Sciences (NUMS) Rawalpindi Pakistan

Waleed Niazi

Pak Emirates Military Hospital/National University of Medical Sciences (NUMS) Rawalpindi Pakistan

Maria Binte Sarfraz

Pak Emirates Military Hospital/National University of Medical Sciences (NUMS) Rawalpindi Pakistan
Keywords:
Cholecystectomy, Port-site infiltration, Postoperative analgesia, Rectus sheath block, Subcostal transverses abdominis plane block
Abstract
Objective: To evaluate the analgesic efficacy of a modified ultra sound guided unilateral STAP block with 0.25% bupivacaine in laparoscopic cholecystectomy compared with conventional port site and intraperitoneal infiltration of the same drug in similar amount and concentration.
Study Design: Randomized clinical trial.
Place and Duration of Study: Pak Emirates Military Hospital Rawalpindi, from Oct 2017 to Feb 2018.
Material and Methods: 100 adult female as well as male patients were randomized by lottery method into 2 equal groups. In group A (n=50) unilateral STAP block was performed under ultrasound guidance (Xario 200 Toshiba). The 18 Hz linear probe was placed in the midline of the abdomen 2 cm below the xiphisternum and moved right laterally along the subcostal margin to the anterior axillary line and bupivacaine 0.25% 0.4 ml/kg) was injected after negative aspiration test. Group B (n=50) patients received intra peritoneal instillation of 1/3 of the total drug volume before closure and conventional port site infiltration of 0.25% bupivacaine by remaining 2/3 of the total drug vol (0.4 ml/kg)by the surgeon at the end of the procedure.
Results: One hundred patients were included and distributed in two equal groups. Out of 50 patients in each group six patients in group A and five patients in group B were excluded due to prolonged and difficult surgery. STAP block was associated with significantly lower postoperative mean pain scores, lesser requirement of tramadol 90.90 ± 39.28 mg vs 150.33 ± 99.3 mg and reduced recovery time 37.61 ± 6.01 vs 45.11 ± 8.75 min as
compared to group B respectively. However, means of age, weight, female to male ratios, anaesthesia times, postoperative satisfaction scores and complications in both the groups did not differ significantly.
Conclusion: Preoperative STAP block as a component of multimodal analgesic regimen for laparoscopic cholecystectomy provides better analgesia and leads to significantly less postoperative pain scores, consumption of analgesics and recovery time as compared to port site local anaesthetic infiltration.
Downloads
Download data is not yet available.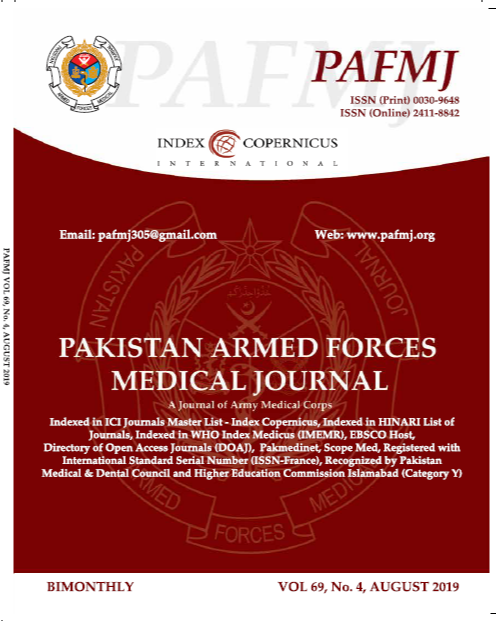 How to Cite
Janjua, S., Aslam, K., Sarfraz, S., Qarni, A., Niazi, W., & Sarfraz, M. (2019). COMPARISON OF MODIFIED UNILATERAL ULTRASOUND GUIDED SUBCOSTAL TRANSVERSUS ABDOMINIS PLANE BLOCK WITH CONVENTIONAL PORT-SITE AND INTRAPERITONEAL INFILTRATION OF BUPIVACAINE FOR POSTOPERATIVE PAIN RELIEF IN LAPAROSCOPIC CHOLECYSTECTOMY. Pakistan Armed Forces Medical Journal, 69(4), 800-07. Retrieved from https://pafmj.org/index.php/PAFMJ/article/view/3203
Section
Original Articles