RELATION OF FUNCTIONAL DYSPEPSIA WITH ANXIETY AND DEPRESSION AND ITS IMPACT ON THE QUALITY OF LIFE OF PATIENTS
Keywords:
Health-related-quality-of-life, Dyspepsia, Depression, Anxiety
Abstract
Objectives: To determine the frequency of functional dyspepsia, relation between functional dyspepsia andanxio-depressive disorders and to determine its impact on quality-of-life.
Study Design: Cross-sectional study.
Place and Duration of Study: Department of Gastroenterology, Pak Emirates Military Hospital Rawalpindi from May 2017 to October 2017.
Material and Methods: Four hundred patients were enrolled and organic causes for dyspepsia were ruled out after extensive assessment. They were segregated into three categories according to their performance on Hospital-Anxiety-and-Depression-Scale (HADS) and the impact on health related quality of life was observed through Short-Form-36 (SF-36) General Health Survey questionnaire.
Results: Males were in slight predominance (53%), unemployed individuals were in abundance (82.9%), the median age of presentation was 31-40 years, symptoms duration was less than 2 years for majority of the patients (42.5%) and the most commonly presenting symptom was Epigastric-Pain-Syndrome/Postprandial-Distress- Syndrome overlap (EPS-PDS) (80.5%). Forty nine and half percent of the patients had abnormal HADS and had worse quality of life and had more frequent Out-Patient-Department visits.
Conclusion: Functional dyspepsia considerably affects emotional, physical and psychological health and impairs quality of life.
Downloads
Download data is not yet available.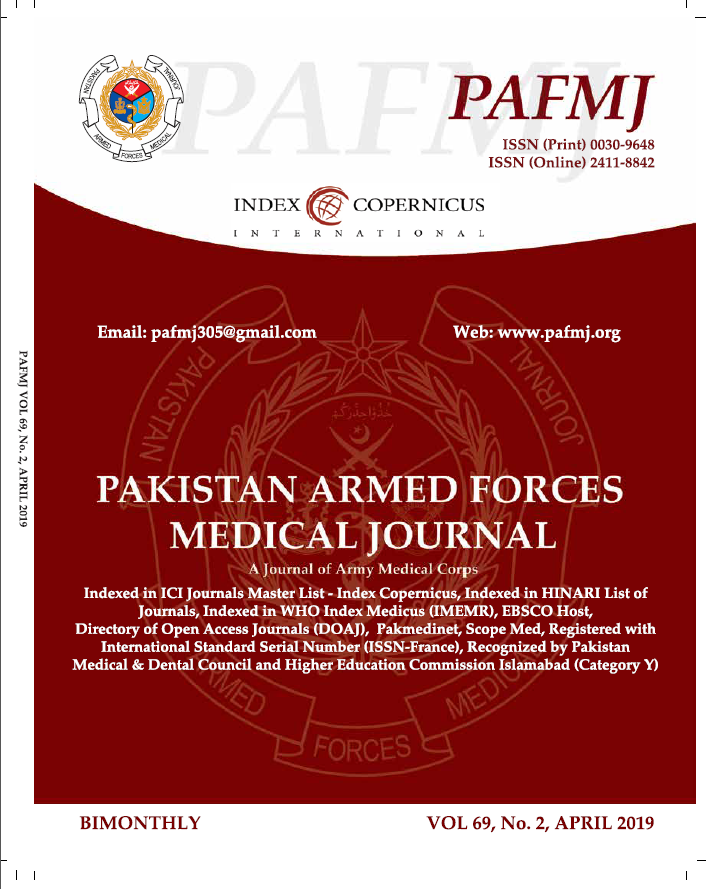 Downloads
How to Cite
Alam, L., Naqvi, M., & Saeed, F. (2019). RELATION OF FUNCTIONAL DYSPEPSIA WITH ANXIETY AND DEPRESSION AND ITS IMPACT ON THE QUALITY OF LIFE OF PATIENTS. Pakistan Armed Forces Medical Journal, 69(2), 230–35. Retrieved from https://pafmj.org/index.php/PAFMJ/article/view/2728
Section
Original Articles