SURGICAL COMPLICATIONS OF RENAL TRANSPLANT: EXPERIENCE OF A TERTIARY CASE UROLOGY INSTITUTE IN PAKISTAN
Dr. Sohail Raziq

Armed Forces Institute of Urology/National University of Medical Sciences (NUMS) Rawalpindi Pakistan

Faran Kiani

Armed Forces Institute of Urology/National University of Medical Sciences (NUMS) Rawalpindi Pakistan

Muhammad Asghar Sipra

Armed Forces Institute of Urology/National University of Medical Sciences (NUMS) Rawalpindi Pakistan

Arshad Mehmood

Armed Forces Institute of Urology/National University of Medical Sciences (NUMS) Rawalpindi Pakistan

Badar Murtaza

Armed Forces Institute of Urology/National University of Medical Sciences (NUMS) Rawalpindi Pakistan

Qamar Zia

Armed Forces Institute of Urology/National University of Medical Sciences (NUMS) Rawalpindi Pakistan
Keywords:
Kidney transplantation, Post-operative complications, Renal insufficiency
Abstract
Objective:
To evaluate the surgical complications of renal transplantation in adult end stage renal disease patients. Study Design: Retrospective observational study. Place and Duration of Study: Armed Forces Institute of Urology (AFIU) Rawalpindi, from Apr 2009 to Apr 2014.
Material and Methods:
Frequency of the surgical complications of renal transplant was assessed in 105 adults with end stage renal disease subjected to renal transplantation at Armed Forces institute of Urology Rawalpindi, from Apr 2009 to Apr 2014. Results: Total 105 adults were included in the study with the median age of 38 years; (ranging from 18 to 61 years). There were 88 (83.8%) male and 17 (16.2%) female patients. All were live related transplants. Vascular complications were the most common (6.66%) followed by urological complications (2.85%). Graft loss occurred in 3.8% and surgical mortality was 0.95%.
Conclusion:
Vascular complications after renal transplantation need prompt detection and remedial steps to avoid graft loss. Urological complications, on the other hand, increases morbidity, often needs corrective radiological or surgical intervention, but rarely leads to graft loss.
Downloads
Download data is not yet available.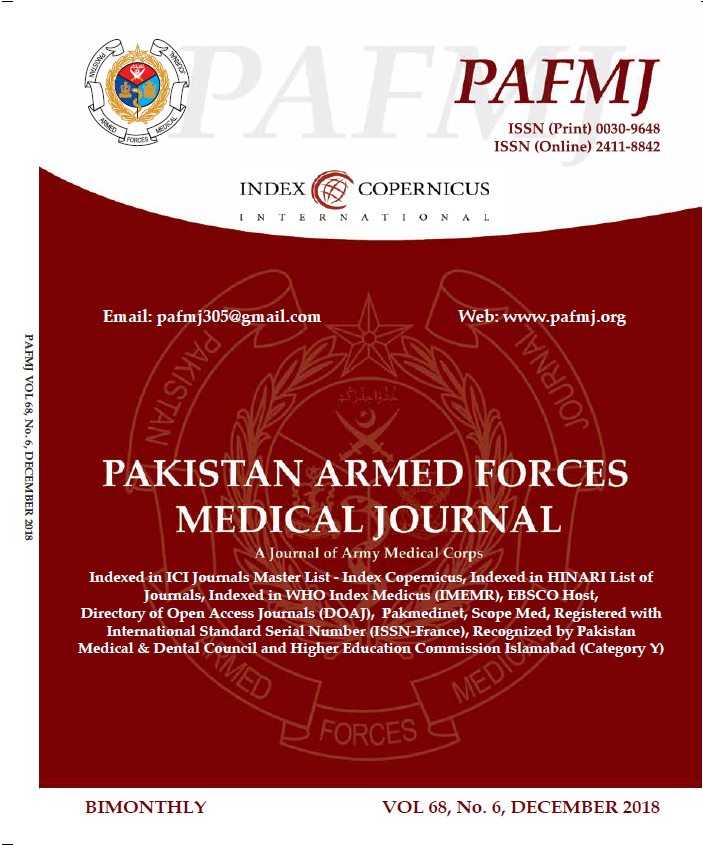 How to Cite
Raziq, D. S., Kiani, F., Sipra, M., Mehmood, A., Murtaza, B., & Zia, Q. (2018). SURGICAL COMPLICATIONS OF RENAL TRANSPLANT: EXPERIENCE OF A TERTIARY CASE UROLOGY INSTITUTE IN PAKISTAN. Pakistan Armed Forces Medical Journal, 68(6), 1522-26. Retrieved from https://pafmj.org/index.php/PAFMJ/article/view/2410
Section
Original Articles