MANAGEMENT OF INTERNAL RESORPTION WITH MINERAL TRIOXIDE AGGREGATE: A CASE REPORT
Shaista Rafi

Armed Forces Institute of Dentistry, Rawalpindi

Ch. Mohammed Rafi

Armed Forces Institute of Dentistry, Rawalpindi

Mohammed Kaleem

Armed Forces Institute of Dentistry, Rawalpindi

Imran Khan

Armed Forces Institute of Dentistry, Rawalpindi

Ajmal Yousaf

Armed Forces Institute of Dentistry, Rawalpindi

Manzoor Ahmed

Armed Forces Institute of Dentistry, Rawalpindi
Abstract
Tooth resorption is a condition associated with either a physiological or a pathological process resulting in loss of dentin, cementum or bone [1, 2].
The diagnosis of resorption into internal and external resorption is usually based on clinico-radiographic finding, while internal resorption can be further classified into internal inflammatory resorption and root canal replacement resorption on the basis of histopathologic results.
Internal inflammatory resorption is comparatively more destructive and results in loss of tooth structure without the deposition of any hard tissue. It is most commonly found in the cervical region [1], and clinically presents asymptomatically. Usually the coronal pulp is necrotic and apical pulp is vital. The resorptive defect creates a clinically obvious pinkish color in the tooth crown because of the highly vascular resorptive tissue which becomes visible through the thin residual enamel [1, 2].
Radio graphically the lesion presents as a circumscribed; oval enlargement which is continuous with the root canal wall and ultimately leads to distortion of the canal outline [3].
In root canal replacement resorption, etiology is unknown that is why it is known as idiopathic internal resorption. The predisposing factors are traumatic luxative injuries, orthodontic tooth movement, tooth bleaching, chronic inflammation of the pulp and periodontal tissue, as well as extreme heat production while cutting dentin [4].
Clinically internal resorption may be misdiagnosed as invasive cervical resorption which is ruled out by a surface defect while probing the crown.
Histology of the affected area reveals multinucleated giant cells, osteoclasts, odontoclasts and a cascade of numerous other enzymes. Internal resorption can be treated if diagnosed in early stages [4, 5]. Previously calcium hydroxide was used to combat  the process of resorption but in this case healing was augmented by mineral trioxide aggregate. This recently introduced aggregate gave viable results over a short period of time
Downloads
Download data is not yet available.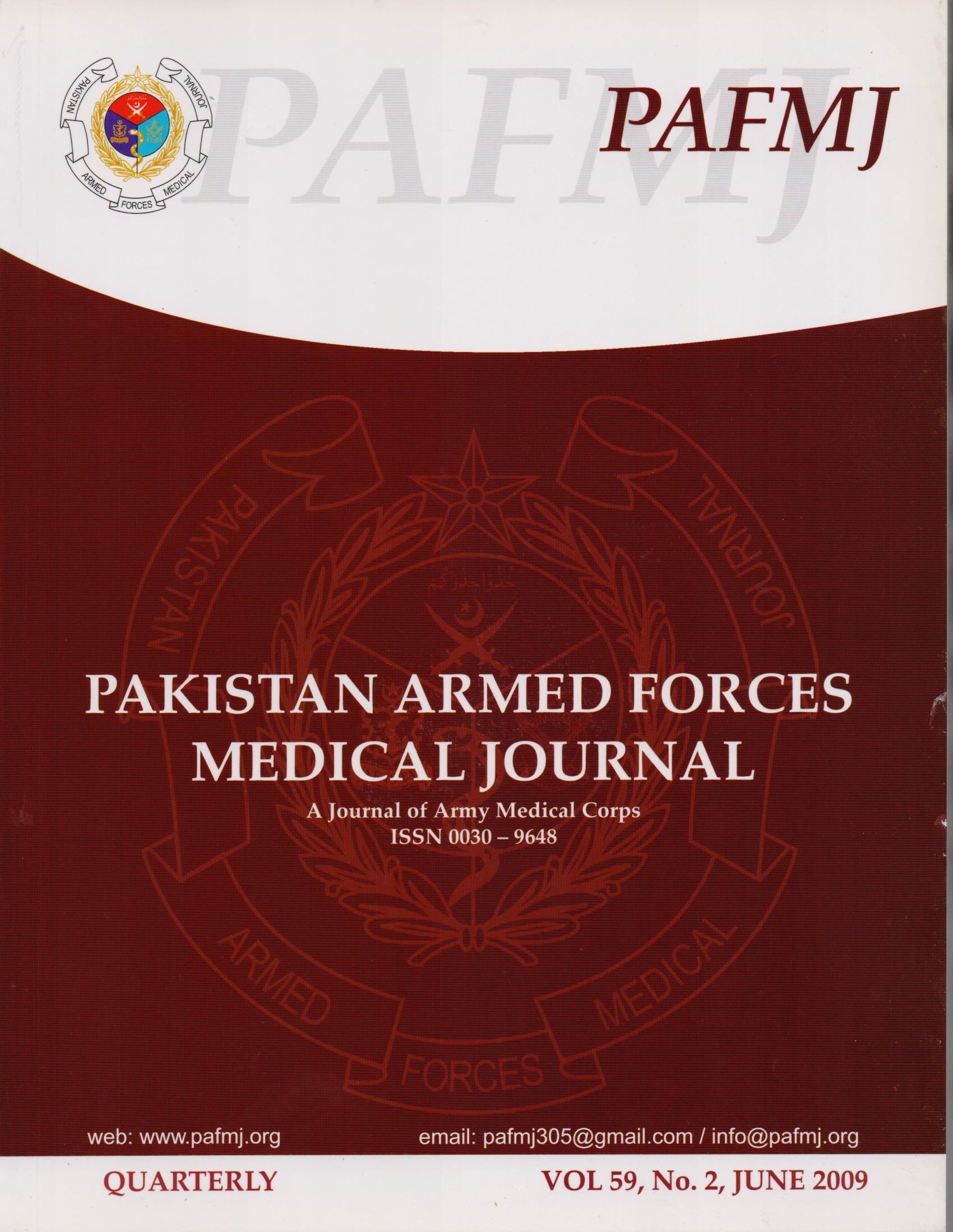 How to Cite
Rafi, S., Rafi, C. M., Kaleem, M., Khan, I., Yousaf, A., & Ahmed, M. (2018). MANAGEMENT OF INTERNAL RESORPTION WITH MINERAL TRIOXIDE AGGREGATE: A CASE REPORT. Pakistan Armed Forces Medical Journal (PAFMJ), 59(2), 253-6. Retrieved from https://pafmj.org/index.php/PAFMJ/article/view/1959