SELECTIVE SEROTONIN REUPTAKE INHIBITORS INDUCED SYNDROME OF INAPPROPRIATE ANTIDIURETIC HORMONE SECRETION AND SEIZURES
Ahmed Shoaib

Combined Military Hospital Quetta

Muhammad Luqman

Combined Military Hospital Quetta

Zulfiqar Ali Malik

Combined Military Hospital Quetta

Shahzad Saeed

Combined Military Hospital Quetta
Abstract
Selective serotonin reuptake inhibitors (SSRI), which include some of the most widely prescribed drugs in Pakistan and world over, produce fewer adverse effects than other types of antidepressants. But their use can be associated with disruption of the action of antidiuretic hormone in the body, which wreaks havoc with homeostasis. This may lead to the syndrome of inappropriate antidiuretic hormone secretion (SIADH), which is characterized by hyponatremia, a potentially fatal condition that is typically asymptomatic until it becomes severe. SIADH is more likely in some populations, including people who are elderly or who take diuretics. Serum sodium levels should be monitored closely in those at higher risk [1].
CASE REPORT
A 40 years old male was admitted to surgical ward on account of abdominal pain and vomiting of 2 days duration. While in the ward he developed a generalized tonic clonic seizure, which was witnessed by the paramedical staff. He was shifted to the medical care unit and investigated. He complained of generalized weakness and anorexia and there was no past history of fits. On examination he was drowsy, had tongue laceration and urinary incontinence. There was no focal neurological deficit and systemic examination was unremarkable. While in the surgical unit he received omeprazole infusion, ciprofloxacin, metronidazole and metoclopromide along with normal saline and ringer lactate for provisional diagnosis of acute abdomen. His preliminary laboratory results revealed hyponatremia (Serum Na 114 mmol/L), serum hypo osmolality (245.2 momol/L) and urine hyper osmolarity (534.4 mosmol/L), leading to the provisional diagnosis of SIADH. In order to establish the cause of SIADH, all other investigations including serum cortisol, renal function tests, thyroid function tests and pituitary function tests were done and were within normal range. His CT scan brain and CT scan and ultrasound examination of abdomen were also unremarkable.
Downloads
Download data is not yet available.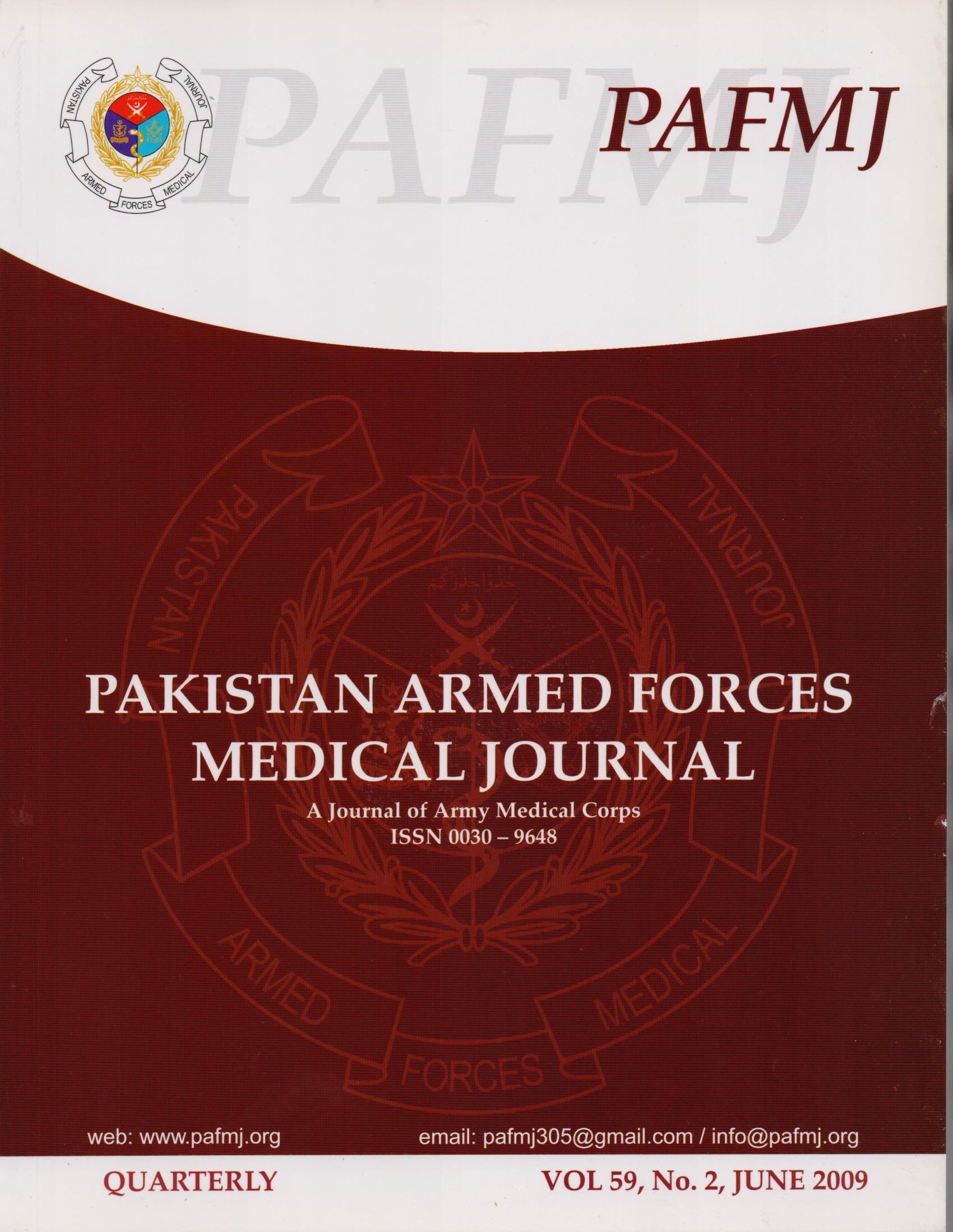 How to Cite
Shoaib, A., Luqman, M., Malik, Z. A., & Saeed, S. (2018). SELECTIVE SEROTONIN REUPTAKE INHIBITORS INDUCED SYNDROME OF INAPPROPRIATE ANTIDIURETIC HORMONE SECRETION AND SEIZURES. Pakistan Armed Forces Medical Journal (PAFMJ), 59(2), 251-2. Retrieved from https://pafmj.org/index.php/PAFMJ/article/view/1957