PIN TRACT CARE IN LOCALLY MADE EXTERNAL FIXATORS: A NEW TREATMENT PROTOCOL
IBRAHIM FAROOQ PASHA

CMH Rawalpindi

Syed Riaz Zaidi

CMH Quetta

Muhammad Ahmed

CMH Lahore

Abid Qureshi
Keywords:
Pin tract care, pin tract infection, external fixator
Abstract
Objective: To calculate the frequency of pin tract infection in locally made external fixator pins using our set protocol.
Design: Descriptive study.
Place and Duration of Study: This study was conducted in Combined Military Hospital Sialkot and Combined Military Hospital Quetta over a period of 3 years and 6 months from May 2003 to November 2006.
Patients and Methods: A total of 451 Pin tracts from 50 external fixator were studied in forty nine patients. Inclusion criteria was all external fixator pins to the limbs excluding the skeletal tractions.  Local Shanz screws and Kirschner wires of two different sizes were studied. The protocol was twice a day cleaning of pin tracts with povidone iodine (pyodine), twice a week soap and water bath with soft brushing where main wound was healed. At the time of removal of fixator the pin tracts were curetted and washed with 0.9% normal saline.
Results: Average age of the patients was 32.91 years most of them were young males, 23 (47%) in 3rd and 4th decade. Only 4 (8.1%) were females. Tibia was most commonly involved bone in 38 patients (77.5 %), while femur in 6 patients (12.2%) and foot and upper limb were affected in only a few cases.  Road traffic accident was most common etiology in 33 (67.34 %) patients either presenting as open fractures or infected nonunion.  Out of 451 pin tracts, 233 (51.66%) were locally made shanz screw half pins and 218 (48.33%) were locally made Kirschner wires full pins. The mean fixator time was about 17 weeks with maximum 48 weeks and minimum 7 weeks. Maximum follow up was 12 months minimum follow up was 3 months after removal of fixator. We had 25 (10.72%) minor pin tract infections of shanz screws, 5 (2.29%) minor pin tract infections of kirschner wires. We had to remove and change 3 (1.28%) Shanz pins. We had no true complication.
Conclusion: Standardizing a set protocol for pin tract care irrespective of wound type has shown excellent results with minimum morbidity. This simple method not requiring any expensive equipment can be tried in any hospital to avoid pin sores.
Downloads
Download data is not yet available.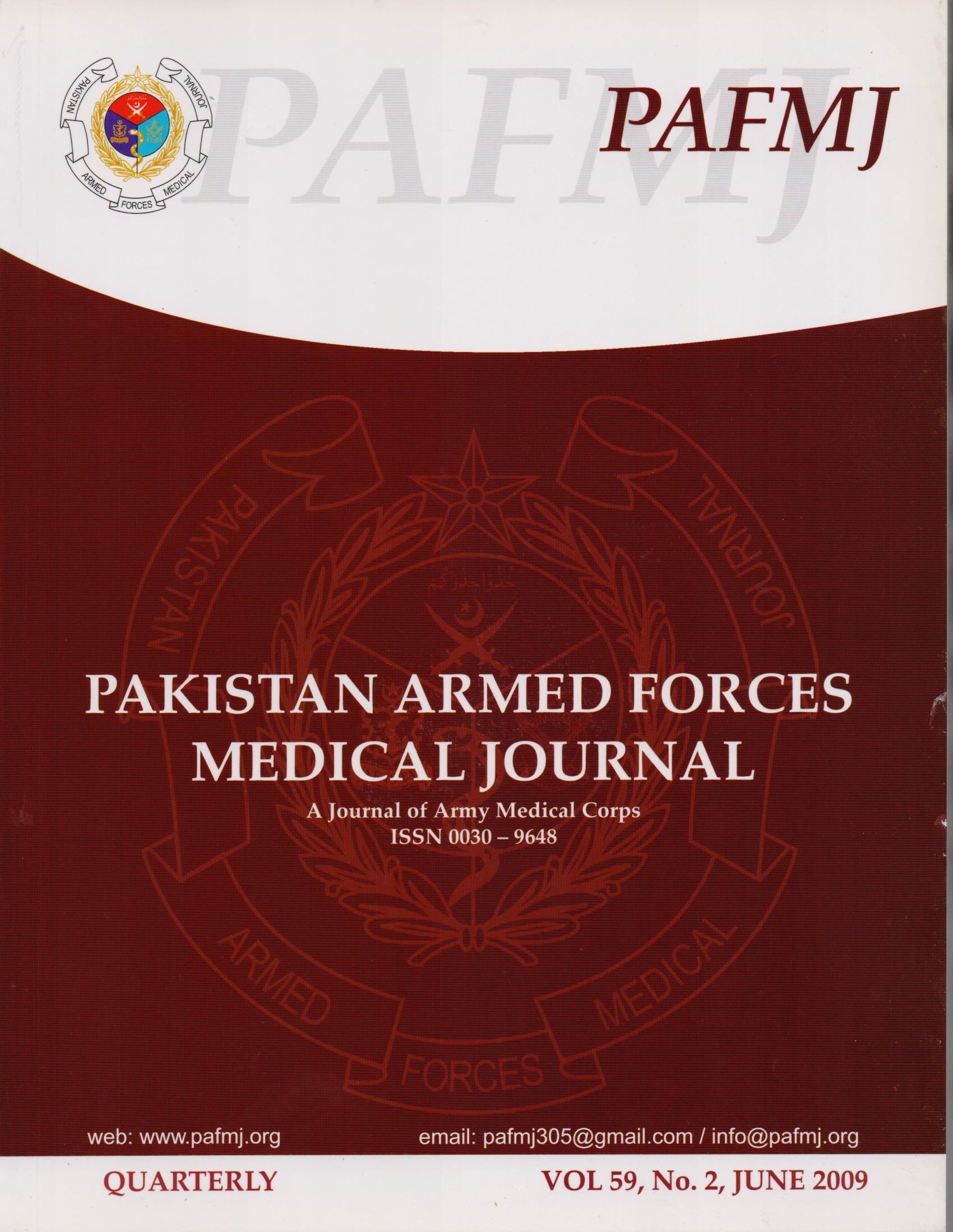 How to Cite
PASHA, I. F., Zaidi, S. R., Ahmed, M., & Qureshi, A. (2018). PIN TRACT CARE IN LOCALLY MADE EXTERNAL FIXATORS: A NEW TREATMENT PROTOCOL. Pakistan Armed Forces Medical Journal (PAFMJ), 59(2), 170-4. Retrieved from https://pafmj.org/index.php/PAFMJ/article/view/1866
Section
Original Articles