ROLE OF EARLY PRE-CUT NEEDLE KNIFE PAILLOTOMY IN ACHIEVING SUCCESSFUL SELECTIVE COMMON BILIARY DUCT CANNULATION
Pre-Cut Needle Knife Paillotomy
Brig Muhammad Iqbal

Military Hospital Rawalpindi
Keywords:
Common bile duct, papillotomy
Abstract
Objectives: To assess the risks/benefits of performing early pre-cut papillotomy rather than perusing the difficult papilla repeatedly with non-invasive cannulation techniques. Study Design: Descriptive study Place and Duration of Study: The study was carried out at Combined Military Hospital (CMH) Rawalpindi From January 2007 to February 2008. Patients and Methods: Eighty three patients who presented for Endoscopic retrograde cholanagiopancreatography (ERCP) at Combined Military Hospital Rawalpindi during the period starting from January 2007 till February 2008 were studied. Whenever papilla proved difficult for cannulation, no more than 5 attempts in standard non invasive way were made. Similarly no more than 2 inadervertent injections of contrast into pancreatic duct were exceeded to. In such situations, early precut needle knife papillotomy was resorted to as a matter of protocol. Results: Out of total of 83 patients studied, 19.27% underwent early pre-cut needle knife papillotomy. The procedure was successful in 81.25% against the complication rate of 12.5% only. Hence, pre-cut needle knife papillotomy increased the success rate of common bile duct cannulation from 80.73% to 96.38%. Conclusion: ERCP is very effective procedure for palliation particularly in elderly and frail patients. Failed selective duct cannulation in case of difficult papilla can be overcome by performing pre-cut papillotomy at an early stage rather than struggling with standard non invasive techniques which are paradoxically more likely to cause complications as a result of oedema around pancreatic duct orifice
Downloads
Download data is not yet available.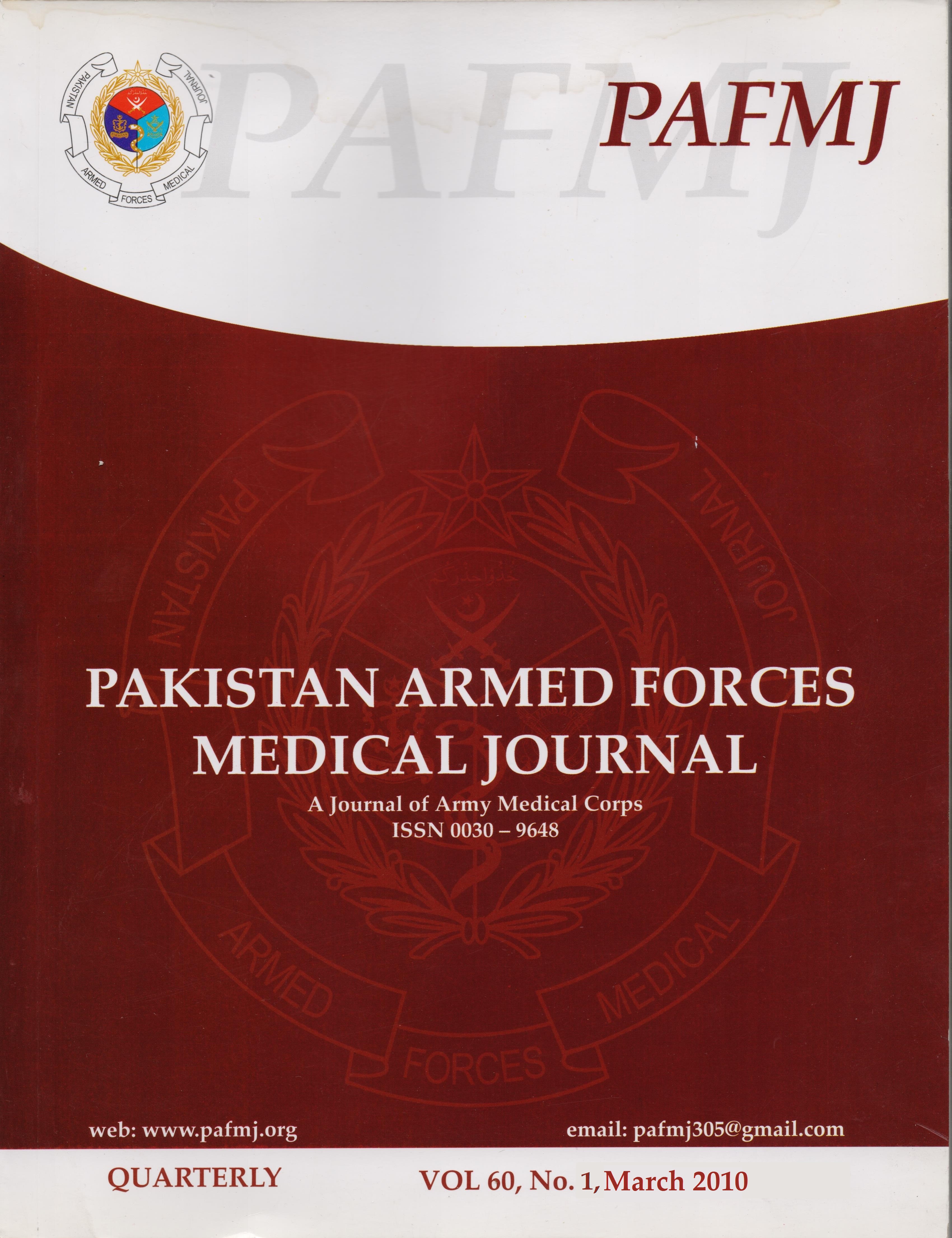 How to Cite
Iqbal, B. M. (2010). ROLE OF EARLY PRE-CUT NEEDLE KNIFE PAILLOTOMY IN ACHIEVING SUCCESSFUL SELECTIVE COMMON BILIARY DUCT CANNULATION. Pakistan Armed Forces Medical Journal, 60(1), 45-8. Retrieved from https://pafmj.org/index.php/PAFMJ/article/view/182
Section
Original Articles