COMPARISON OF PRESSURE LOWERING EFFECTS OF TIMOLOL/DORZOLAMIDE COMBINED PREPARATION VERSUS LATANOPROST IN PRIMARY OPEN ANGLE GLAUCOMA
Primary Open Angle Glaucoma
Sqn Ldr Tariq Ali Khan

Graded Eye Specialist, PAF Hospital Mianwali

Qamar ul Islam

Pakistan Air Force Hospital Mianwali

Omar Farooq

Pakistan Navalship Shifa Karachi

Omar Ishtiaq

Armed Forces Institute of Ophthalmology Rawalpindi
Keywords:
Primary Open Angle Glaucoma, Timolol, Intraocular pressure
Abstract
Objective: To compare the intraocular pressure (IOP) lowering effect of Timolol/Dorzolamide combined preparation to that of Latanoprost in eyes with primary open angle glaucoma.
Design: Randomized control trial (RCT).
Place and duration of study: The Eye department, Military Hospital, Rawalpindi, over six months, from 9th June 2008 to 8th December 2008.
Patients And Methods: Eighty Six patients included were divided into two equal groups. Initial IOP measurement was taken for every patient using Goldmann Applanation Tonometer with Fluorescein. Topical Antiglaucoma therapy was started in patients of either group. Group A patients were administered timolol/dorzolamide combined preparation where as latanoprost was administered to group B patients. Follow up IOP measurements were recorded at 4 week and 8 week interval for every patient and findings were endorsed on a pre-designed proforma. Data were analyzed using SPSS version 11.0.
Results: Eight week follow up IOP of Group A (14.51 } 2.54) was significantly lower than the initial IOP (19.37} 2.49) (p<0.05). For Group B, difference between initial IOP (19.53 } 2.69) and 8 week follow up IOP (14.09 }2.23) was also statistically significant. The difference between mean IOP of the two groups at 4 week (p=0.284) and at 8 week (p=0.419) follow up was not statistically significant. Frequency of cases with .4 mm Hg drop at 4 week follow up was 26 (60.46%) in group A as against 29 (67.44%) in group B (p=0.50), whereas at 8 week follow up it was 31 (72.09%) for group A and 34 (79.07%) in group B (p=0.451).
Conclusion: The results suggest that latanoprost monotherapy and timolol/dorzolamide combined therapy is equally effective in controlling IOP in patients with POAG.
Downloads
Download data is not yet available.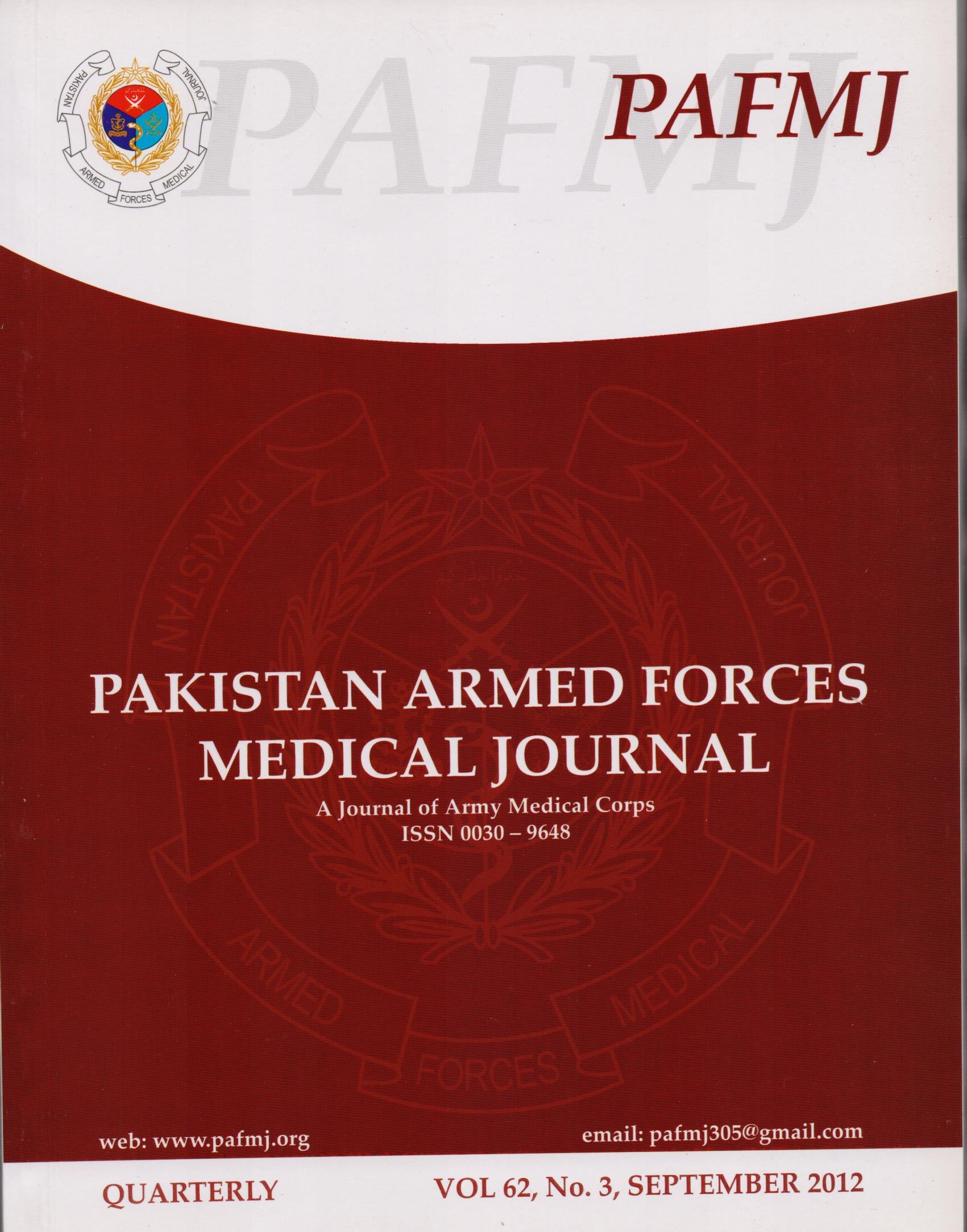 How to Cite
Khan, S. L. T., Islam, Q., Farooq, O., & Ishtiaq, O. (2012). COMPARISON OF PRESSURE LOWERING EFFECTS OF TIMOLOL/DORZOLAMIDE COMBINED PREPARATION VERSUS LATANOPROST IN PRIMARY OPEN ANGLE GLAUCOMA. Pakistan Armed Forces Medical Journal, 62(3), 409-12. Retrieved from https://pafmj.org/index.php/PAFMJ/article/view/1625
Section
Original Articles