CLOSED REDUCTION AND POP IMMOBILIZATION FOR COLLES' FRACTURE UNDER HAEMATOMA BLOCK AND SEDATION AS A DAY CARE
Colles' Fracture
Major Ejaz Ashraf Mallhi

Orthopaedic Dept, CMH Rawalpindi
Keywords:
Closed Reduction, Colles' fracture, Plaster of Paris
Abstract
Objective: To access the radiological and clinical outcome of closed reduction and cast immobilization for Colles' fracture under haematoma block and sedation
Design: A quasi experimental study
Place and Duration of Study: CMH Rawalpindi from August 2009 to November 2010
Patients and Methods: Fifty five patients were enrolled in our study. We used Lignocaine plain for haematoma block, Nalbupline and Midazolam for sedation. Closed reduction was done with standard technique. Post operative x-rays were evaluated for length of radius and angulation, palmar tilt and articular congruity. Follow up x –rays were conducted every week for three weeks and then at six weeks. Above elbow plaster of Paris (POP) was converted to below elbow at three weeks. Cast was removed at six weeks. After removal of the cast range of movement at wrist, joint pain and grip strength was checked.
Results: Good radiological reduction was achieved using this method. Radius length was within 6 -13 mm (mean 10.4±2.1), angulation was between 130 -230 (mean 20.1± 2.6), palmar tilt was between 10-50 in 54 patients. One patient had dorsal tilt and required revision. In patients with intra articular extension, the intra-articular step was less than 1 mm in 53 patients. Two patients had more than 2 mm intra articular step that required revision. Our functional results were acceptable. Excellent pain relief was seen in 94.5% cases as assessed by visual analogue scale. Grip strength was excellent in 45 (81.8%), good in 9 (16.4%) and fair in 1 (1.8%) patient. We achieved near normal range of movement at wrist.
Conclusion: Closed reduction and pop immobilization for Colles' fracture under haematoma block and sedation is a good treatment option in carefully selected cases.
Downloads
Download data is not yet available.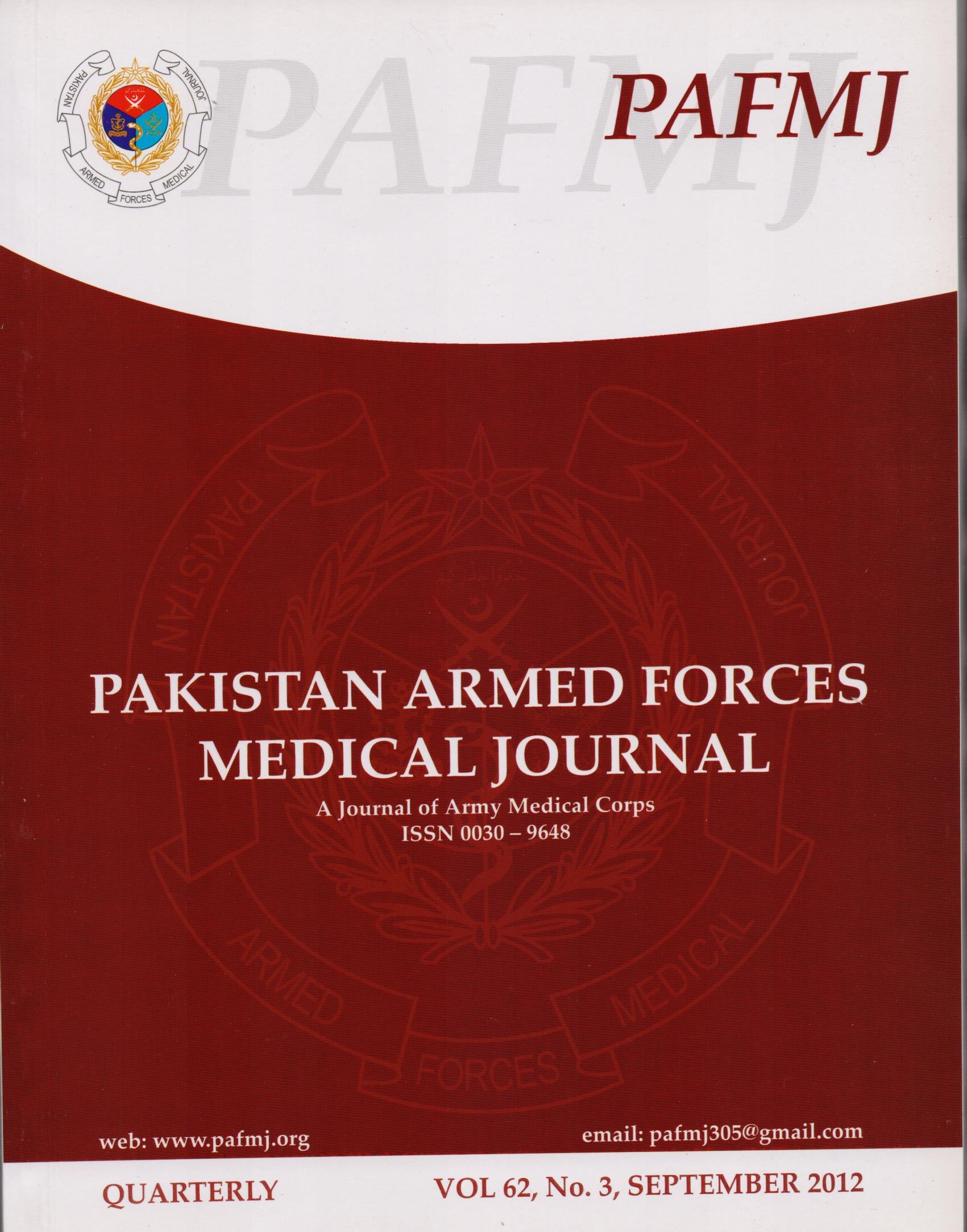 How to Cite
Mallhi, M. E. (2012). CLOSED REDUCTION AND POP IMMOBILIZATION FOR COLLES' FRACTURE UNDER HAEMATOMA BLOCK AND SEDATION AS A DAY CARE. Pakistan Armed Forces Medical Journal, 62(3), 328-332. Retrieved from https://pafmj.org/index.php/PAFMJ/article/view/1601
Section
Original Articles