INTRAVITREAL TRIAMCINOLONE ALONE VERSUS COMBINED INTRAVITREAL TRIAMCINOLONE AND BEVACIZUMAB ON CENTRAL MACULAR THICKNESS IN DIABETIC MACULAR EDEMA
Triamcinolone Versus Bevacizumab on Central Macular Thickness
Beenish Saleem

Pakistan Air Force Hospital Sargodha Pakistan

Mazhar Ishaq

Armed Forces Institute of Ophthalmology/National University of Medical Sciences (NUMS) Rawalpindi Pakistan

Maeirah Shafique

Combined Military Hospital/National University of Medical Sciences (NUMS) Rawalpindi Pakistan

Aisha Fawad

Armed Forces Institute of Ophthalmology/National University of Medical Sciences (NUMS) Rawalpindi Pakistan

Samar Fatima

Combined Military Hospital Gujranwala / National University of Medical Sciences (NUMS) Pakistan
Keywords:
Bevacizumab, Central macular thickness, Diabetic macular edema, Traiamcinolone
Abstract
Objective: To compare the effect of intravitreal triamcinolone (IVT) alone with combined intravitreal triamcinolone (IVT) and intravitreal bevacizumab (IVB) on central macular thickness (CMT) in patients of diabetic macular edema (DME).
Study Design: Randomized control trial.
Place and Duration of Study: Armed Forces Institute of Ophthalmology, Jun 2013 to Dec 2013.
Material and Methods: Eighty patients were included in the study through non probability consecutive sampling and were randomized to IVT alone or IVT + IVB group using random number table. Pre and post injection (12 weeks) CMT were recorded and intra and inter group comparison was performed.
Results: Both groups showed statistically significant reduction in mean CMT at 12 weeks (p<0.05). In Group A, mean CMT reduction at 12 weeks was 64.33 microns (SD=15.17) while in Group B it was 75.18 (SD=20.82). On comparison, IVT + IVB group was more effective in reducing CMT with statistically significant difference (p=0.009).
Conclusion: Intravitreal triamcinolone used in combination with IVB is more effective in reducing central macular thickness in diabetic macular edema (DME) than intravitreal triamcinolone alone.
Downloads
Download data is not yet available.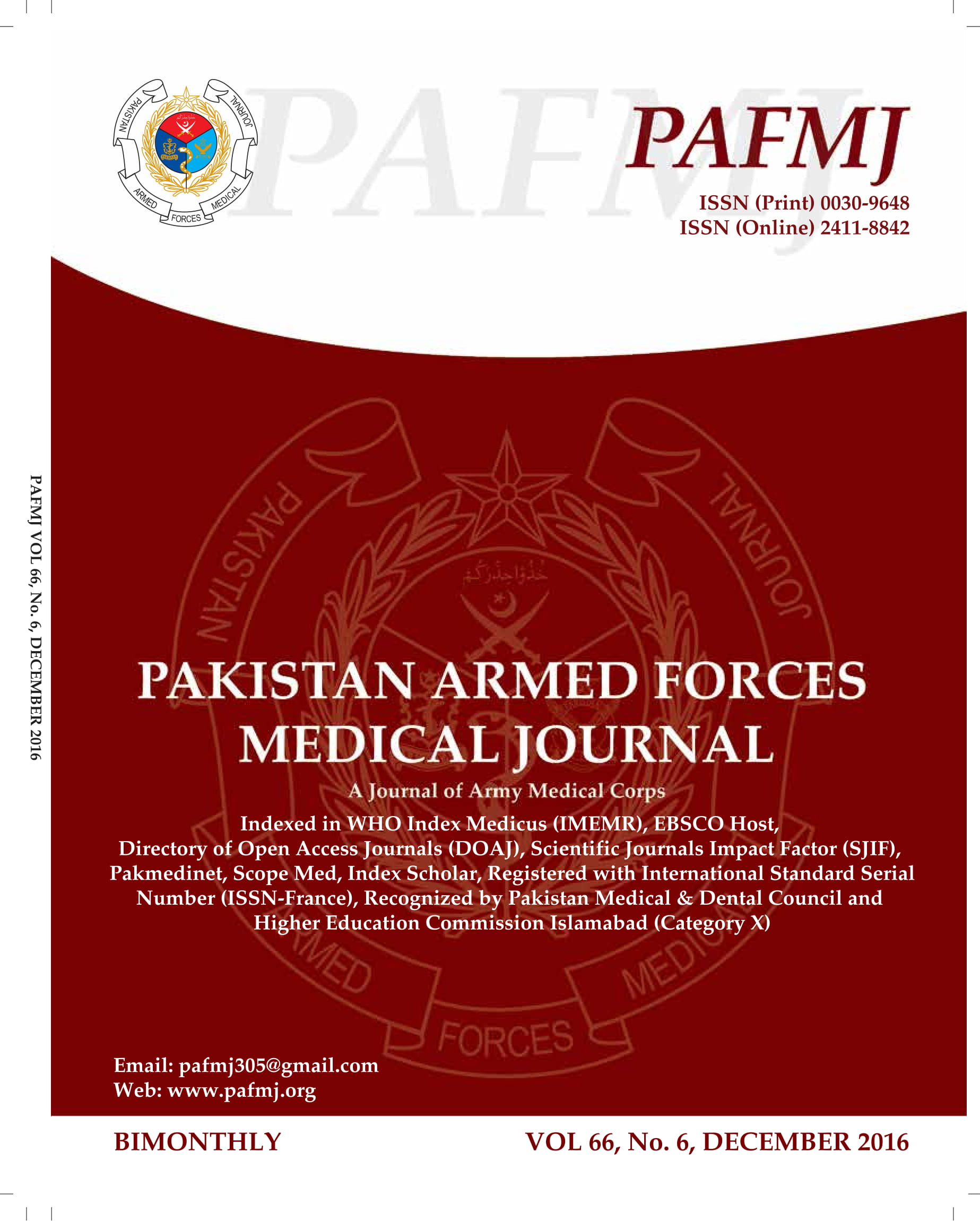 How to Cite
Saleem, B., Ishaq, M., Shafique, M., Fawad, A., & Fatima, S. (2016). INTRAVITREAL TRIAMCINOLONE ALONE VERSUS COMBINED INTRAVITREAL TRIAMCINOLONE AND BEVACIZUMAB ON CENTRAL MACULAR THICKNESS IN DIABETIC MACULAR EDEMA. Pakistan Armed Forces Medical Journal, 66(6), 913-17. Retrieved from https://pafmj.org/index.php/PAFMJ/article/view/1283
Section
Original Articles