ASSESSMENT OF ATHEROSCLEROTIC PLAQUE VULNERABILITY OF CORONARY ARTERIES IN CASES OF SUDDEN CARDIAC DEATH
Atherosclerotic Plaque Vulnerability
Keywords:
Sudden cardiac death, atherosclerotic plaque, vulnerable plaque
Abstract
Objective: To study the plaque vulnerability in coronary arteries taken from autopsy specimens, of individuals dying of ischemic heart disease in our setup and to compare it with atheroma of those who died of non-cardiac causes. Study Design: Case control study. Place and Duration of Study: Study was carried out in the department of Pathology (Histopathology), Army Medical College, Rawalpindi and National University of Sciences and Technology (NUST), from June 2008 to June 2009. Materials and Methods: Sixty coronary arteries having atherosclerosis, from autopsies of patients who died of sudden cardiac death were divided into case and control groups. Case group included thirty coronary arteries having atherosclerosis from autopsies of patients of whose death was attributable to Ischemic Heart Disease (IHD). Control group included thirty coronary arteries where atherosclerotic changes were found by chance (death not attributable to ischemic heart disease). Plaques were assessed for fibrous cap thickness, foam cells; mean percentage of inflammatory cells on Haemotoxylin & Eosin (H&E) stained slides whereas immunohistochemical (IHC) markers for TCells were done by IHC stain method. Results: In present study, foam cells are significantly more in study group than in control group (P=0.007). Fibrous cap thickness fulfilling the criteria of vulnerable plaque was more in study group as compared to control group (P<0.001). The present study demonstrated that there was insignificant difference (P=0.152), in the mean percentage of inflammatory cells in case group and control group. An overall significant association was found between vulnerable plaque and death due to ischemic heart disease (P<0.001).
Conclusion: Patients dying of ischemic heart disease have more vulnerable plaque in their coronary arteries as compared to those dying from non ischemic cause. Although this is an autopsy study but the significance of in this study can be very important to guide cardiologists to identify patients at high risk of acute coronary syndrome and use new diagnostic modalities like intravascular ultrasonography and therapeutic strategies like genomic and proteomic techniques. This will help the early detection and treatment of such cases and may ultimately reduce the incidence of sudden cardiac death.
Downloads
Download data is not yet available.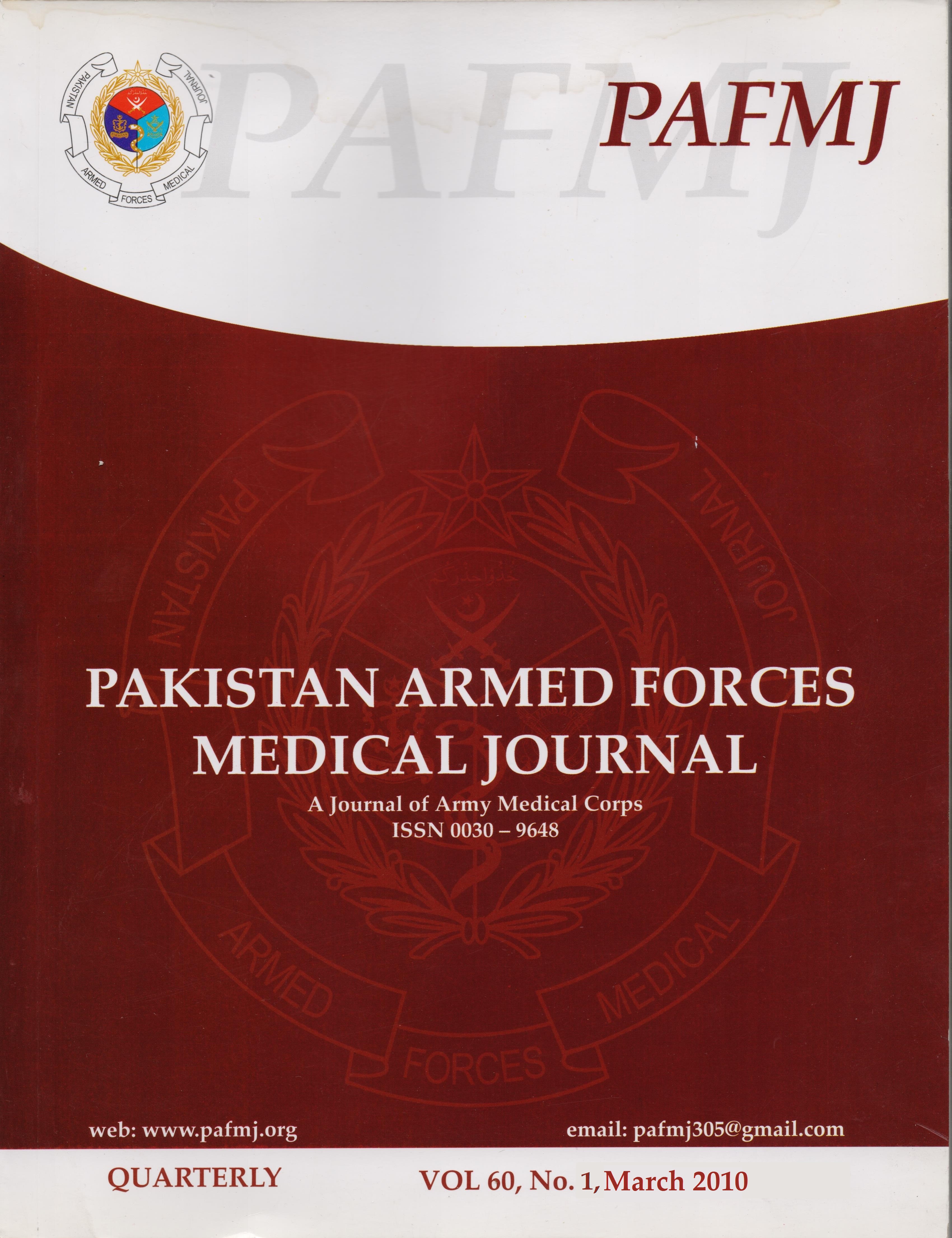 Downloads
How to Cite
Jamal, B. S., Naz, S., Mubarik, A., Malik, T. M., & Zubair, A. (2010). ASSESSMENT OF ATHEROSCLEROTIC PLAQUE VULNERABILITY OF CORONARY ARTERIES IN CASES OF SUDDEN CARDIAC DEATH: Atherosclerotic Plaque Vulnerability. Pakistan Armed Forces Medical Journal, 60(1), 21–5. Retrieved from https://pafmj.org/index.php/PAFMJ/article/view/124
Section
Original Articles