Aloe Vera Extract Affects Glycosylated Haemoglobin and Blood Glucose in Streptozocin-Induced Diabetic Albino Rats
Muhammad Rizwan Bashir Kiani

Army Medical College/National University of Medical Sciences Rawalpindi Pakistan

Khadija Qamar

Army Medical College/National University of Medical Sciences Rawalpindi Pakistan

Ammara Rasheed

Nishtar Medical University, Multan Pakistan

Muhammad Marghoob Khan

Quetta Institute of Medical Sciences, Quetta Pakistan

Asima Tabassum

Karachi Institute of Medical Sciences, Karachi Pakistan

Sarwar Zia

Rawalpindi Medical University, Rawalpindi Pakistan
Keywords:
Aloe vera, Blood glucose, Glycosylated haemoglobin, Streptozotocin
Abstract
Objective: To study the effect of aloe vera extract on glycosylated haemoglobin (HbA1C) and blood glucose levels in albino rats.
Study Design: Laboratory-based experimental study.
Place and Duration of Study: Army Medical College, Rawalpindi and National Institute of Health, Islamabad Pakistan, from Oct 2018 to Mar 2019.
Methodology: Ninety male Sprague Dawley rats, aged 10-12 weeks, weighing 250±50 grams, were divided into three Groups. In Group-A, non-diabetic rats were given a standard lasb diet. In Groups B and C, diabetic rats were given a standard laboratory diet. In Group-C, an extract of Aloe Vera at 300mg/kg body weight was also given once daily. Before the commencement of the experiment, blood glucose was measured, and then after injection, STZ on the fourth-day record of blood glucose was taken. At the end of the experiment, a blood sample was taken from the tail vein to analyze glycosylated haemoglobin levels and blood glucose.
Results: The difference in blood glucose levels at the start of the experiment was significant statistically (p-value <0.001) when Group-B was compared to Group-A. The difference in fasting glucose levels at the termination of the experiment was statistically significant when Group-C was juxtaposed to Groups B and A (p-value <0.05). The difference in glycosylated haemoglobin levels was significant statistically between Groups A and B and Groups A and C, (p-value of <0.001).
Conclusion: Aloe vera extract has an ameliorative effect on blood glucose levels in diabetic rats.


Downloads
Download data is not yet available.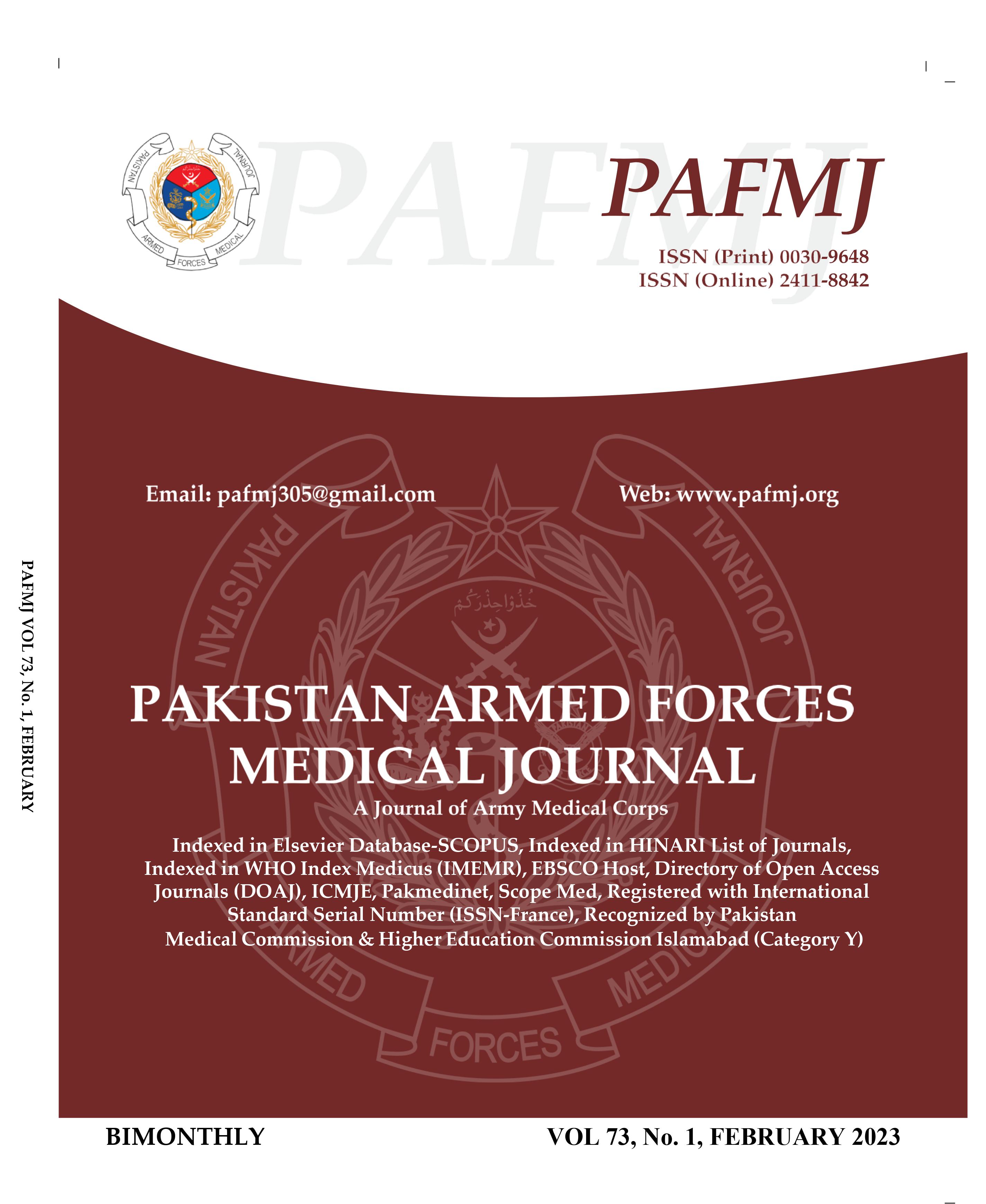 How to Cite
Kiani, M. R., Qamar, K., Rasheed, A., Khan, M. M., Tabassum, A., & Zia, S. (2023). Aloe Vera Extract Affects Glycosylated Haemoglobin and Blood Glucose in Streptozocin-Induced Diabetic Albino Rats. Pakistan Armed Forces Medical Journal, 73(2), 598-601. https://doi.org/10.51253/pafmj.v73i2.10116
Section
Original Articles